Crypto Venture Firm Paradigm Leads $5.3 Million MakerDAO Auction to Correct Dai Deficit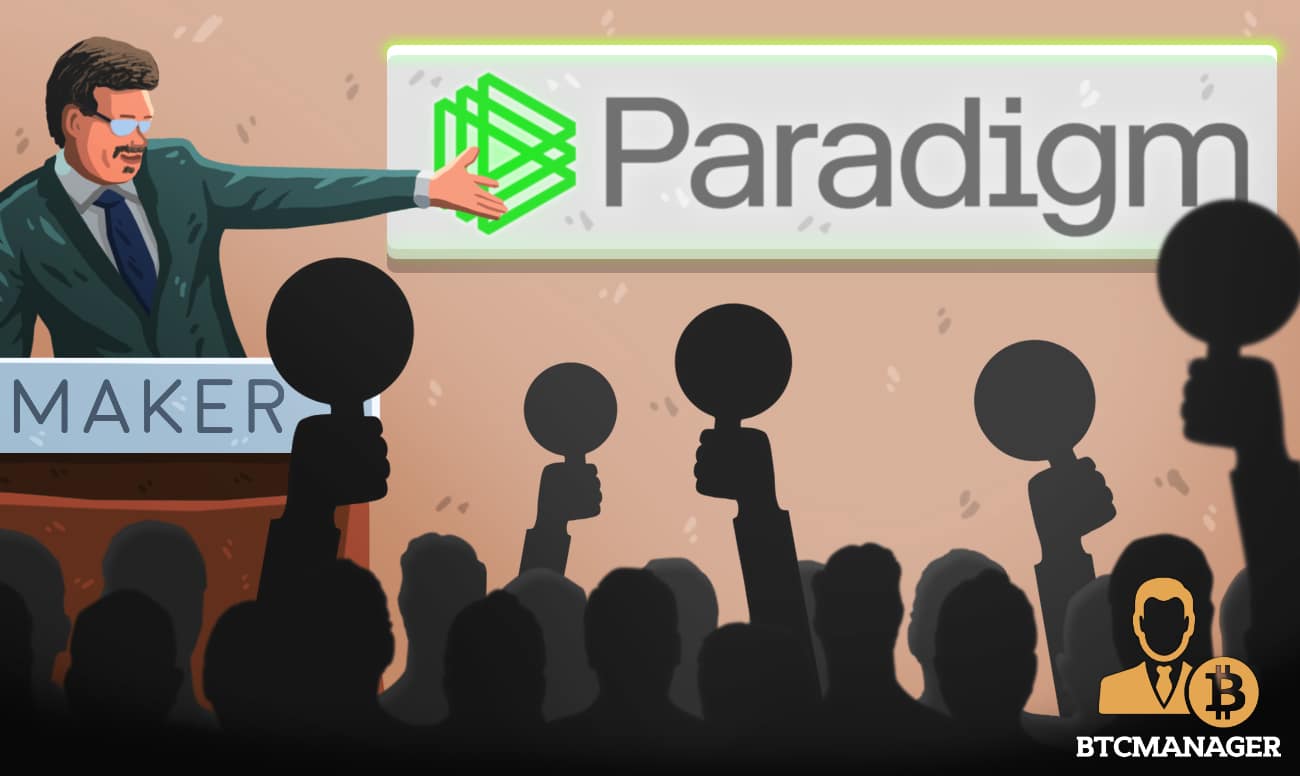 Paradigm, a cryptocurrency venture fund outfit has beaten 35 other bidders to acquire the majority of the MakerDAO (MKR) tokens on sale during the project's recent debt auction.
MakerDAO Auction Sees 20,980 MKR Tokens Sold
In a tweet published on Tuesday (March 31, 2020), Paradigm announced that it won 72 out of the 106 bids in the recently concluded MakerDAO debt auction. According to the crypto venture firm's tweet, the 72 bids amounted to $3.6 million worth of DAI being returned to service MakerDAO's $4 million bad debt.
Paradigm was the high bid in 72 of 106 auctions (~68%), returning 3.6M DAI to the system.

Congratulations to the Maker community on a successful auction process. https://t.co/HGnR04A4di

— Paradigm (@paradigm) March 30, 2020
Paradigm, a serial crypto investor with equity in ventures like Tagomi, already had stakes in the MakerDAO project. As previously reported by BTCManager, Paradigm and Dragon Capital led a $27.5 million funding round for the decentralized finance (DeFi) project which saw both establishments gain about 5.5 percent of the MKR supply.
In total, the debt auction saw the sale of 20,980 MKR tokens at an average price of 279.93 Dai (DAI) per MKR token in 106 auctions. DAI, the stablecoin of the MakerDAO ecosystem maintains a soft 1-to-1 peg with the U.S. dollar.
According to the details from the 10-day event, each auction presented the winning bidder with the opportunity to acquire between 180 and 250 MKR with bids starting at 50,000 DAI.
According to data from crypto tracking site Dune Analytics, one participant of the auction mistakenly paid 3,090 DAI when purchasing 16 MKR taking in what can only be described as a case of "fat finger error."
What Next for MakerDAO and the DeFi Market in General?
With the debt auction finalized, the next item on the agenda could potentially be deliberations over a potential compensation plan for MKR holders affected by the events of "Black Thursday."
As the price of Ether fell by about 50 percent following the general financial market panic of Thursday, March 12, 2020, rogue actors triggered liquidation of DAI for Ether with bids as low as $0.
In the end, the MakerDAO market incurred a cumulative loss of about $8.3 million. In response, MakerDAO governance has taken some measures to forestall the reoccurrence of such a systemic failure. Days after the panic, the project announced the addition of USD Coin (USDC) stablecoin as collateral on its platform.
As at press time, the Ethereum-based DeFi market has a total valuation of $630 million which is still some way off the $1 billion milestone attained back in mid-February 2020.