Cryptocurrency Exchange Coinbase Partners with Digital Gift Card Platform WeGift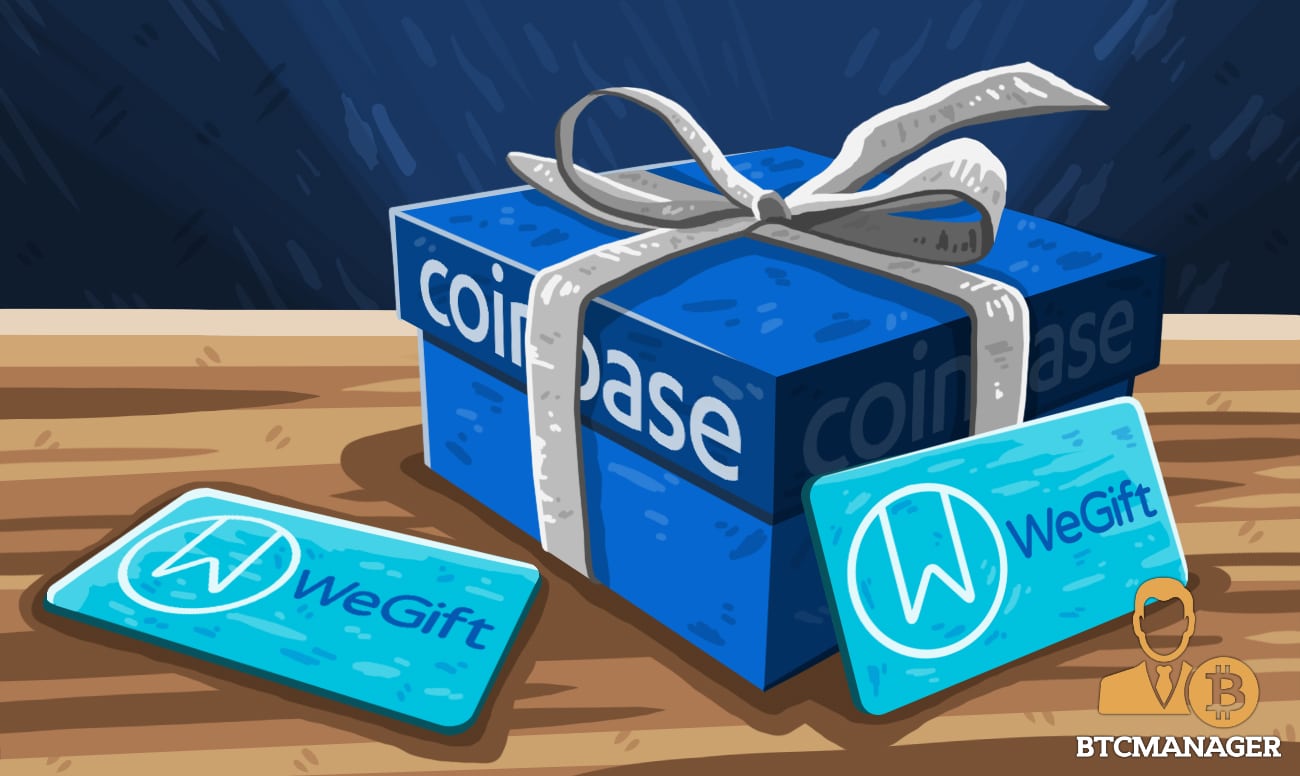 In a significant development on July 25, 2018, influential cryptocurrency exchange Coinbase rolled out a "gift card" feature for its European, British, and Austrailian clientele. Customers can now purchase various gift cards via supported cryptocurrencies.
Bringing Cryptocurrencies to the Masses
As stated in an official announcement, Coinbase has partnered with London-based WeGift, a digital platform that has tie-ups with over 120 retailers across the U.K. WeGift offers real-time, on-demand digital gift cards to customers, powered by a unique API that enables transactions of branded gift cards in any amount across partners.
For our customers in the EU, UK and Australia: announcing a new way to spend your Coinbase crypto  — e-gift cardshttps://t.co/9ZVtRb92T2

— Coinbase (@coinbase) July 25, 2018
The point-of-sale for cryptocurrencies, regarding products and services bought in exchange for digital currencies, remains a barren sector. However, the partnership provides a vibrant economy for those interested in spending their cryptocurrencies instead of holding them as a long-term investment or for speculative purposes. The partnership opens a massive avenue in this regard.
As announced, the usage of cryptocurrencies for purchasing WeGift-issued gift cards offers a small "bonus" percentage to users and provides between one to nine percent of the total sales amount. Furthermore, Coinbase will charge a zero-percent fee on such transactions and withdrawals, presumably to increase cryptocurrency adoption in the masses.
WeGift's partners include Google Play, Nike, Uber, and Ticketmaster, along with 116 other prominent retailers. A customer could now potentially download an application to book a ride to go purchase shoes and then enjoy a snack later on, all paid for exclusively using their cryptocurrency.
Service Available for Limited Jurisdictions
Currently, the service is available to Coinbase users in the U.K., Italy, Spain, the Netherlands, France, and Australia, with the exchange claiming other locations would soon be serviced.
Don't get excited about putting your "shitcoins" to use just yet. The service specifically handles payments only via Coinbase' listed digital currencies: Bitcoin (BTC), bitcoin cash (BCH), litecoin (LTC), ether (ETH), and ethereum classic (ETC).
The move comes at a noteworthy time for Coinbase, as it battles allegations of insider trading. As reported by BTCManager, the U.S.-based exchange was under the limelight in 2017 after concerns that its employees had been a part of an insider trading scandal, prior to the listing of Bitcoin Cash. However, the exchange claimed on July 24, 2018, that two third-party law firms had completed their audits into the matter and found no evidence of malpractice.