Decentralized DeFi Lender Signum Goes Live on the Tezos Mainnet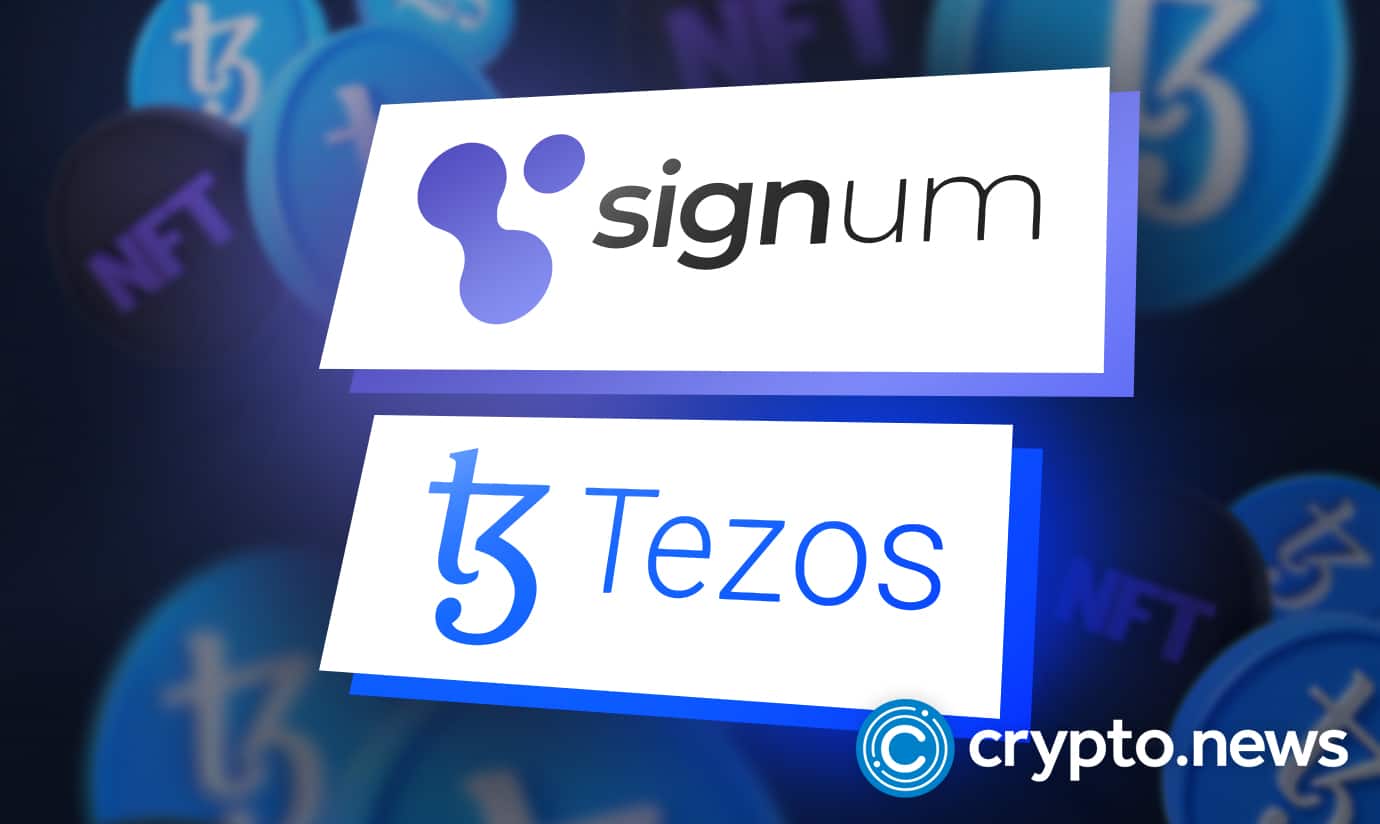 Following months of development, Signum has completed its move to the Tezos Mainnet. The decentralized finance (DeFi) peer-to-peer platform has undergone extensive testing by developers, selected users, and community managers before launch.
Tezos Blockchain Hosts Signum
On October 1, the Tezos Mainnet became Signum's new home after an extended testing period. Signum is a decentralized DeFi platform that facilitates using NFT as collateral to acquire liquidity or loan in Tezos' native token, XTZ.
In addition, lenders can also earn premiums on their short-term loans with NFTs as incentives to use them as collateral. According to the lead Signum developer, the new service will aid the Signum community as the firm aims to close the gap between DeFi and NFT.
Moreover, as a decentralized entity, Signum is not controlled by a single organization. It is a decentralized platform using smart contracts to process loans between two interested parties.
Signum aims to be the leading provider in facilitating access to DeFi loans for individuals with diverse interests.
With the new development, lenders can use their idle assets to earn premiums. Interestingly, in the event of a default, they can also purchase valuable digital tokens at a discount. Lenders are exempted from paying platform fees.
Furthermore, lenders utilize liquidity to meet their long- or short-term investment needs. Additionally, they may use the loans to address personal needs and avoid accessing vault funds.
Signum sees the new initiative as a community service launched for the expanding DeFi ecosystem users.
Tezos' Rise To Fame
As one of the first second-generation blockchain networks, Tezos is an open-source protocol focusing on developing smart contracts for creating new dApps. In addition, users can utilize the Tezos protocol to develop new tokens for their ecosystem.
It has a chain governance model where the community proposes, votes on, and implements upgrades to the network. It depends on a liquid proof-of-stake (LPoS) consensus system and is distinct from other Layer-1 protocols.
However, Tezos was a relatively unknown blockchain platform until after its upgrades in 2018-2020. Tezos got its breakthrough after the explosion of NFT in the mainstream in 2021.
Since then, the protocol has become the go-to platform for creators and collectors in the NFT space. The XTZ is Tezos' native token and is used for paying gas fees, stakings, issuing rewards, etc.
XTZ holders can influence the voting by selecting validators and other community-driven projects. Meanwhile, the token supply is unlimited and has more than 904 million tokens in circulation.
As previously highlighted, the Tezos ecosystem gained public consciousness last year during the NFT boom. As a result of the congestion and high gas fees on Ethereum, Tezos became an alternative for the NFT market players, as it offers fast and affordable transaction costs.
Ethereum's rising fees before the Merge forced many NFT players to shift to Tezos, thus increasing the platform's popularity.
However, the platform is not without its unique challenges as developers seek ways to address the issues.