DeFiChain Introduces Four New dTokens Including Goldman Sachs and Adidas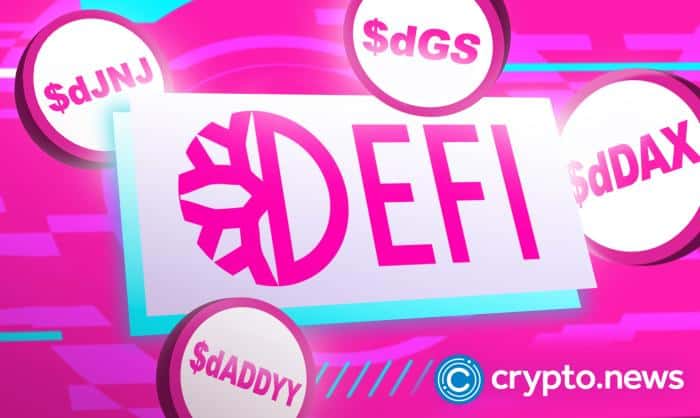 DeFiChain (DFI) has announced that it has added new decentralized tokens (dTokens) into its growing list of supported digital assets.
The four new dTokens are Johnson & Johnson ($dJNJ), Goldman Sachs Group Inc. ($dGS), Adidas AG-ADR ($dADDYY), and Global X DAX Germany ETF ($dDAX). The dTokens offer holders exposure to the price movement of underlying assets but not ownership of the stocks.
DeFiChain's New dTokens
DeFiChain is a decentralized proof-of-stake (PoS) blockchain designed as a hard fork of the Bitcoin network and dedicated to bringing secure decentralized financial applications and services to the masses, has added four new dTokens to its expansive list of supported digital assets.
For the uninitiated, DeFiChain's dTokens are designed to give holders exposure to the price movement of their favorite stocks and exchange-traded funds (ETFs) in the traditional finance space without geographical restrictions, making it a great alternative to a regular stockbroker.
The newly added dTokens are $dJNJ – Johnson & Johnson, $dDAX – Global X DAX Germany ETF, $dADDYY – Adidas AG -ADR , and $dGS – Goldman Sachs Group Inc.
Continuous Expansion
As one of the very few decentralized finance (DeFi) projects powered by Bitcoin, DeFiChain says it will continue to expand its dToken product offerings to offer users more flexibility and benefits of DeFi.
The addition of the Global X DAX Germany ETF to its list of dTokens now makes DeFiChain the first platform to make it possible for DeFi investors to mint and trade dTokens corresponding to a German ETF.
It should be noted that the four new dTokens will only give holders price exposure, not ownership of the underlying stocks and ETFs without any restrictions. The team declared:
DeFiChain users will now be able to mint and trade these decentralized assets to get price exposure to the stocks and ETFs without leaving the DeFi ecosystem. They can also buy dTokens – even in fractional pieces – on the DeFiChain DEX.
dTokens are not 'securities' issued by a company or institution. In essence, dTokens only give holders price exposure but not ownership, voting rights, dividends, or other benefits enjoyed by stockholders.
The team says the dTokens use a set of variables for price discovery rather than tracking and reflecting the actual stock price. DeFiChain currently offers dTokens corresponding to various financial instruments, including the S&P 500, Tesla, Apple, Alibaba, GameStop, MicroStrategy, and many other stocks and ETFs.
Benjamin Rauch, VP Marketing, DeFiChain Accelerator said:
The more assets available on DeFiChain, the easier it is to take control of your investments in a decentralized way. Without any involvement of central instances.
Millions of users from around the world who are unable to invest in U.S. stocks due to geographical barriers, trading limits, and other restrictions could get price exposure to their favorite assets by minting or buying the corresponding dTokens.
dTokens can be held as investments, traded on the DeFiChain DEX, or used for liquidity mining on the platform. DeFiChain users can mint dTokens by depositing BTC, DFI, dUSD, USDT, or USDC as collateral in the DeFichain Vault.