Ethereum Finds Potential Use Case in Hurricane Florence's Arrival: Automated Insurance Payouts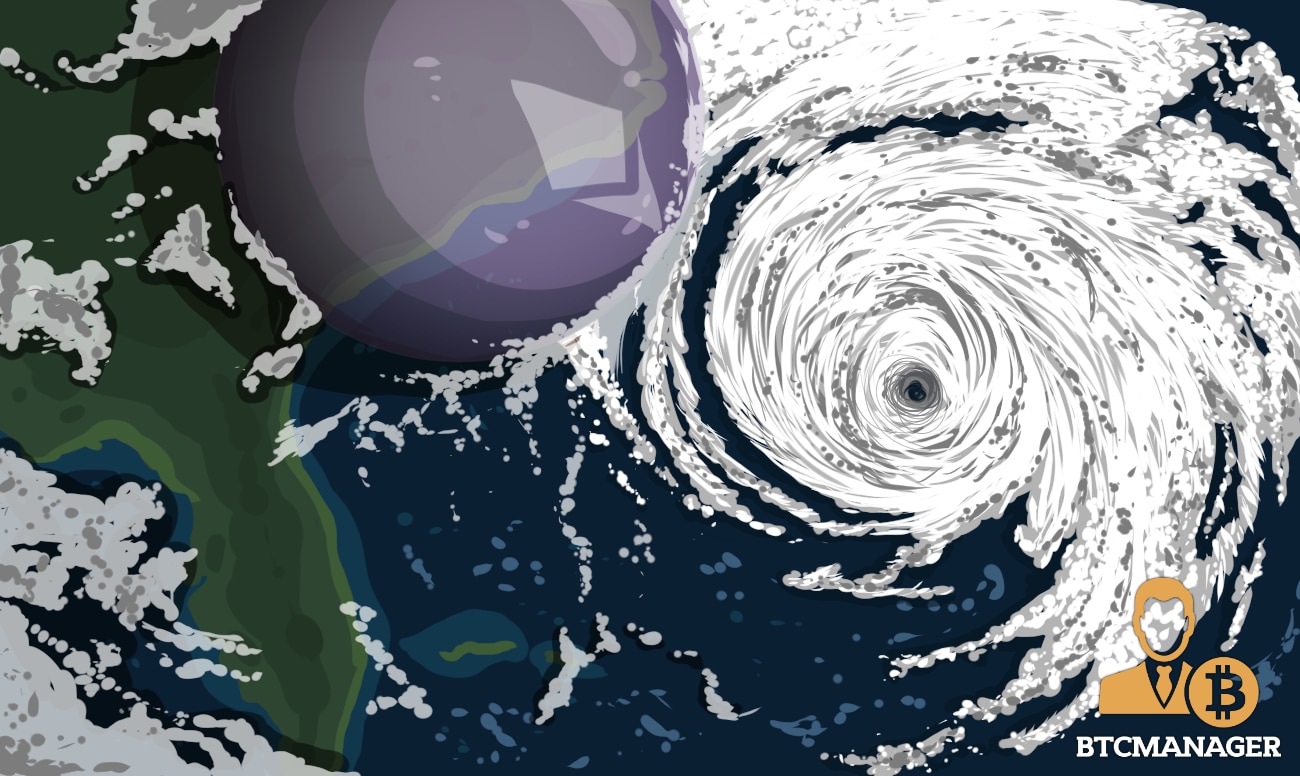 Ethereum (ETH), the largest altcoin concerning market cap seems to be on a long ride down, as the price of the smart contracts-focused crypto token has slumped considerably in the past few weeks. However, this has not deterred enthusiasts from exploring new horizons, as according to a report on Forbes, dated September 11, 2018, Ethereum's blockchain could play a pivotal role in automating insurance payments for natural disasters.
"Smart" Disaster Relief Mechanism on its Way
Considering Hurricane Florence's movement towards the eastern coast of the United States, it is not hard to foresee a hectic time for the insurance companies in the area.
Natural disasters cause a domino effect throughout the sector, as insurance agents and adjusters scramble into action to assess and minimize the payout. This process can sometimes span over weeks and months while otherwise preventable losses go unchecked, thus adding to the burden of the insurance companies.
This is where Etherisc comes into the picture. Founded in 2017 as an open source platform, the company's mission includes making use of the Ethereum blockchain to create insurance products. The infant company raised $3.6 million in its ICO and is already making waves in the insurance sector helping other companies make use of smart contracts.
The firm aims to address the existing redundant and inefficient layers in the process of insurance payout with the help of self-executing smart contracts based on the Ethereum platform.
As one of the examples, HurricaneGuard, a Puerto Rican insurtech start-up is working incessantly to develop an insurance policy using the technological expertise provided by Etherisc. This development has been undertaken in response to the previous year's Hurricane Maria, which resulted in the death of more than 3,700 people due to unavailability of proper medical facilities following the disaster. However, due to the nascent state of the DLT, automated insurance payouts might take some time.
Referring to one of the areas where Hurricane Florence could make a landfall, Etherisc co-founder Renat Khasanshyn stated that although the company would love to offer its services in Virginia, launching a product of this kind in multiple locations is no cakewalk.
He added, "Our plan is to begin writing policies for the next hurricane season in Puerto Rico."
Etherisc in not the only firm utilizing the blockchain's potential in tackling natural disasters. BTCManager reported on February 20, 2017, how the blockchain could play a vital role in saving lives during a natural catastrophe.
Similarly, the infamous Hurricane Harvey in 2017 saw sponsors make use of digital currencies such as bitcoin and Dash to mitigate donation funding.