EY Open-Sources Code for Zero-Knowledge Layer-2 Protocol on Ethereum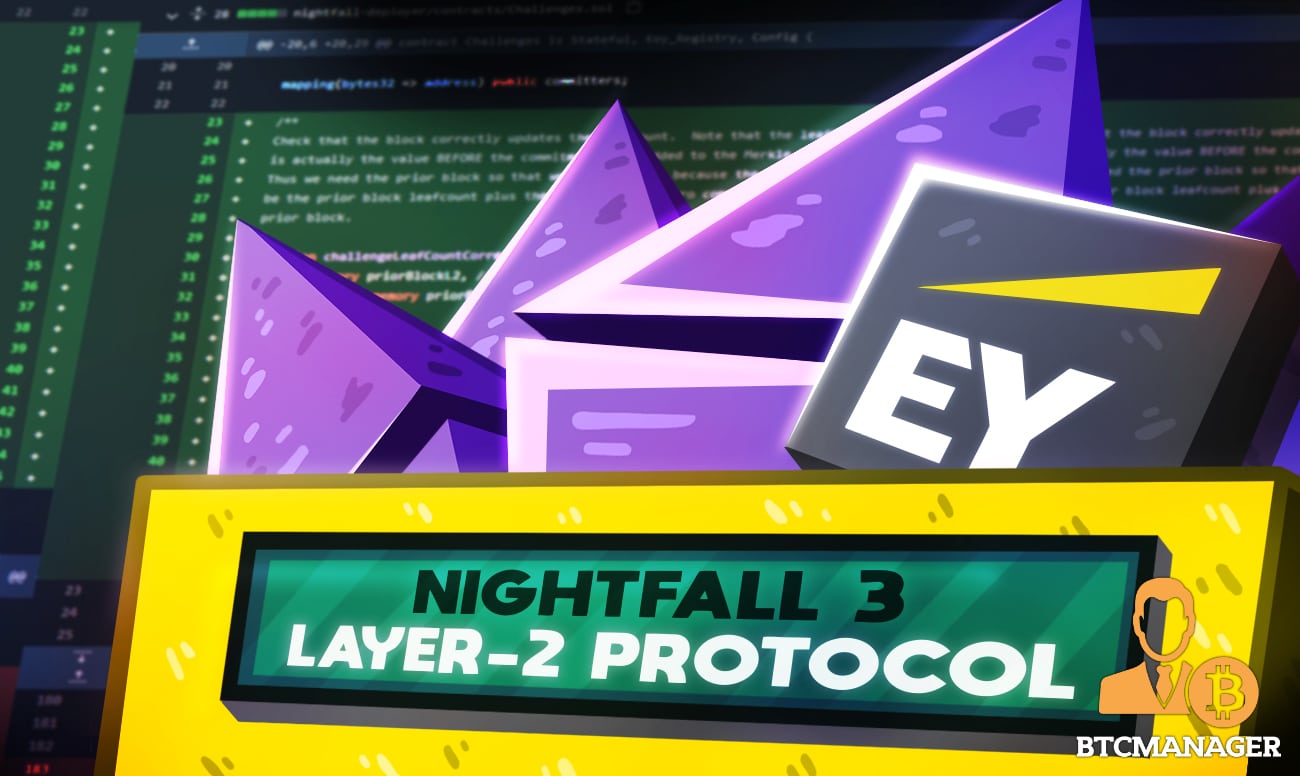 London-based multinational professional services firm EY has open-sourced the prototype code for its zk-proofs Ethereum Layer 2 solution, Nightfall 3.
EY Releases Code for Ethereum Layer-2 Scaling Solution
According to a report by The Block published July 2, auditing and accounting giant EY has open-sourced the code for Nightfall 3 – a zero-knowledge Layer 2 protocol built on Ethereum blockchain.
For the uninitiated, rollups are aimed toward taking the transaction load off of the main Ethereum blockchain (Layer 1) and transferring the same to a secondary layer (Layer 2). The idea behind such a mechanism is to free the Ethereum blockchain of transactions to increase scalability and transaction throughput.
At present, the Ethereum community is burning the midnight oil to develop one particular kind of rollup dubbed the optimistic rollups. According to EY, these rollups are named so "because the system assumes the transactions to be valid unless proven otherwise and eliminates the process of having all participants verify all transactions."
The aforementioned optimistic rollups have drawn considerable attention from VCs in the crypto space, is considered the silver bullet to all of Ethereum's existing transaction woes.
To date, several Ethereum Layer-2 scaling solutions such as Arbitrum have already gone live and have started onboarding projects to help them facilitate economically feasible transactions for users. Similarly, another Layer-2 scaling solution Optimism is expected to launch its offering sometime in July 2021.
EY Looks to De-congest Ethereum
Per sources close to the matter, EY has developed Nightfall 3 to cater to the demand for solutions that can ease "network congestion and raised transaction costs."
Indeed, the sky-high transaction costs associated with the Ethereum network in the DeFi space have been astonishing to say the least. As reported by BTCManager, a DeFi user accidentally paid a whopping $42k in gas to approve a transaction to move funds to Uniswap.
While, of late, the Ethereum gas fees have come down considerably due to lethargic market action, it is by no means a long-term solution.
In a statement, Paul Brody, EY's global blockchain lead, noted:
"Based on EY experience, ZK-Optimistic roll-ups are currently among the most effective in balancing security incentives and mathematical efficiency for running private transactions on the public Ethereum network. As we have in the past, we are again contributing this code into the public domain to speed up enterprise adoption of this technology."