Fake Media Partners and "Arbitrage Robots:" Colorado Cracks Down on Fraudulent ICOs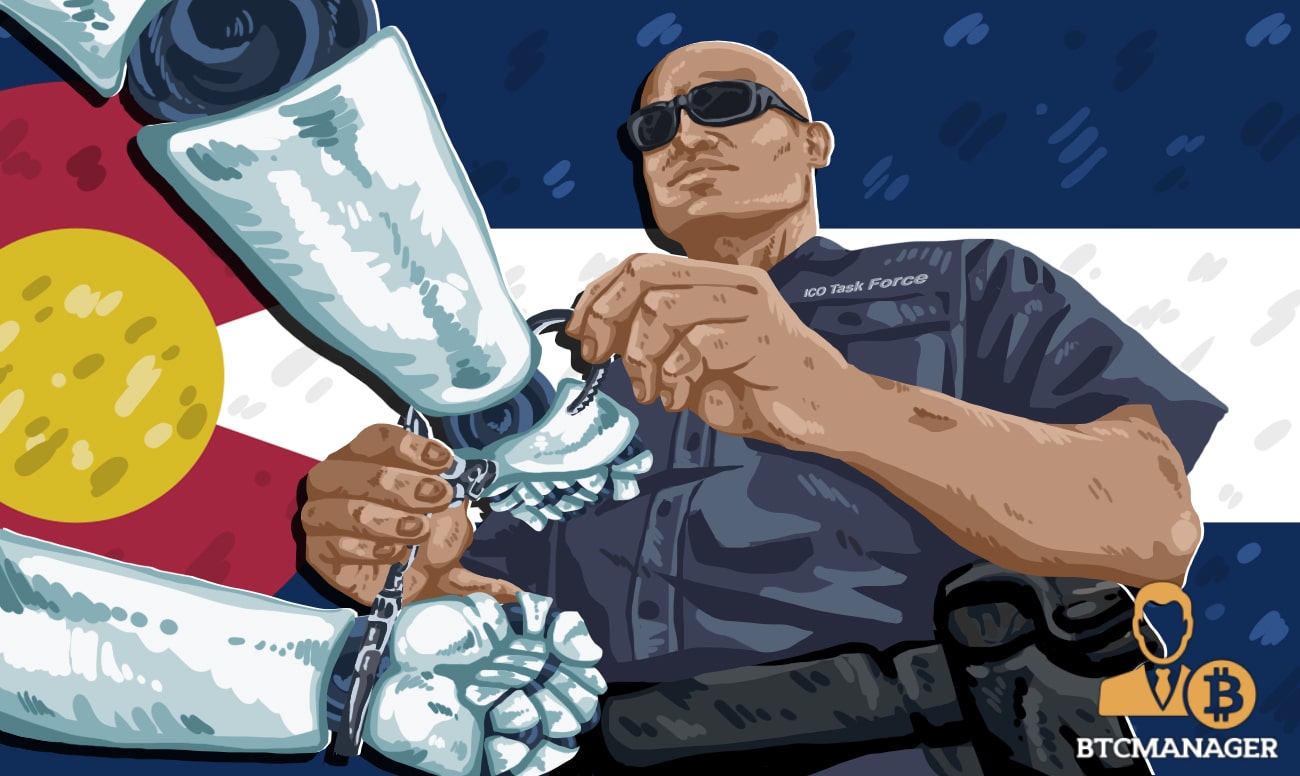 Colorado Securities Commissioner Gerald Rome has continued the state's fight against fraudulent ICOs, issuing three separate orders to suspicious ICO companies as part of the state's crypto regulation drive.
A press release from August 29, 2018, sheds a fascinating insight into the world of shady ICOs doing everything from promising fabulous returns without specifying what activity will earn such returns to promising trading strategies they do not have the capacity to execute.
Colorado's 'ICO Task Force'
The orders from Commissioner Rome are part of an ongoing investigation into unregistered ICOs in the state after authorities noticed a preponderance of fraudulent and opaque cryptocurrency companies operating in the country and ripping off investors.
Officials from the Division of Securities under the Division of Regulatory Agencies (DORA) are taking the lead in the investigation as part of an 'ICO Task Force' inaugurated by Commissioner Rome back in May 2018 with a remit to discover bad actors within Colorado's investment space and carry out the necessary regulatory action against them.
The latest round of orders sent out by the commissioner went to Bionic Coin, Sybrelabs Ltd., as doing business as CryptoARB, and Global Pay Net, which also does business as GLPN Coin and GLPN token. Similar orders have previously been sent out to EstateX, Bitconnect, Bitcoin Investments Ltd, also known as DB Capital, and Magma Foundation, known to some as Magma Coin.

On the Bionic Coin website, the Bionic ICO for the 'BNC' token is promoted, marketed as a means of enabling instant payments to any individual at any location anywhere in the world. It also markets itself as a means of simplifying the process of buying electronic devices and software.
The site offers visitors a technical whitepaper, a timeline roadmap, a blog section and a 'Frequently Asked Questions' section extending answers to potential investment queries. It also provides promises for users to the effect that their money will "grow without any effort."
How this will be done is unclear. On the site, some purported media partners are also listed including Forbes, but when the ICO Task Force cross-checked with the Forbes website, it turned out that no citation or reference to Bionic Coin could be found contrary to information on the site.
From a purely ethical point of view, using fraudulent references is one of the most significant investments in red flags there is.
The site then offers users a series of incentives for promoting the ICO on their social media accounts, stating that each post could fetch individuals up to ten thousand BNC tokens. Tellingly, the website does not link itself to a physical address; neither is there a contact person identified in case of inquiries.
Tall Promises, Murky Details
Syberlabs Ltd on its part promotes a trading solution that is both unregistered and highly unlikely to be delivered based on the capacity required to do so. The company, which is allegedly based in Cambridgeshire, England markets an unrecorded security asset, giving users access to an investment pool that it claims allows for trading on cryptocurrency exchanges using the special functionality of a "crypto arbitrage robot."
This is described as a tool that permits the company to "automate many factors occurring with effective arbitrage on several instruments."
Apart from the fact that such a service closely resembles arbitrage services only offered by special fee-charging platforms and services, which would place out of the realistic capacity of a platform offering minimum participation of as little as $25, the company website also promises users a considerable percentage of profits earned.
Effectively, the offer would be too good to be true because the company would barely make any money under such an arrangement.
Like Bionic Coin before it, it also incentivizes members to promote the unregistered security through postings on their social media, and it provides marketing materials on its website including online banners, a PDF presentation, and souvenir products.

The third company to receive a notice from Commissioner Rome is Global PAy Net, a company that markets its  'GLPN Coins' with the promise that they provide a blockchain-based international finance platform.
Global PAy Net's website describes GLPN coins as "full value assets that represent one's share in the business," even though the business in question is never satisfactorily defined or explained.
The company promises investors a hefty 80 percent of all profits, and it lists some cryptocurrency professionals as resource personnel, advisors and stakeholders in the project. Two of the individuals listed, however, denied being involved in the project.
Even more curiously, the firm maintains that it has a filing with the United States Securities and Exchange Commission's EDGAR database, but this claim cannot be independently verified. Because the phone number given for the supposed 2011 listing does not connect, and there is no record of a business filing in Washington State where the company claims to be located.
Like the other two companies, Global Pay Net also offers incentives, rewards, and prizes to individuals for using their social media accounts and online forum handles to promote the GLPN ICO.
The news comes just a few days after BTCManager reported that the North American Securities Administrators Association is actively pursuing investigations against 200 ICOs across the continent in an unprecedented display of regulatory cooperation as part of a crypto-focused compliance task force called 'Operation Cryptosweep.'
Similar regulatory action has been taken recently by the state of Vermont, which issued a cease order against Levelnet, a cryptocurrency startup based in Irving, California for violating several sections of the Vermont Uniform Securities Act while carrying out its ICO.
In May 2018, BTCManager reported that Colorado became the first U.S. state to introduce laws on blockchain technology, mainly for protecting confidential data in state records, as the county increasingly moves toward blockchain adoption and crypto regulation.