Finder Report: Binance Is the Best CEX overall, Robinhood's Low Fees Attractive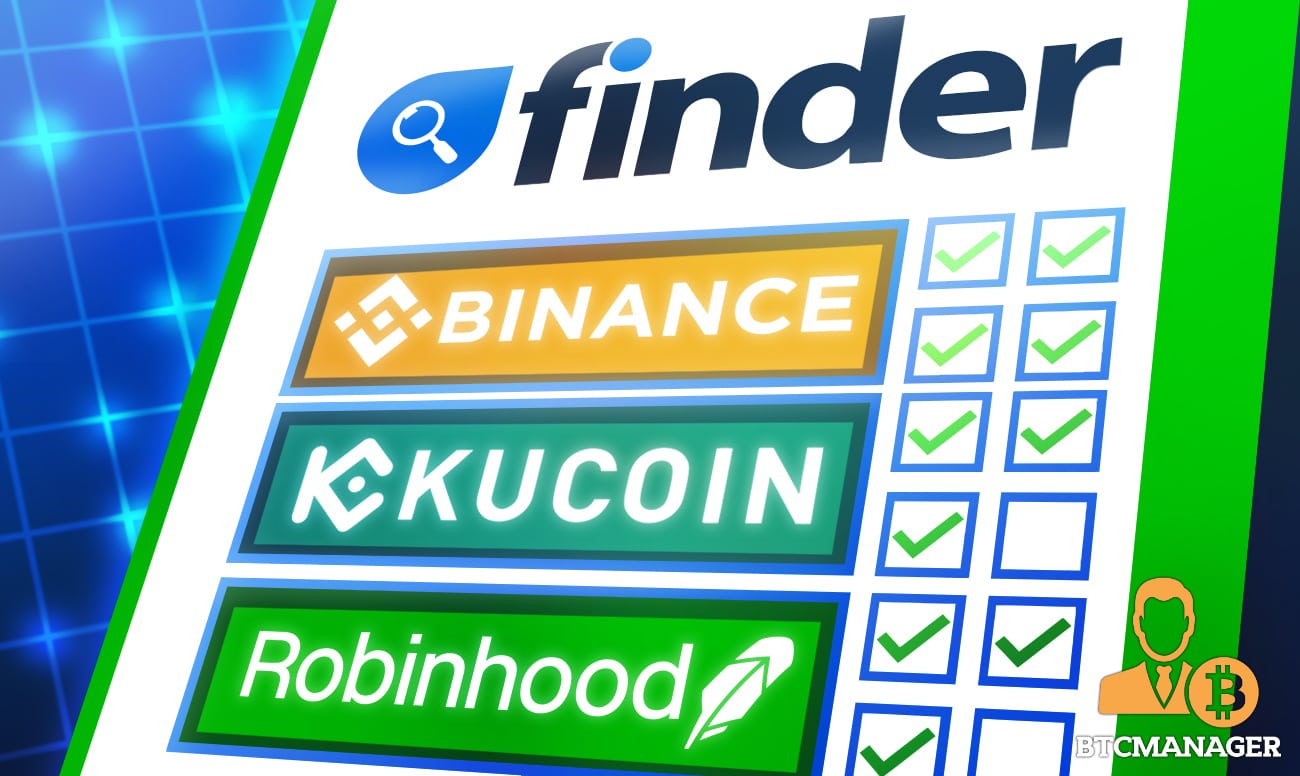 Finder, a platform that guides crypto users in making good decisions, ranks Binance ahead of others, as a report on August 15 reveals. The ranking criterion was based on their security levels, compliance with regulations, fees, the intuitiveness of the user interface, and the number of purchasing methods.
CEXes meet Various Needs of Crypto Traders
Finder points out the role of centralized exchanges in driving crypto adoption.
For instance, KuCoin, Finder notes, is the best for trading altcoins.
On the other hand, Coinbase, the San Francisco-based exchange, is the best for beginners.
Traders seeking low fees can select Robinhood, while those who choose to trade on the go can download the Gemini mobile trading app.
With the evolution of crypto and the rollout of complex derivatives products, traders of all cadres, Finder recommends FTX.
Binance Numbers are Superior
Binance is the largest cryptocurrency exchange by user count, with branches in Africa, Europe, and Asia. The ramp also offers fiat trading.
However, in countries without definite crypto laws, users can trade via the exchange via Binance Global.
CoinMarketCap, the crypto tracker acquired by Changpeng Zhao-led exchange for $400 million, ranks Binance as the best exchange with a score of 9.9.
Notably, the exchange draws an average of $22 billion in trading volumes with a liquidity score of 682.
Binance registered over $20 billion in participation level more than the immediate competitor in daily trading volumes.
This is extended from the number of weekly visits of over 25.8 million, more than 8X Coinbase's. Its dominance in weekly visits could be due to its number of markets of over 1.38k.
KuCoin Is the Best for Trading Altcoin While Robinhood Low Fees Attractive
KuCoin stands out because of the number of listed altcoins and their respective decent liquidity, and the absence of KYC checks.
Meanwhile, even though trading fees are low in Robinhood, their pair limitation presents a problem.
On the other hand, Coinbase's interface is easier to use. However, its location and compliance with strict U.S. laws put off traders yearning for more coins/tokens.
FTX, Finder notes, offer lower fees when using its native token. Nonetheless, its advanced trading portal can be intimidating for beginner traders.
Finder also lauds Gemini's compliance and its mobile app allowing traders to purchase coins on the move.
As BTCManager reported, Binance struck a deal with Alchemy pay to streamline payment through Binance Pay. The object is to drive merchant and user adoption across the globe.