Former CTFC Chairman Says Ripple and Ethereum Might Get Classified as Securities
Gary Gensler, former CFTC chairperson and one of the top financial regulators in the Obama administration talked about the fast evolving realm of cryptocurrencies during his recent speech at the Massachusetts Institute of Technology on April 23, 2018.
Ethics And Governance
"I don't think it's any longer a question of 'if,' but it's a question of 'when.'' ICOs and other tokens really must comply with the securities, commodities, and derivatives laws here in the United States and around the globe."
(Source: MIT Technology Review)
Gensler, who previously served as a partner at Goldman Sachs, seems to be of the view that well-crafted regulatory policy is essential to protect investors and institutions, even though it will probably sting a lot. He recently joined MIT where he will teach and write about blockchain and how it could transform the financial world.
While doing so, Gensler will also shed light on how a significant proportion of ongoing projects in the world of digital currencies are likely to experience difficulties convincing regulators about their merit and long-term prospect.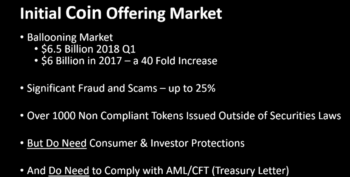 (Source: MIT Technology Review)
He also emphasized that while he is sure that blockchain technology was necessary for "plumbing the financial sector," it also has to be compliant with laws to gather public confidence. Gensler also pointed out that the rules governing financial services do not have to remain the same.
"But laws that have been established over many, many decades that customers and investors and to make sure that markets work efficiently, that's called market integrity. So, customer protection, investor protection, market integrity. And to really work I believe blockchain technology needs to come within that public policy framework."
According to Gensler, the best way to go about said objective is to strike a balance among those protections while simultaneously promoting innovation.

(Source: MIT Technology Review)
Regulation of Ethereum and Ripple
Gensler also spoke at length about the viability of regulating top cryptocurrencies like Ether and Ripple. It is worth noting here that the ex-CFTC chairman has been vocal about potential violation of securities laws by coins like ETH and XRP, the second and third most commonly used cryptocurrencies.
"The SEC and regulators around the globe need to look at all these tokens," he said, adding that such a move could bring clarity to the market.
For the uninitiated, a security is an interchangeable and negotiable financial instrument bearing some sort of economic value. The categorization of crypto coins as securities started gaining ground shortly after the United States Securities and Exchanges Commission (SEC) subpoenaed more than 80 firms for information regarding their ICOs in an effort to regulate them.
Gensler says that both Ether and Ripple, for instance, need to be looked into as the discussion on crypto regulation intensifies. He believes that both these coins have certain traits that make them more like securities instead of currencies.
Interestingly, if coins like Ether and Ripple are officially recognized as securities, the move could make it illegal for US citizens to trade them on the vast majority of the exchanges they are currently traded. This essentially means that the step will also make it more cumbersome for investors to buy and sell those coins despite their prices.
Predicting a rather exciting year for the worldwide crypto market, Gensler said that more than 1,000 ICOs and 100+ exchanges would have to get their act together and fall in line with the US securities laws.
Gensler also said "Cryptokitties are not securities," he explained that they didn't launch an ICO and it is more like a unique license to own a kitty.
Will Bitcoin Be Counted as a Security?
According to many industry observers including Gensler himself, bitcoin is unlikely to be clubbed into the securities category. This distinction comes from the fact that bitcoin, currently the most popular digital currency in the world, did not stem from an initial coin offering or any comparable centralized platform.
Moreover, the technological aspects of the Bitcoin network are overseen by a decentralized group of developers. Other digital currencies that fall under a similar definition include Litecoin and Monero.
Gensler has repeatedly stated that Ethereum could potentially face some problems with regulators because the first Ether tokens went to sale (2014) even before the Ethereum Foundation had the network functional.