GameStop Unveils Partnership With FTX US to Boost Crypto Adoption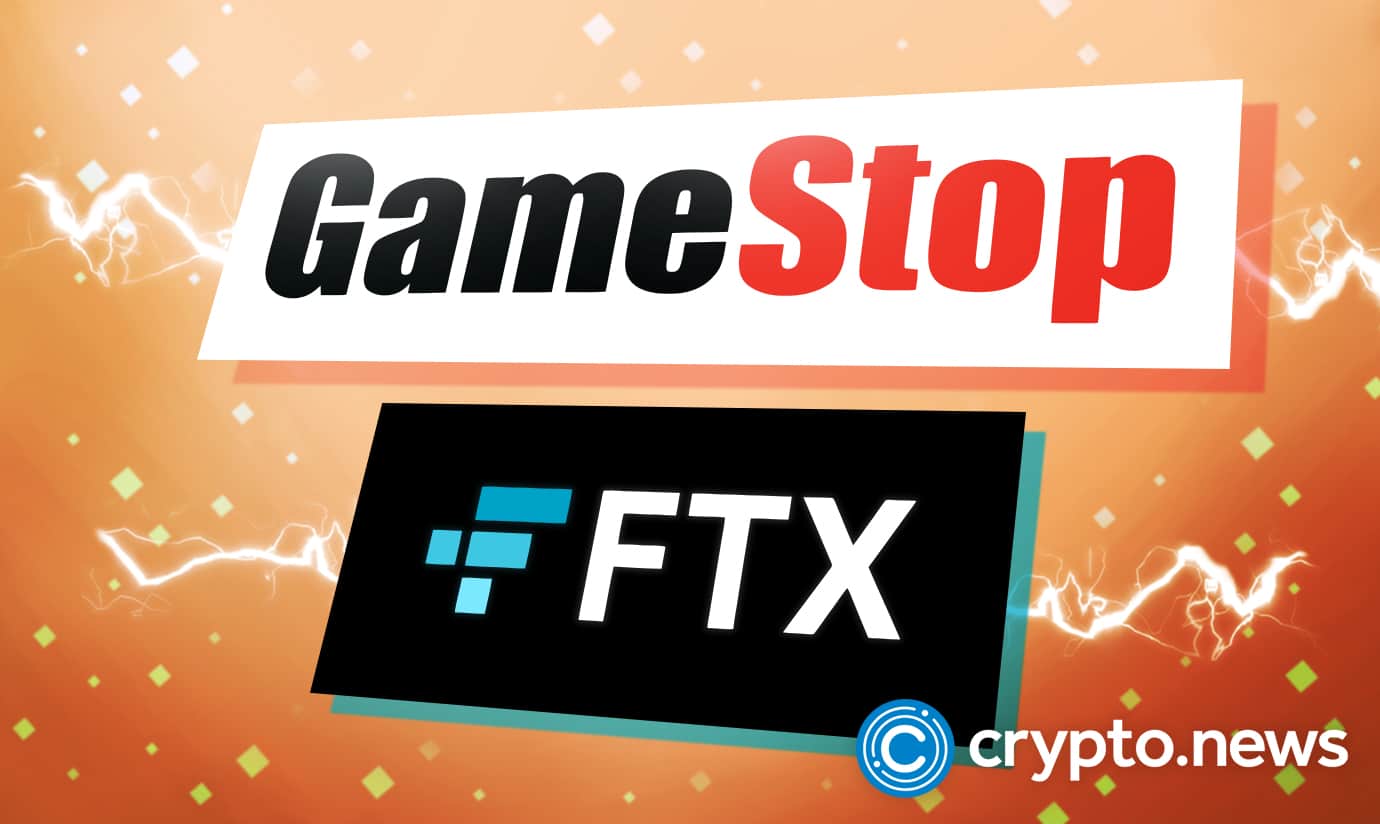 Video game firm GameStop is partnering with cryptocurrency exchange FTX.US to foster engagement between the gaming and crypto communities.
GameStop Teams up With FTX US
GameStop is teaming up with US crypto exchange FTX US to introduce more customers to cryptocurrency and collaborate on online marketing initiatives.
In a statement released on September 7, the gaming retailer highlighted that the new partnership will bring GameStop's customers to the FTX ecosystem, including its marketplaces for digital assets, as well as make it FTX's "preferred retail partner in the United States."
As part of the collaboration, FTX gift cards will be available at select GameStop retail locations. There are 2,970 GameStop stores in the United States as of August 31.
In GameStop's Q2 earnings call, CEO Matt Furlong stated that the new partnership aims to establish something "unique" in the retail industry.
"The deal we just announced with FTX is a by-product of our commerce and blockchain team, working hand-in-hand together to establish something unique in the retail world."
In their announcement, GameStop did not reveal the financial details of the partnership.
The announcement of the new partnership coincided with the release of GameStop's quarterly financial results for the period ending July 30, 2022.
Despite reporting a nearly 4% fall in quarterly net sales to $1.14 billion, GameStop shares rose over 12% in after-hours trading to $26.84 per share in response to the news.
GameStop to Foster Web3 Space
GameStop has dramatically increased its Web3 efforts this year, with the announcement of an NFT and Web3 gaming division in January, as well as the July 11 launch of its NFT marketplace in collaboration with Ethereum (ETH) scaling solution Immutable X.
During the earnings call, Furlong stated that the marketplace "supports GameStop's pursuit of long-term growth in the cryptocurrency, NFT, and Web3 gaming verticals," which they anticipate will become progressively vital for gamers and collectors.
The marketplace is described as a "non-custodial, Ethereum Layer 2-based marketplace," allowing users to link their own digital asset wallets, such as the recently introduced GameStop Wallet.
GameStop reported that its digital collectibles contributed $223.2 million in sales during the quarter, a nearly 26% increase compared to the $177.2 million in sales during the same period in the prior year.
Since its inception, the marketplace has seen a total volume of $21.26 million traded on it, according to DappRadar. The marketplace's activity has dropped drastically since its launch, with only $904,630 worth of activity occurring in the last seven days.
Alliance to Help Companies Endure Crypto Winter
By Partnering with FTX, GameStop appears to be emphasizing that it is committed to crypto, but the agreement could also aid both companies in their efforts to traverse the so-called crypto winter.
As digital asset values fell earlier this year, FTX CEO and co-founder Sam Bankman-Fried tried to help failing crypto startups like Voyager and BlockFi, albeit he recently stated that those investments had "mixed" effects.
GameStop isn't the only company that has lately partnered with FTX; Reddit has also partnered with the crypto exchange, and FTX has spent heavily on advertisements during the Super Bowl and has sponsored various sports teams/leagues in an effort to enhance its profile.