Gemini and Betterment Partner To Bring Diversified Crypto Portfolios to Investors.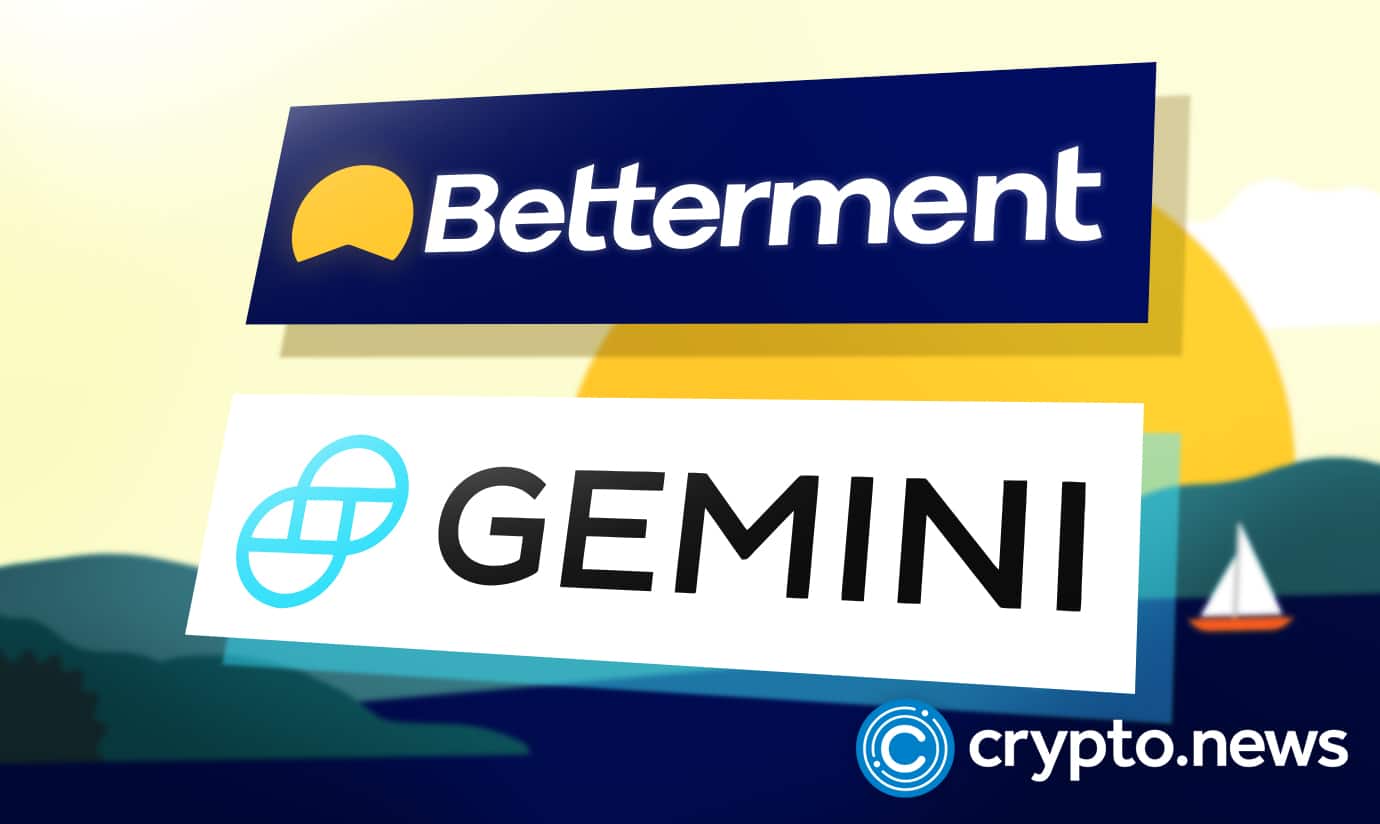 Gemini announces a partnership with the biggest digital investment advisor, Betterment, to kickstart a new crypto investment portfolio deal. Betterment customers can now access the crypto asset class and diversify their investment portfolios further.
Gemini and Betterment in New Partnership
Despite current poor market situations, crypto exchanges continue to expand services and announce partnerships. Earlier this month, Ankr announced its partnership with ssv.network for Ethereum staking. We also heard of CoinCorner's plan to enter the UAE Market through a strategic partnership. And now we witness another wedlock between crypto firm Gemini and Betterment.
Gemini, a popular cryptocurrency exchange platform founded by the Winklevoss twins, has recently announced its partnership with Betterment, a financial advisory firm in New York City. The new alliance was made public by Gemini in a press release on its website.
According to the article, Gemini will now serve as Betterment's official crypto custodian. This will enable the financial advisory firm to provide over 700,000 customers access to crypto assets.
Betterment Customers to Access Crypto Starting in October
The new partnership will start in October when Betterment customers begin accessing crypto portfolios. They will be provided curated crypto portfolios constructed from digital assets listed on the Gemini Exchange.
By partnering with Gemini, Betterment customers will now be exposed to new crypto asset classes, enabling them further to diversify their long-term investment portfolios on a trusted platform. Betterment Advisors' partners will also profit from this partnership as they can offer crypto to their clients.
Betterment will now be using Gemini's custody services for thousands of customers.
In a statement made by Jesse Proudman, Betterment's VP of Crypto Investing and former CEO of Makara, a crypto investing company acquired by Betterment earlier this year, "Betterment is built on the principles of trust, ease-of-use and diversification and we wanted to work with a partner who not only understood our unique needs, but had the infrastructure in place to power our crypto solution in a way that aligned with our values."
Benefits for Gemini
Gemini also stands to gain a lot from this new pact. According to Marshall Beard, Gemini's chief strategy officer, the firm is progressively expanding its institutional partnerships to provide "responsible access to crypto."
Beard stated that Gemini is making crypto infrastructure available to many asset managers and financial institutions worldwide. He says, "Through our suite of institutional offerings, we provide crypto infrastructure solutions to a growing number of leading asset managers and financial institutions on a global scale."
Gemini on a Partnership Spree
This is another of Gemini's expansion strategies. The firm also recorded a partnership with the prominent data company, Plaid earlier this year. With Plaid, Gemini's customers can share their crypto account information, including balances, transactions, and asset types, with other services. This will help with tax advisory services, financial planning, and net worth calculations.