Gemini Becomes World's First Crypto Exchange to Complete a SOC 2 Review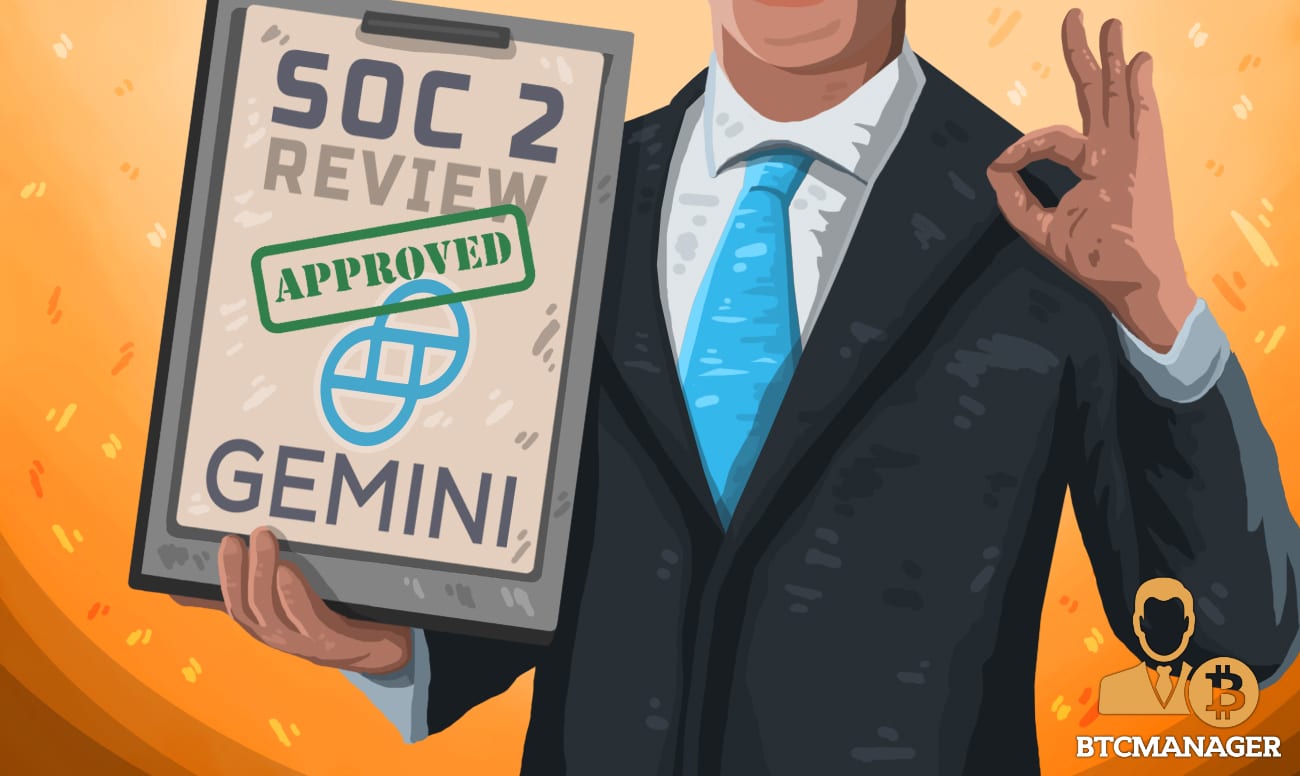 Gemini, a U.S.-based regulated cryptocurrency exchange and custodian, has announced the completion of its Service Organization Control (SOC) 2 Type 1 examination conducted by Big Four auditor, Deloitte & Touche LLP. The examination makes it the first cryptocurrency trading platform and digital assets custodian in the world to demonstrate the highest level of security compliance in protecting clients' funds and data, according to a Medium blog post on January 29, 2019.
Does Gemini Exchange have the Highest Level of Security?
As stated in its blog post, in a bid to maintain an unprecedented level of security and compliance, Gemini has engaged Deloitte & Touche LLP to carry out a SOC 2 Type 1 examination of its systems.
For the uninitiated, a SOC 2 Type 1 simply refers to the examination of a service organization's systems by an independent auditor to find out whether the firm meets the standards set for service organizations by the American Institute of Certified Public Accountants (AICPA) in terms of security, availability, processing integrity, privacy, and confidentiality. In other words, it looks into the "fairness of presentation of the service organization's system and the suitability of the design of controls as of a specified date."
Specifically, Gemini says it has succeeded in putting its name in the history books as "the world's first" crypto exchange and cryptoassets custodian to put in place this excellent level of security compliance in protecting customer data and cryptocurrency.
Gemini Leaving no Loophole for Hackers to Exploit
Even with the falling prices of bitcoin and other virtual currencies powered by distributed ledger technology (DLT), cryptocurrency trading platforms remain prime targets for hackers, and only a few exchanges have been able to guard their systems against cyberpunks.
On January 28, 2019, BTCManager informed that cryptocurrency exchanges have lost more than $1 billion worth of digital assets to hackers so far.
Per the Gemini team, its platform was built with a "security-first" mentality right from the start, providing users with a state-of-the-art venue to buy, sell, and store cryptoassets and the independent evaluation of its systems by Deloitte further confirms the exchange is in an excellent state of health.
"We feel strongly that this standard of compliance is what all retail and institutional consumers should expect of their cryptocurrency exchange and custodian," declared Gemini, adding "We know what is at stake when you trade and store digital currencies."
As reported by BTCManager on January 6, 2019, the Winklevoss Twins, the owners of Gemini Trust Co., released an ad campaign advocating for the regulation of the crypto industry.