GOEX, a Global Crypto Exchange to Facilitate Long-Term Crypto Investments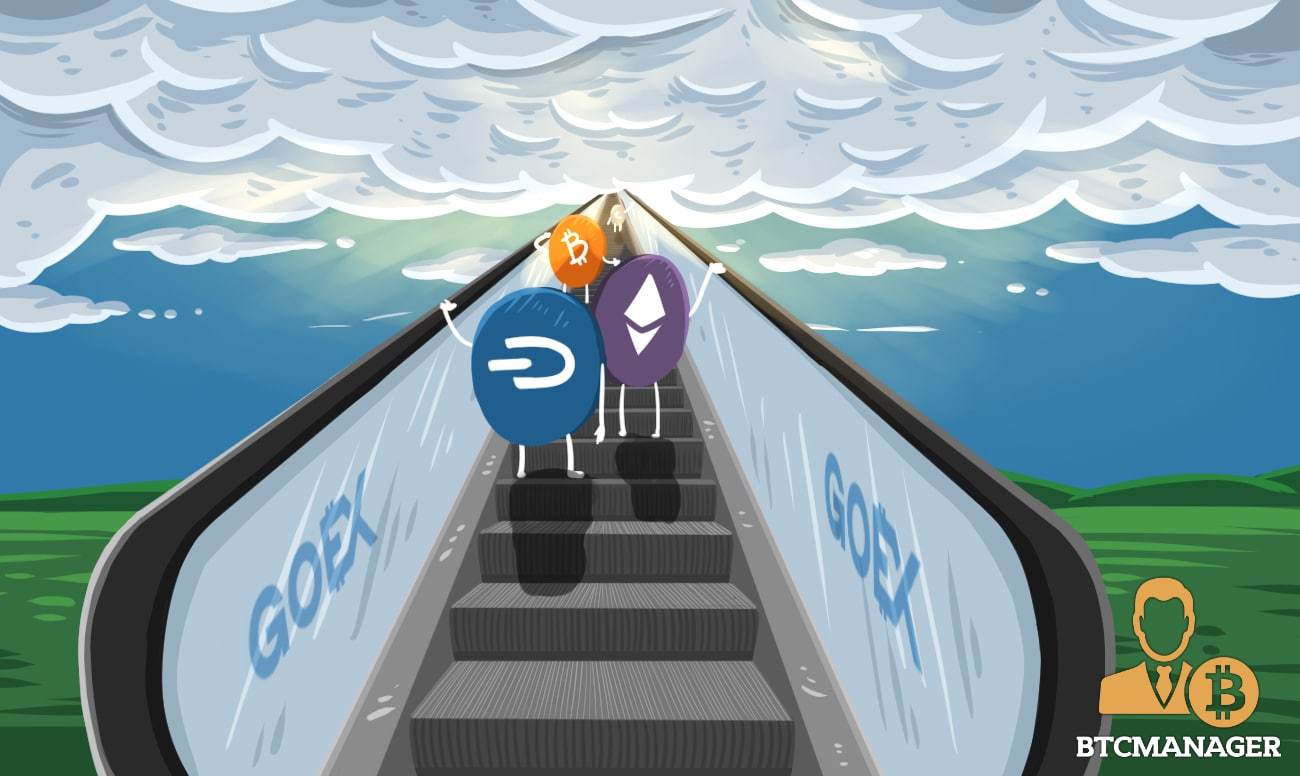 The crypto exchange plus investment platform GOEX launched on December 27, 2017, and has amassed a considerable following in a less than a year. The service offers participants an instant cryptocurrency exchange service with the best dynamic rates the market has to offer. Furthermore, the crypto exchange provides an integrated investment platform, which makes it easy to understand what makes GOEX stand out among other cryptocurrency exchanges in the market.
Why GOEX?
User's safety is of utmost importance to GOEX. To ensure sufficient transparency and accountability, GOEX's web platform facilitates crypto asset purchases using an entirely decentralized infrastructure. This feature entails that users need not keep money on their balance to execute a crypto transaction. This is in stark contrast to some of the centralized exchange platforms that closely monitor their users' purchasing and selling activities.
GOEX understands the price volatility characteristic of crypto markets as well. Keeping in mind the sensitive nature of cryptocurrencies, GOEX offers its participants a dynamic rate of crypto tokens rather than a fixed rate. To determine the current price of a cryptocurrency, GOEX makes use of the threshold values established in the transactions beforehand.
A high speed of operation is possible as the rate at which a transaction executes depends solely on the base speed of the currency's confirmation. To safeguard its crypto assets from potential hack attacks or third party attempts at breaches in security, GOEX does not hold any of its crypto assets.
In addition to all the attractions mentioned above, GOEX operates 24/7, meaning users can trade around the clock. Any user with a complaint or an issue with any of the transactions can always access the GOEX helpline.
Perhaps the utility that distinguishes GOEX from most of its competitors is its crypto investment platform. GOEX views crypto assets as healthy long-term assets and users of the platform can enjoy these long plays at the modest rates, virtually guaranteeing future income. Attractive interest rates as high as 1.6 percent per day, accompanied with a reinvestment function that increases profitability of crypto portfolio on a daily basis, will be attractive to any potential crypto investor.
Achievements Accomplished
GOEX has undergone continuous refinement in its design and transaction speed, one-upping itself with every new change. On the exchange front, GOEX has:
Accelerated support service work
Addition of DASH and Ripple crypto token
The launch of an Android app
Increased speed of exchange operations
Regarding the investment frontier, GOEX understands the importance of incentives and returns that an investor can expect out of a well-defined investment plan. As such, GOEX offers:
Enabled 2FA (2-factor authorization)
Enable DASH and Ripple investment
The launch of a bounty program
Updated the security infrastructure
Upcoming Attractions
GOEX recently launched its official Android app to ensure that its users have easy access to the exchange for any time trading, along with regular notifications on their existing crypto investments to inform them about dynamic price movements. There is also a planned release of the exchange's iOS application. The launch date of the app will be officially announced soon.
"GOEX Bounty" is an initiative to incentivize simple actions to help popularize the platform. Users need to fulfill certain conditions described in the bounty section of the exchange's website.
"GoBonuses" is another partner program that offers an additional reward to users for attracting investment in GOEX.pro. To be eligible for bonuses, users will be required to attract the necessary amount of investment at each stage.
Where Are we Headed?
GOEX aims to become the premier crypto exchange platform in the world. Boasting a team of individuals with decades of multi-industry experience, GOEX is poised to achieve its vision of becoming a borderless exchange working globally 24/7.
Of course, being the number one exchange in the world entails that the platform will support all the legitimate crypto tokens that exist. Shortly, the exchange has plans to add cryptocurrencies such as Zcash and Monero to its list of tradable crypto securities. GOEX will also provide its users an opportunity to hold these crypto assets for long-term investment purpose.
Further, the crypto exchange has plans to launch its crypto token, dubbed the GOEX token. There are possibilities that the token will be airdropped and will be enlisted in all the major crypto exchanges all around the world, subsequently creating another opportunity to make money with GOEX.
Concluding, the project doesn't just try to cash in on the "buzz" surrounding cryptocurrencies but instead looks to develop all the innovations and updates after thoroughly analyzing the current market offering and continually reiterating the product. GOEX aims to spearhead the crypto exchange market by providing an easy to use, functional, and profitable product to its users.
Disclaimer: BTCManager does not endorse any content or product on this page. While we aim at providing you all important information that we could obtain, readers should do their own research before taking any actions related to the company and carry full responsibility for their decisions, nor this article can be considered as investment advice.