How Bitcoin Is Creating Financial Stability Where There Is None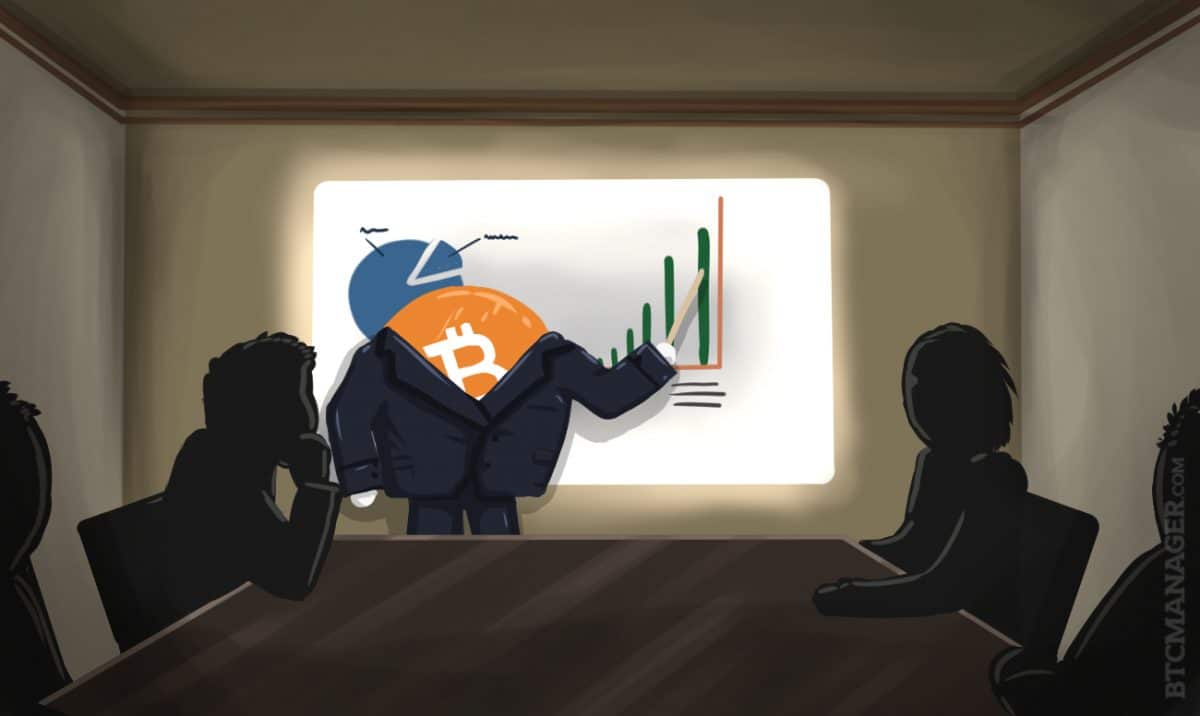 In April 2013, under intense pressure from the EU, Cyprus suddenly decided to 'bail in' its banks, whereby 37.5 percent of uninsured deposits were converted into equity and depositors were prevented from withdrawing their funds.
As a result, bitcoin usage surged in the region as it was used as an alternative store of wealth by many of those who were not able to access their funds held at local banks. During the one-month period following Cyprus' 'bail in', the price of bitcoin soared from around $500 to over $600 per bitcoin as people recognised its value versus traditional, fiat currencies, which could now be taken away or restricted in times of emergency, a precedent set by the events in Cyprus.
However, the incident in Cyprus may not be the only instance where bitcoin manages to emerge as a tool for financial stability for individuals in economically distressed countries. The more recent examples are the situations in Venezuela, Turkey and Brazil.
Venezuela
Venezuela's economy has been in sharp decline since the oil price dropped from above the $100 mark in mid-2014. Since the mass implementation of socialist economic policies by former president Hugo Chavez, the Venezuelan economy has become heavily reliant on oil exports. Currently, Petroleum comprises around 95 percent of Venezuela's exports and 50 percent of its Gross Domestic Product, with a large percentage of revenues coming from its state-owned oil company PDVSA. As the oil price has not yet fully recovered, the economic situation has worsened and turned into a full-blown financial crisis.
In an attempt to boost the economy as the crisis unfolded, the Venezuelan government resorted to printing money. However, as history has taught us, this can only lead to one thing; hyperinflation. According to a report by the International Monetary Fund, inflation in Venezuela will surge to 480 percent this year and is forecast to rise to 1,640 percent in 2017.
As a result, many Venezuelans have started purchasing bitcoin to use it as a store of wealth, as the Venezuelan bolívar is plunging into worthlessness. Due to the necessity for an accessible, alternative currency, the bitcoin economy is currently flourishing in Venezuela. Trading volumes on peer-to-peer exchange LocalBitcoins have surged to record highs and the leading local bitcoin exchange, SurBitcoin, now boasts over 10,000 users who are exchanging fiat currency for cryptocurrency to store their wealth and to make and receive payments.
While bitcoin is often branded as the currency of the criminal underworld, traditional media has failed to report on the true societal benefits of having a decentralized digital currency that is accessible to anyone with an internet connection. The current situation in Venezuela is a prime example of the positive impact a truly international digital currency can have. Moreover, Venezuela is not the only example in 2016, of how bitcoin can create more financial stability for private individuals in times of economic crisis. Another example is Turkey.
Turkey
On July 15, Turkey's president Recep Tayyip Erdoğan announced that there has been a military putsch aimed at overthrowing his current government. According to Erdoğan, those responsible will be held accountable and a flood of politically motivated arrests followed and thousands of soldiers and civil servants were suspended. Not surprisingly, the Turkish economy immediately took a hit as capital flight and investor uncertainty about Turkey's economic and political future caused the Turkish Lira to drop aggressively against major global currencies.
Somewhat unsurprisingly given what has been occurring throughout the year in Venezuela, bitcoin trading volumes have spiked on peer-to-peer bitcoin exchange LocalBitcoins in the aftermath of the coup d'état attempt in Turkey. Turkey already has the highest mobile payment adoption and bitcoin usage rates in the Europe, according to the 2015 ING Mobile Banking Survey. The infographic below displays the results from ING's survey on bitcoin usage; 9 percent of respondents in Turkey stated that they have used bitcoin, which is higher than in all European countries and slightly higher than in the US.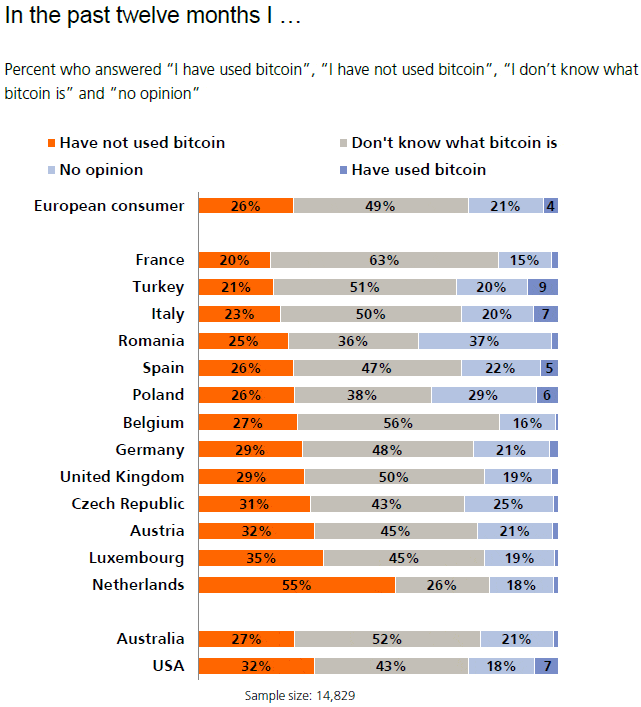 Source: ING, 2015
Hence, the move out of the struggling Lira into bitcoin doesn't come as a huge surprise. Also, as the price of bitcoin has been performing well in 2016 and has experienced relative stability in the summer months, it has become a viable alternative store of value to the Turkish Lira.
Brazil
The Brazilian economy has experienced five consecutive quarters of economic contraction and the removal of disgraced former president Dilma Rousseff has further fueled financial instability in Latin America's largest economy. As a result of the ongoing recession, Brazilians are faced with a weakening currency, hyperinflation, stringent capital controls and limited options to earn enough income to counter rising living costs.
Brazil's currency, the Real, has depreciated aggressively against the US dollar and other major currencies in the last 12 months. The USD-BRL rate went from 3.93 to 3.26 over the course of the last twelve months; almost a 20 percent drop in value versus. Moreover, not only has the currency weakened but inflation has spiked and, according to Brazil's Central Bank's recent forecast update, will be at 6.9 percent for the year 2016 versus 6.6 percent as originally estimated in March. This indicates that Brazil's challenges with inflation will continue throughout the year and into the next.
Therefore, not surprisingly, Brazilian's bitcoin adoption is on the rise. More and more locals are choosing bitcoin over the Brazilian real as a store of wealth and as a means to make and receive payments. Brazilian trading volumes at peer-to-peer exchange LocalBitcoins have increased substantially in 2015 and 2016.
But LocalBitcoins isn't the only exchange that has experienced a surge of trading volumes in Latin America's largest economy. Brazil-based bitcoin exchange Mercado Bitcoin has also witnessed a sharp surge in volumes since it opened in late 2015. Bitcoin Mercado founder Rodrigo Batista attributes the boost in volumes to Brazil's struggling economic and fiscal situation.
In fact, bitcoin trading has increased so much that bitcoin trading volumes on local cryptocurrency exchanges have surpassed gold spot trading volumes on the Brazilian Securities, Commodities and Futures Exchange.
Given that in 2015, bitcoin outperformed the Brazilian Real by 92 percent, it makes financial sense for Brazilians to store at least a part of their wealth in the digital currency to flee from hyperinflation and a weakening Real. Especially given bitcoin's price performance in the last twelve months, which saw the price of one bitcoin move from around $225 to above $600, bitcoin looks very attractive versus Brazil's struggling local currency.
Furthermore, last week Brazil has received its first Bitcoin ATM, located in Sao Paulo, which will facilitate the transfer for local currency into bitcoin and opens up bitcoin adoption to more individuals.
The situation in Brazil, much like in Venezuela and Turkey, clearly demonstrates bitcoin's value as a truly global digital currency; anyone can have access to it and Bitcoin cannot be influenced by central banks and national governments, a critical advantage over local currencies which are susceptible to a variety of economic, political and social factors.