Huobi Cryptocurrency Exchange Acquires Majority Stake in BitTrade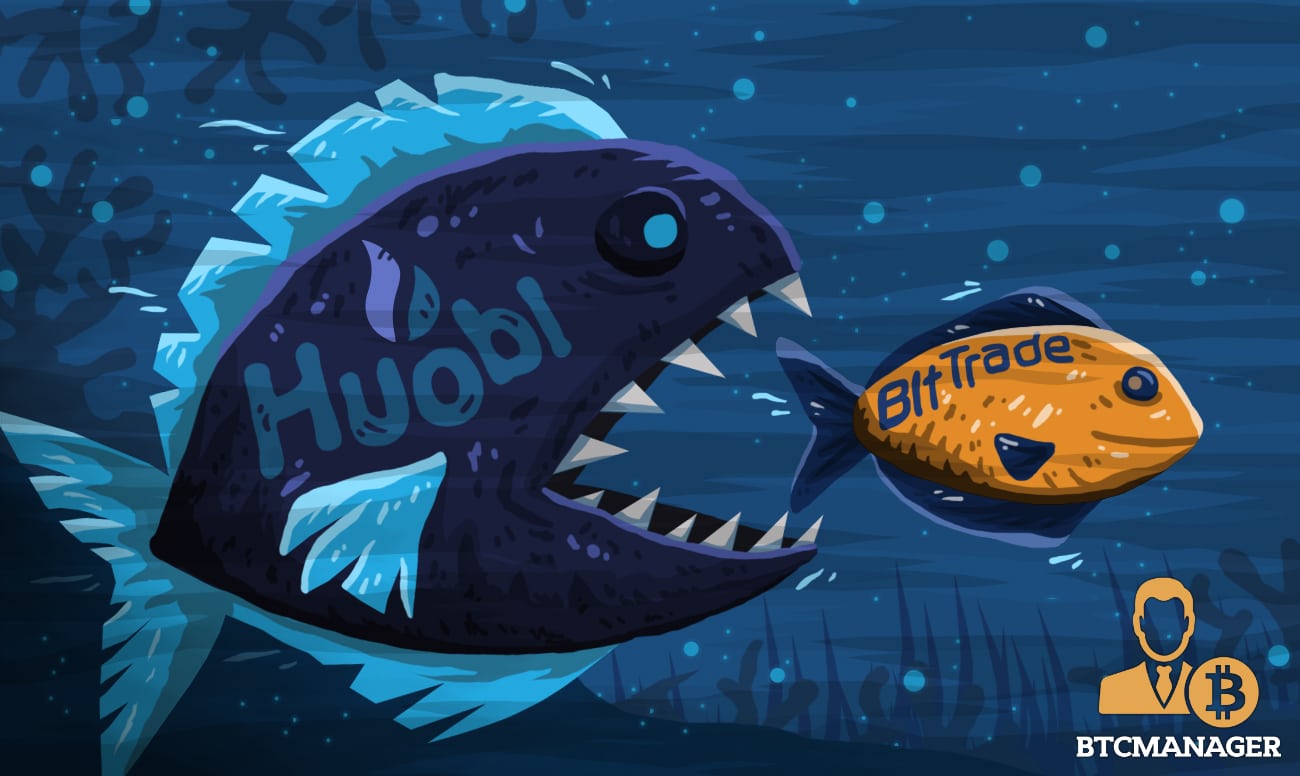 The third largest cryptocurrency exchange in the world by 24-hour trading volume Huobi has acquired a majority stake in the Japanese-licensed crypto trading platform, BitTrade, as first reported by Tech In Asia on September 12, 2018.
Huobi Invests in BitTrade
Per sources close to the matter, Huobi Japan Holding Ltd, a wholly owned subsidiary of Huobi, has bought a controlling share in BitTrade, a Japan-based digital assets exchange.
Though both parties have not revealed the specifics of the deal, the teams have made it clear that the agreement would allow them to beef up the platform and improve user experience drastically.
"Together, we will leverage on Huobi's global footprint, management team and advanced security systems to grow BitTrade into a market leading position in Japan," said the founder of BitTrade, Eric Cheng, adding:
"Having a long-term partnership with a global brand like Huobi is an excellent step for BitTrade as we look to continue our rapid growth trajectory."
Per DealStreetAsia, Cheng is a diehard crypto enthusiast and entrepreneur, with investments in a vast number of countries across the globe, including Australia, Malaysia, and many more. Huobi's chief financial officer Chris Lee has said that Cheng's international connections will be instrumental for the expansion plans of both teams.
Established in 2016, BitTrade is one of the 16 cryptocurrency trading platforms approved by Japan's Financial Services Agency (FSA). In May 2018, news surfaced that highly successful Singaporean businessman, Eric Cheng had acquired the cryptoassets exchange platform for ~$48 million.
Huobi Championing the Crypto Revolution
Though not without its shortcomings, as the exchange has often come under criticisms for fabricating its trading volume, it is, however, undeniable that Huobi is doing everything within its powers to foster cryptocurrency adoption globally.
As previously reported by BTCManager, in June 2018, Huobi announced it was creating a $93 million fund to power distributed ledger technology (DLT) initiatives in China and South Korea.
On May 6, 2018, BTCManager reported that Huobi had extended its reach to Canada, in a bid to take advantage of the amenable crypto regulations present in the region. "Canada is emerging as a top blockchain country, and Toronto is set to become one of the next most active DLT hubs across North America," declared Ross Zhang, the General Manager of Huobi, at the time.
In June 2018, Huobi Global also launched its Blockchain Plus project, aimed at making it easier for startups and established corporations alike to integrate blockchain technology into their operations seamlessly.