IOTA (MIOTA) Successfully Reboots Network Following $2.2M Heist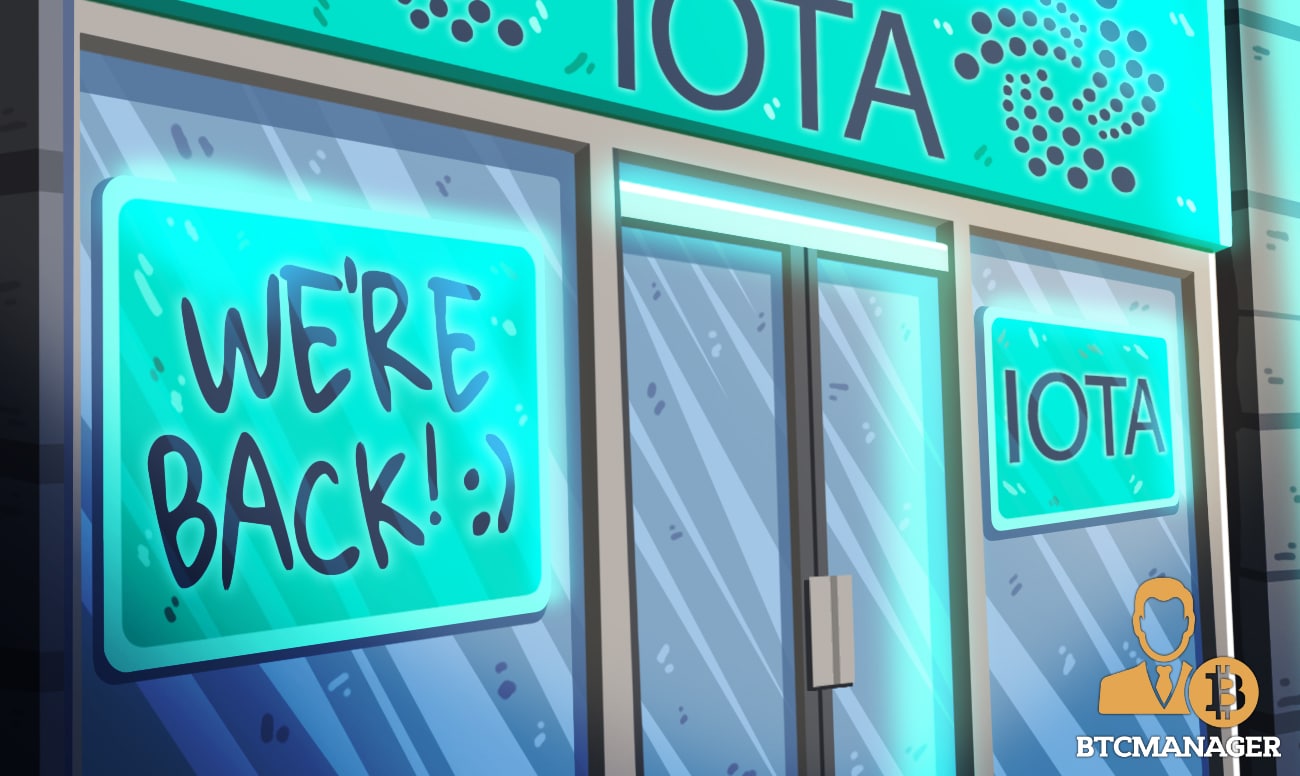 The IOTA Foundation, the nonprofit organization in charge of the IOTA (MIOTA) network, has announced that Coordinator, a temporary security mechanism for the IOTA network has now been reinstated following the Trinity wallet hack that took place last month, according to a blog post on March 10, 2020.
IOTA (MIOTA) Now Fully Functional
On February 12, 2020, the IOTA team announced that its Trinity wallet had suffered a severe security breach, and as such, the Coordinator was halted to prevent the bad actors from stealing more users' funds.
Shortly after the heist, IOTA developers announced that the bug that led to the Trinity wallet hack has been fixed, adding that they were working round the clock to ensure that the entire network resumes full operation.
"We have also remediated the vulnerability in Trinity. The upcoming Trinity update will not function as a final transition tool, as we are still working on bringing the network back to full operation," declared the team at the time.
On February 17, 2020, the IOTA team announced the launch of a safe Trinity desktop wallet and made it clear that users must endeavor to use the seed migration tool in the new wallet to protect their assets from hackers.
Coordinator Resumes, IOTA Still Centralized 
In the latest development, IOTA says the Coordinator feature on its network is now fully functional as the migration period (Feb 29th to March 7th) is now over. However, those who used their Trinity wallet between December 17, 2019, to 17th February 2020, and are yet to migrate their seed, are required to create a new one and transfer their funds from the old seed.
IOTA said:
"If you used Trinity between 17th Dec 2019 to 17th Feb 2020 and you have not migrated your seed during the migration period, make sure to create a new seed in Trinity and transfer your funds from your old seed."
While several blockchain proponents have criticized IOTA (MIOTA) for being a centralized project since it can halt activities on its network at will via the Coordinator, the team has made it clear that it wholeheartedly stands by its decision to implement such a system on its network as it serves as a safety mechanism.
"With the Coordinator in place, the IOTA Foundation was able to protect user tokens and prevent further thefts. Through caution, we have chosen the path of progressive decentralization. Full decentralization remains our primary goal," declared the IOTA Foundation.
At press time, the price of IOTA (MIOTA) is up by 2.34 percent on the 24-hour time frame,  trading at $0.198353, with a market capitalization of $551.33 million, as seen on CoinMarketCap.