Jack Dorsey Mints Twitter's Genesis Tweet as NFT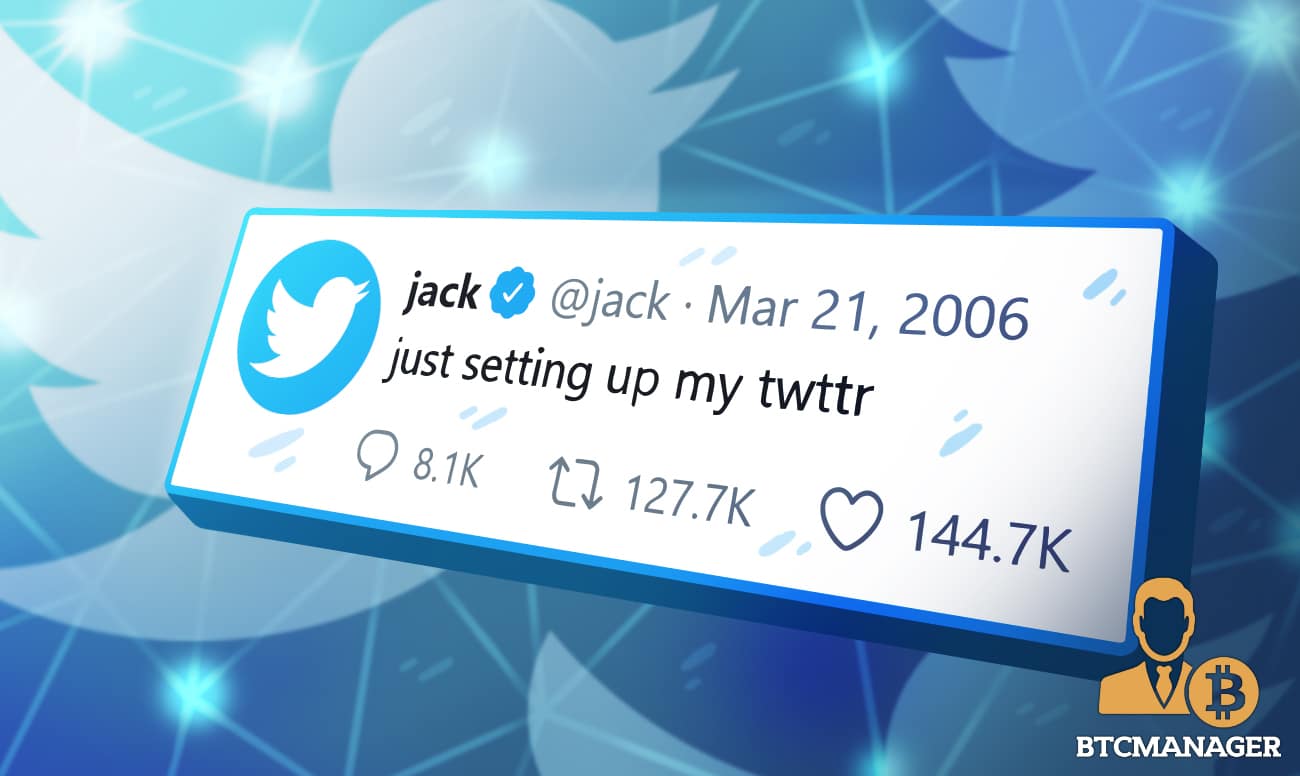 The Twitter CEO seems to have joined the NFT craze.
Jack Dorsey Mints Tweet as NFT
Twitter CEO Jack Dorsey is one of the most well-known bitcoin (BTC) permabulls.
However, it would seem that Dorsey is not shying away from jumping down the Ethereum and NFT rabbit hole as recently, the tech mogul minted the first-ever tweet ever posted on Twitter on Ethereum-run service Cent.
— jack⚡️ (@jack) March 6, 2021
The tokenized Genesis tweet has already attracted considerable attention from the wider crypto community with the highest bid being at a whopping $267,000 by Twitter user @curt_liu42.
The tweet is listed on NFT platform Valuables which is an Ethereum-based platform developed by the social network Cent. For the uninitiated, Cent enables Twitter users to seamlessly authenticate their tweets for sale to others. In laymen's terms, such tweets can be thought of as being digitally signed copies. Essentially, Cent allows users to mint, sell, and buy on NFTs of tweets.
NFT Fever Continues to Grow
While DeFi was all the rage during the summer of 2020, all points indicate the summer of 2021 could very well be NFT-dominated.
The pace of development in the NFT space in the last few months has been astonishing to say the least.
As recently reported by BTCManager, major rock band Kings of Leon announced that it would be releasing its 8th studio album as an NFT.
Similarly, on February 17, well-known Hollywood actress and recently turned crypto enthusiast Lindsay Lohan tweeted that she was giving away $10,000 worth of ETH via her newly minted NFT dubbed "The Ethereum 10K" which only has a maximum supply of 100 tokens.
Along the same lines, privacy-preserving popular web browser Brave recently announced the addition of NFT purchases to its Brave Swag Store. At the time, the browser stated the addition of NFTs is part of its expansion process and enables users to experiment with the latest fad in the industry.
However, this is not to say that the rise of NFTs came out of nowhere.
As previously reported by BTCManager, in December 2019, German football club Bayern Munich auctioned some Ethereum-based NFTs which brought in over 240 ETH in winning bids.