JPMorgan Finally Joins the Bitcoin (BTC) Bandwagon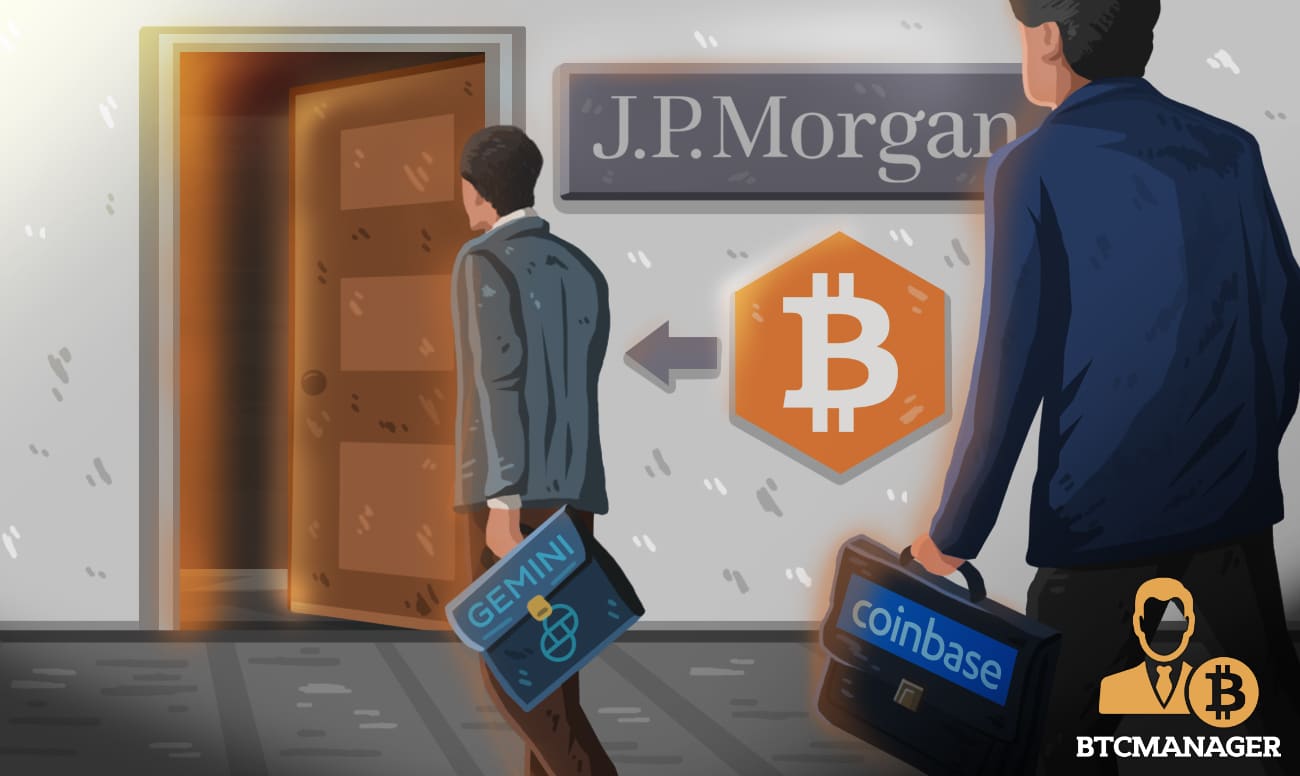 JPMorgan, America's largest bank with a staggering $2.6 million in assets, has inked a deal with leading Bitcoin (BTC) trading venues, Coinbase and Gemini exchange. JPMorgan will now offer the two exchanges banking services including deposit, withdrawal and transfers with Automated Clearing House (ACH) infrastructure, according to a Forbes report on May 12, 2020.
Bitcoin No Longer a Fraud?
At a time when the global economy has been put into dire straits by the ravaging COVID-19 pandemic, with more and more heavyweight investors joining the Bitcoin movement in a bid to hedge against great monetary inflation, the Jamie Dimon-led JPMorgan Chase bank is now ready to get its piece of the crypto cake. 
In another significant development for the global cryptocurrency and blockchain ecosystem, J.P.Morgan Chase bank, the largest lender in the President Donald Trump-led United States of America, has opened its doors to Coinbase and Gemini.
Per sources close to the matter, the 19-year-old lender signed a partnership deal with Coinbase and Gemini exchange in April and the new relationship will enable the customers of both exchanges to access all key banking services offered by the firm, including fund deposits, withdrawal and cash transfer, with Automated Clearing House (ACH) infrastructure.
For the uninitiated, the ACH infrastructure is run by the National Automated Clearing House Association (NACHA) and the service makes it possible for credit and debit transactions to get settled on the same day.
Mainstream Crypto Adoption in the Pipeline?
While a handful of lenders including Barclays Bank have offered their services to crypto exchanges in the past, and banks like ClearBank and a host of others still support crypto-related businesses, the fact remains that J.P.Morgan's new crypto-friendly stance could motivate more big-name lenders to join the bitcoin bandwagon.
Interestingly, some observers have argued that the new Chase bank alliance with Coinbase and Gemini could turn out to be a symbiotic relationship that would enable the exchanges to list the former's stablecoin, JPM  Coin on their platforms. However that scenario may be very unlikely since the cryptocurrency is designed to function as an institution-to-institution service.
Commenting on the development, an anonymous banker reportedly said:
"It's a big news in my opinion.There is little business in fees associated with processing wire and ACH transactions, I think JPM will derive other benefits from its collaboration with both exchanges, potential for winning any future IPO or another angle such as JPM coin getting listed on either of those platforms."
At press time, the price of bitcoin is up by 2.16 percent, trading at $8,896, with a market cap of $163.48 billion, as seen on CoinMarketCap.