Ledger Nano S Plus Review: Good for Beginners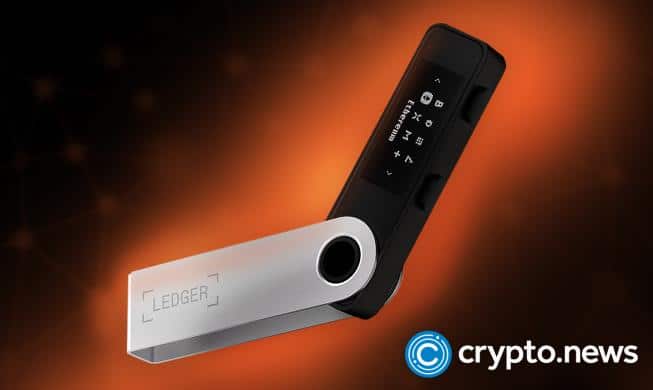 Cryptocurrency wallets play a crucial role in the crypto space by storing cryptocurrency keys and letting users access their cryptos. However, if you are looking for a secure way to store your cryptocurrencies offline, then Ledger Nano S Plus is your best bet. Since their launch, hardware crypto wallets have widely been preferred over software (online) wallets owing to their immense security and convenience. Find out below why Ledger Nano S Plus makes the cut as a reputable hardware wallet.
Ledger Nano S Plus Overview
The Ledger Nano S Plus is a hardware wallet designed by Ledger to offer safe and convenient offline storage of cryptocurrency storage as well as non-fungible tokens (NFTs). The Nano S Plus is a much-awaited upgrade to the Nano S, launched in 2016. The Nano S propelled the Ledger to success, selling nearly 4.5 million devices. However, with the advancement of the crypto space, the Nano S lacks key features that could cater to Web3 technologies such as DeFi and NFTs. As such, the Nano S is set to be retired this year
The Ledger Nano S Plus is marketed as the new-and-improved version of the renowned Nano S. The hardware wallet is designed to support Web3 technologies including NFTs and DeFi, with more modern features including a bigger screen and an intuitive, modern user interface.
Ledger Nano S Plus Unboxing
The Ledger Nano S comes in a sleek gray-and-black box, which is unlike its previous faux-Apple packaging. The box conspicuously lacks an anti-tamper seal which Ledger argues that they can easily be counterfeited. Instead, the box is shrink-wrapped with the device name clearly indicated at the top of the box.
On opening the package, you'll find:
The Ledger Nano S Plus hardware
A Type-C USB Cable to connect the Ledger to the computer
A bright orange box with three notepads for the Secret Recovery Phrase i.e. seed phrase
A pastel purple box with the manual instructions
A key-holder chain with the revamped Ledger logo
Everything on the box appears and feels high-quality with well-designed packaging and the jazzy accent colors adding distinctiveness to the entire packaging.
Ledger Nano S Plus: Design and Build
The Nano S Plus boasts a minimalistic curved design with rounded-off buttons, appearing like an upmarket, elegant thumb drive or USB flash drive concealed in an executive polished metal plate. One thing you'll easily realize about the Nano S Plus is that it sports a much bigger display screen compared to its predecessor, the Nano S. The monochrome screen measures 128 x 64 pixels, providing just the needed amount of screen. Besides, the display is clearer and sharper, with better graphics than what is seen on the Nano S.
The Ledger Nano S Plus measures 62.39 x 17.40 x 8.24mm, weighs just 21 grams, and measures twice the height of the Nano S. The outer shell features brushed stainless steel rounded with an inner plastic. A new certified safety chip ST33K1M5 (CC EAL5+) is also integrated into the hardware wallet.
The Ledger Nano S features two buttons on the side for seamless navigation. While the navigation buttons have been reviewed to feel wobbly and clunky, they are pretty easy to use and precise. Next to the two buttons at the top is the Type-C plug to connect the wallet to a computer. Ledger rebranded in late 2021, and the new slicker logo is etched into the aluminum shield.
The Nano S Plus is currently available only in black. However, later this year, Ledger will release the wallet in different colors, including Saffron Yellow, Matte Black, Jade Green, Flamingo Pink, Transparent, and Lagoon Blue. Overall, the build quality is excellent, and the design is pretty impressive. While the product design isn't a masterpiece, it looks much nicer than its predecessor and most hardware wallets.
Ledger Nano S Top Features
Ledger Nano S boasts world-class features that make it among the best cryptocurrency wallets in the crypto space today. Below are the leading Ledger Nano S features.
NFT Support
Non-fungible tokens (NFTs) are a big topic in the crypto space worth millions of dollars despite the 'crypto winter' that has been a stumbling block to its growth. Despite the enormous growth of the NFT space, hardly any crypto wallets support NFTs. And those that support NFTs don't have an interactive user interface to showcase the tokens. MetaMask is the most popular crypto wallet to store Ethereum-based NFTs. While it's free to use, it has its own set of issues, including security issues considering that it's a hot wallet.
The Nano S Plus is among the first hardware wallets to support NFTs allowing users to store, send, and receive NFTs with full transparency via the Ledger Live user interface.
Ledger Live
Ledger Live is an intuitive and modern user interface that you can install on your computer or smartphone to manage your Nano S Plus wallet. It's essentially a high-end wallet interface that is sleek and well optimized to buy seamlessly, exchange, and grow your crypto and NFTs under a single app.
Ledger Live is compatible with all Ledger wallets, including the newly launched Ledger Nano S. While it's centered on professional users with advanced features and functionalities, the interface is beginner-friendly. It won't really require a long onboarding process.
Digital Assets and App Support
The Ledger Nano S Plus supports digital assets, apps, and ramps in implausible numbers. It supports over 5500 crypto assets which means you can virtually store any cryptocurrency you might think of. Ledger constantly updates the list of supported coins which you can find here.
The wallet runs on an operating system called BOLOS (Blockchain Open Ledger Operating System). BOLOS supports more than 100 third-party tools and websites, including MetaMask and Rainbow.me, Mycelium, Bitstamp, SSH Agent, Password Generator, MyEtherWallet, and more.
The Nano S Plus storage has been upgraded to 1.5 megabytes, which offers plenty of space to install 100 applications. You can also download more applications from Ledger's app store, Discover on Ledger Live.
Security
The Nano S Plus is a hardware wallet that generates and stores private keys offline, ensuring maximum security. Generally, Nano S Plus's security features are quite similar to its predecessor, the Nano S, with the same security components. However, Bluetooth connectivity has been dropped in the Nano S Plus, considering it possesses a security threat.
The Nano S Plus leverages CC EAL5+ chips to protect users' digital assets by safeguarding against phishing attacks and asset extraction schemes. You also get industry-leading security features including PIN code locks, security phrases, password encryption, and transaction confirmations.
Ledger has a reputation for making secure hardware wallets with no notable break-ins or security breaches reported. The Nano X received the CSPN certificate (first level security certificate) issued by ANSSI (National Agency for Information Systems Security). Considering the same components were used on this model, the certificate is transferable to the Ledger Nano S Plus.
In-Built DeFi Support
Decentralized Finance (DeFi) is one of the highlights of Web3 and has grown immensely over the years. There are countless DeFi projects providing users with different products and services in the field of crypto borrowing, lending, staking, NFT management, yield farming, and so on.
As mentioned earlier, the Ledger Nano S Plus is built for Web3 and therefore integrates a built-in DeFi support hub which is accessible via Ledger Live. As such, you may be able to access several DeFi services straight from the Ledger Live UI.
Customer Support
Ledger offers responsive customer support available in different languages and spread across several social media challenges including Reddit, Twitter, email, and Instagram. However, considering many customer queries, there may be long waiting times.
Getting Started on the Ledger Nano S Plus
As stated earlier, the Nano S has a smooth onboarding process just like all Ledger hardware wallets. To get started, follow the steps below:
The first step is to download Ledger Live from Ledger's website or the mobile app for iOS or Android. However, note that the mobile app lacks some features which are available in the desktop version for Windows and Mac.
Once you've installed the Ledger Live software, the next step is to set up the new device. Connect the Nano S Plus to the computer in which you've installed the Ledger Live software using the Type-C USB cable. Then go to the "Set up as new device" tab on the hardware wallet and confirm the selection by pressing both buttons. It's also possible to import an existing Recovery Seed.
The next step is to set up a PIN code to protect the device from unauthorized access. The pin can be between 4 and 8 characters long. You can write down the PIN on paper but don't make any digital copy or take a photo of it.
Set up the Recovery Seed Note
After setting up the PIN Code, 24 randomly generated words i.e. the recovery seed phrase will automatically appear on the screen. The Recovery Seed can only be viewed once and represents the backup of the hardware wallet. You can write down all the 24 words exactly as they are on the notepads that come with the wallet. To ensure you've noted down the correct thing, the seed phase will ask you to confirm the seed phrase by selecting from four choices. Store the notepad with the seed phrase in a safe, private and secure place as it's your last resort to retrieve your hardware wallet in case it's stolen or damaged.
When all is set, the Ledger Live software runs a security check on the hardware to ensure nothing has been compromised. This is particularly useful when using second-hand hardware wallets.
Install the manager app on the Nano S Plus
To allow the hardware wallet to interact with the Ledger Live installed on the computer, you need to also install the Ledger manager app on the hardware wallet. Do this by simply accepting the installation prompt on the device and waiting for it to load.
Install apps on the wallet and add accounts
Lastly, you can install individual blockchain apps on the wallet and even add accounts as per your preference. Choose the blockchain for the first asset you wish to store on the wallet, and complete its download using the Nano S Plus buttons. You can then add other accounts as you wish.
Ledger Nano S Plus Pros and Cons
The Nano S Plus has its fair share of benefits and downside as outlined below:
Pros
Executive, minimalistic design
Larger display screen with better graphics
Enhanced security
User-friendly
Large internal memory
Supports NFTs and DeFi apps via the Ledger Live software
Extensive digital asset support i.e. supports over 5,500 cryptocurrencies.
ANSSI-certified safety components
Cons
Can be quite tiresome to buy crypto directly from the wallet
Not-so-good button placement
Doesn't automatically change user's address to enhance the security and privacy of transactions
Not ideal for crypto day traders
Pricing and Availability
The Ledger Nano S Plus is priced at $157.49 on the Ledger website at the time of writing. The price is worth it considering the immense improvements on this unit. You can purchase the device directly from Ledger's online store or other online stores such as Amazon or official resellers.
Closing Words
The Ledger Nano S Plus is a long overdue update of the French company's entry-level Ledger Nano S hardware wallet which will be retired this year. The wallet comes with a refreshed no-frills design incorporating a noticeably larger display with enhanced graphics. It maintains the physical-only connection of the Nano S with a neat balance between security and functionality. With better design, enhanced security, extensive crypto assets, and app support as well as Web3 technologies supporting NFTs and DeFi, the Ledger Nano S Plus is an incredible hardware wallet for the avid crypto user, trader, holder, or investor.
FAQs
Here are some frequently asked questions about one of the best crypto wallets, Ledger Nano S.
Is Ledger Nano S Secure?
Due to the Ledger Nano S's strong security standards, storing your cryptocurrencies is the safest option. Novice or infrequent investors will feel secure knowing that their investments are safe offline, and they can see their accounts or readily access their cryptocurrency when utilizing a physical device.
How many Crypto can Ledger Nano S hold?
On the Ledger Nano S, users can deposit more than 1,100 coins and tokens, with 23 supported directly by Ledger and the remainder supported by third-party software that has been installed. Additionally, over 1,000 tokens and 107 cryptocurrencies are supported by the Ledger Nano S. Stablecoins are also accepted on the Ledger Nano S. However, users cannot hold fiat money there.
What occurs if a Ledger wallet malfunctions?
Your Ledger device gives you access to the blockchain, where your money is kept. You can easily buy a new Ledger hardware wallet and then enter your recovery seed to the new device to regain access to your cash, provided that you correctly backed up your 24-word recovery seed.
When will my Ledger Nano S Expire?
The battery has a five-year design life. Ledger doesn't offer a program for replacing batteries. The device can be utilized by connecting it to a power source with the USB cord if the battery capacity has declined past the point where it is practically useful. A full charge for the Ledger Nano X's 100 mAh Lithium-ion battery allows it to operate for several hours and standby for several months. 
The battery lifespan is best kept by completely charging your Ledger Nano X once per few months if you plan to keep it in storage for longer periods of time.