What is Voyager Digital? From crypto stardom to bankruptcy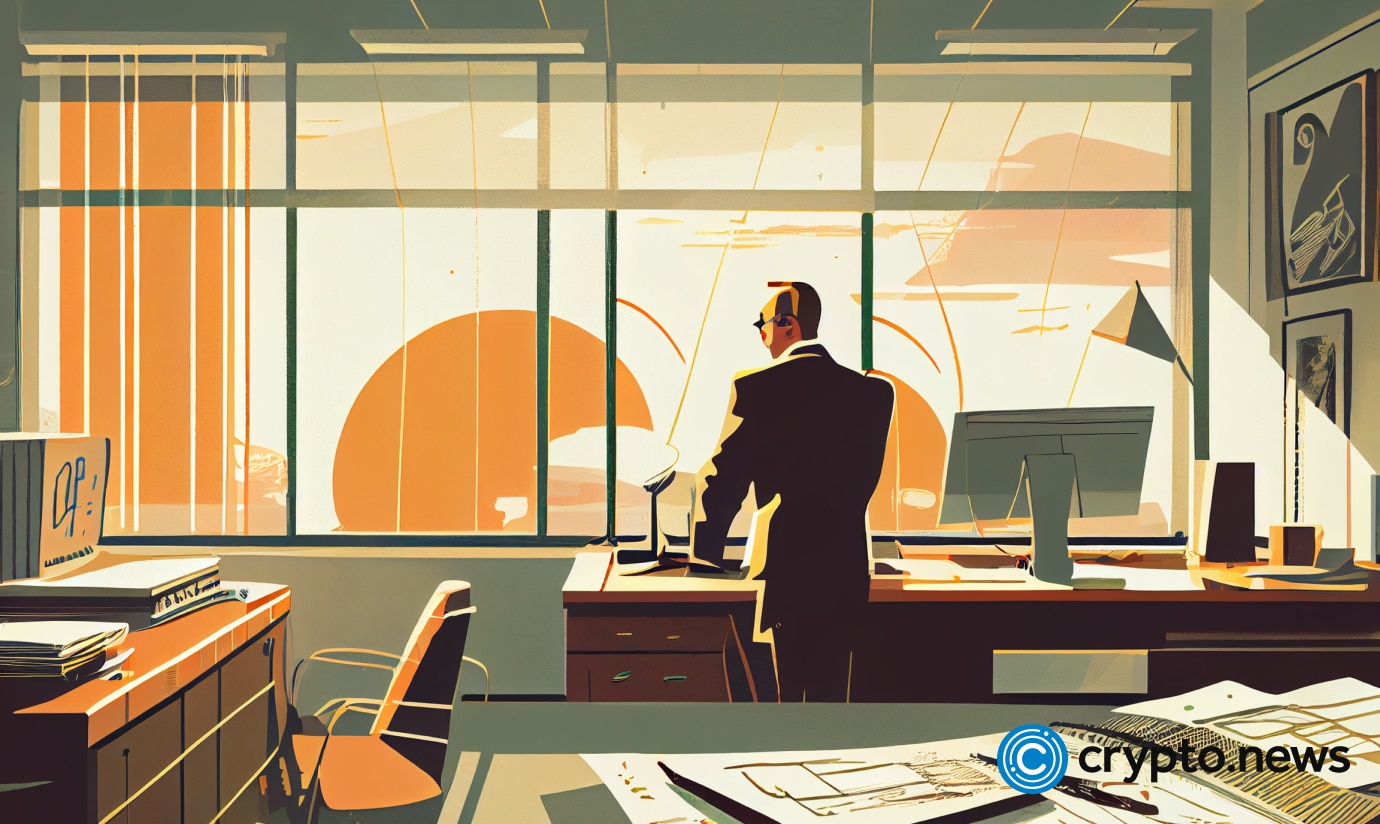 Voyager Digital, a once-prominent cryptocurrency broker, experienced a meteoric rise before facing a series of unfortunate events that led to a precipitous fall. This article will delve into the various aspects of Voyager, including its initial success, its challenges and breaches, and its potential acquisition by Binance US.
What is Voyager Digital
Voyager Digital Ltd. is a publicly-traded cryptocurrency brokerage platform that enables users to trade, invest, and earn interest on a wide range of digital assets.
Founded by Stephen Ehrlich, Oscar Salazar, and Philip Eytan in 2018, the platform quickly gained traction in the ever-growing crypto market.
With its user-friendly interface, competitive fees, and a vast selection of cryptocurrencies, Voyager aimed to make cryptocurrency trading accessible to everyone, from first-time investors to seasoned traders.
Voyager's primary focus was to provide an intuitive and secure platform for users to access the world of cryptocurrencies. The company aimed to achieve this by offering a comprehensive range of services, including:
Crypto trading: Voyager offered a wide range of cryptocurrencies with competitive fees and advanced order types.
Interest earning: Users could earn interest on cryptocurrency holdings by holding their assets in the Voyager app.
Voyager token (VGX): The native token of the platform, VGX, provided users with rewards, discounts, and other benefits.
Educational resources: Voyager was committed to helping users learn more about the crypto market and investment strategies, offering a wealth of educational resources and market analysis.
Voyager's history: milestones
Voyager has experienced a rollercoaster journey since its inception in 2018. Some of the most significant milestones in the company's history include:
2018: Launch of the Voyager trading platform to make cryptocurrency trading more accessible to a broader audience.
2019: Expansion of the platform to include interest-earning features and a broader range of cryptocurrencies.
2020: Listing of Voyager Digital Ltd. on the Canadian Securities Exchange (CSE) and the OTCQB Venture Market in the US.
2021: Introduction of the Voyager Loyalty Program, which offers various benefits and rewards to VGX token holders.
2022: Filing for bankruptcy protection in July, following the default of a substantial loan obligation by Three Arrows Capital (3AC).
What happened to Voyager
Voyager filed for Chapter 11 bankruptcy protection amidst a tumultuous period in the digital asset market.
The market slump saw the value of the cryptocurrency market plummet from a $3 trillion peak in November 2021 to less than $1 trillion, further exacerbated by the collapse of the multibillion-dollar cryptocurrency Terra in May 2022.
Voyager Digital suspended all withdrawals and trading in June, citing "volatility and contagion" in the crypto markets.
The company faced challenges after a crypto-focused hedge fund, Three Arrows Capital, defaulted on a loan from Voyager's subsidiary, Voyager Digital LLC, and was subsequently slated for liquidation. Stephen Ehrlich, Voyager's CEO, expressed the need for "deliberate and decisive action" in response to the ongoing market instability.
In the Chapter 11 filing, New Jersey-based Voyager estimated its assets and liabilities to be valued between $1 billion and $10 billion, with over 100,000 creditors.
Voyager recent news
The most recent developments in Voyager's story revolve around its bankruptcy proceedings and efforts to repay customers by liquidating its crypto portfolio.
As of the beginning of 2023, Voyager liquidated approximately $433 million in stablecoins from crypto exchanges Coinbase and Binance US.
Voyager liquidated all of its MATIC holdings, worth around $53 million, among other tokens such as BNB, ONT, OCEAN, WBTC, and YFI. However, the platform still holds ether (ETH), shiba inu (SHIB), and its native VGX tokens.
Voyager's current situation is dominated by its bankruptcy proceedings and the proposed acquisition of its assets by Binance US. The $1 billion bid by Binance.US has been approved by a New York bankruptcy judge, rejecting the US government's request to suspend the proceedings while the appeal is pending.
As a result, the acquisition is set to move forward, with Binance US aiming to integrate Voyager's technology and customer base into its own platform. The acquisition could be a turning point for Voyager, allowing the company to leverage Binance US's resources and expertise to resume operations and regain its lost market share.
This deal has been met with mixed reactions from the crypto community, as some worry about potential monopolistic practices. In contrast, others believe that the acquisition could stabilize Voyager's customers.
Voyager price prediction
As of March 21, the VGX token's value hovers tantalizingly at $0.39.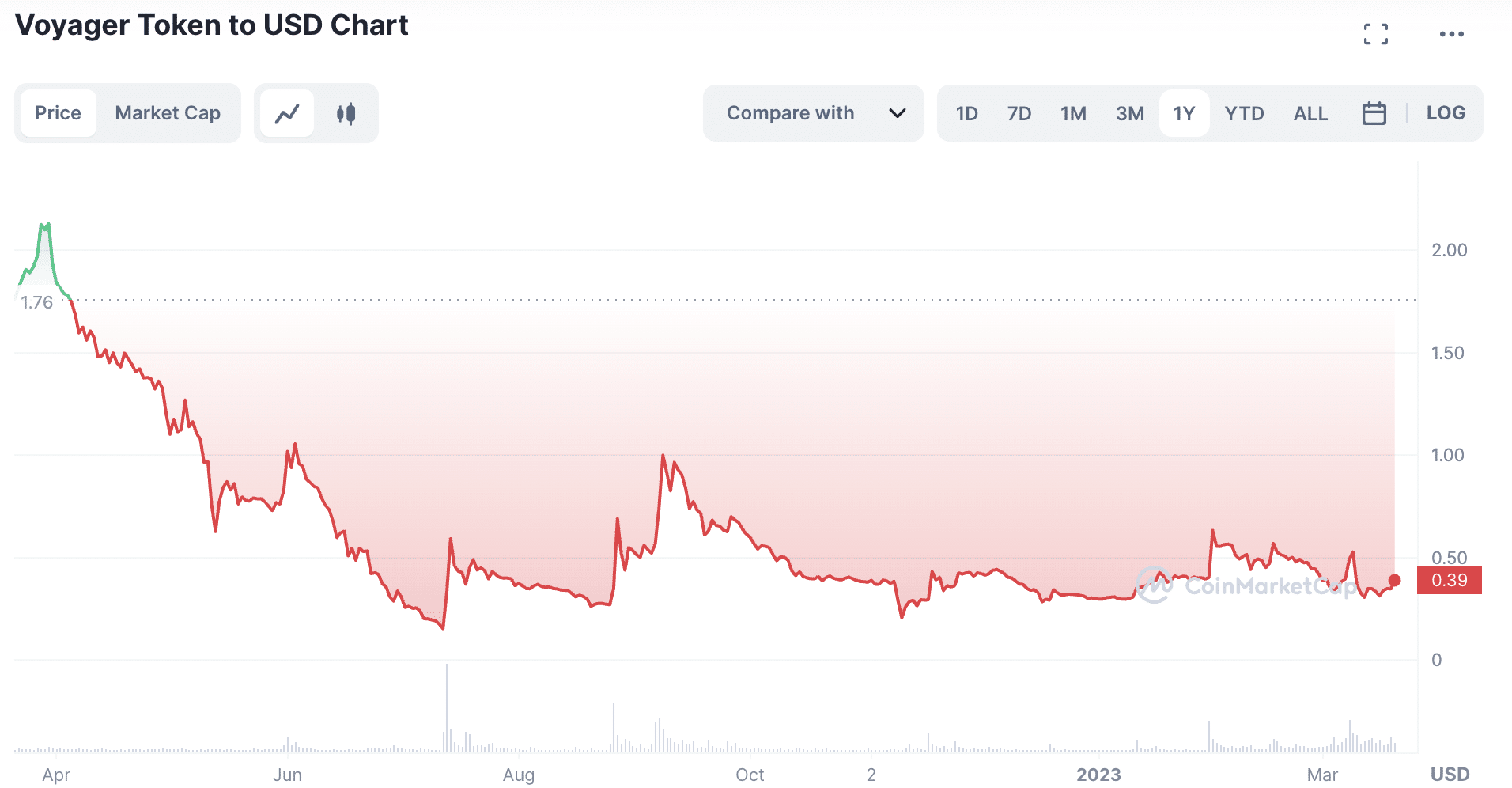 CoinCodex has projected an exciting potential increase of over 23%, suggesting that the token could reach $0.428169 by the end of March.
Looking further ahead, VGX seems poised for an impressive ascent. DigitalCoin's forecasts predict the token's value might soar to a remarkable $0.71 by 2023 and potentially skyrocket to a staggering $1.14 by 2025.
While these predictions offer an optimistic outlook based on current market sentiment, it's crucial to remember that the tides can turn quickly. As you consider your investment strategy, always be mindful not to risk more than you're prepared to lose.
What's the future like for Voyager
The story of Voyager Digital is one of ambition, and rapid growth, followed by a swift fall from grace.
With the company now on the verge of being acquired by Binance.US, the future is uncertain but holds potential for recovery. As the cryptocurrency market continues to evolve, it remains to be seen whether Voyager can successfully navigate its way through bankruptcy and emerge stronger than before.
Nevertheless, the platform's journey thus far serves as a cautionary tale for the volatility and unpredictability of the cryptocurrency industry.
Only time will tell if Voyager can turn its fortunes around and once again become a major player in the cryptocurrency market.
Where to buy Voyager Digital stock?
As of March 21, Voyager Digital is listed on the OTC Markets under the ticker symbol VYGVF.
Why is Voyager Digital stock dropping? 
Voyager Digital's stock has been negatively impacted by the company filing for Chapter 11 bankruptcy protection due to market volatility, the collapse of the cryptocurrency Terra, and the default on loan by Three Arrows Capital. These events have contributed to a decline in investor confidence, leading to a drop in the stock price.
What is Voyager Digital? 
Voyager Digital is a US-based cryptocurrency broker and lender. The company offers broking services, helping customers find the best prices for buying or selling cryptocurrencies, and lending services, where they borrow digital assets from customers in exchange for yields and then lend them out.
What is the Voyager Digital app? 
The Voyager Digital mobile application offered users a platform to trade cryptocurrencies, earn interest on digital assets, and access market data and analysis. The app allowed users to manage their crypto investments conveniently from their smartphones.
Where is Voyager crypto located?
Voyager Crypto, or Voyager Digital, is based in New Jersey, United States.