Livecoin Adds PIVX Trading Pairs, Includes Direct Purchases with Fiat
PIVX, an up and coming privacy-focused cryptocurrency, announced it will be trading on the Livecoin exchange, allowing investors and traders to buy PIVX with fiat, bitcoin, and altcoins.
The latest development follows on from PIVX being added to popular altcoin exchange service Changelly, and highlights the groing interest and reach of the newly formed code fork of DASH. Livecoin will offer several PIVX trading pairs including PIVX/BTC, PIVX/USD, PIVX/EUR, PIVX/RUR, PIVX/ETH, PIVX/DASH and PIVX/XMR.With fiat pairs such as the US Dollar and the euro, Livecoin will allow those interested in PIVX to sidestep bitcoin and purchase directly with fiat.
What is PIVX?
PIVX is a code fork of the anonymous cryptocurrency DASH but rather than using a Proof-Of-Work consensus, Proof-Of-Stake is used instead, which means PIVX's coins are not mineable using hardware. Alternatively, PIVX are earned as a reward for holding the cryptocurrency in your wallet, referred to as staking and provides a much more environmentally-friendly alternative to Proof-Of-Work; no significant amounts of electricity are needed as is the case for bitcoin, characterized by Proof-Of-Work.
The developers based PIVX on Bitcoin core 0.10.x and DASH's original technical features, such as the use of master nodes, instant transactions, private transactions, and a decentralized governance model. On March 28, BTCMANAGER reported on PIVX as it entered into the top ten cryptocurrencies by market capitalization, but has since fallen out of the top ten as altcoins across the board display strong gains.
But PIVX's Elisha Owusu Akyaw states that the push for greater integration will help reclaim the top ten ranking:
"Integration brings adoption which usually accepts the price positively which should happen in this scenario too."
With no pre-mine or ICO, where the latter has come under scrutiny as large amounts of money were raised for projects with little to no demonstration of a working product or prototype, PIVX has enticed and gained the respect of many crypto-enthusiasts.
The Phenomenal Growth of PIVX
The altcoin has displayed phenomenal growth over the course of 2017, reaching a peak around $2.00 in mid-April and hovering just below this level ever since. Volumes have also increased significantly, with daily volume over $1 million since mid-April, indicating growing interest in PIVX. The addition to Livecoin exchange will increase this even further in the weeks to come, whereby the exchange attracts over 5,000 BTC in volume.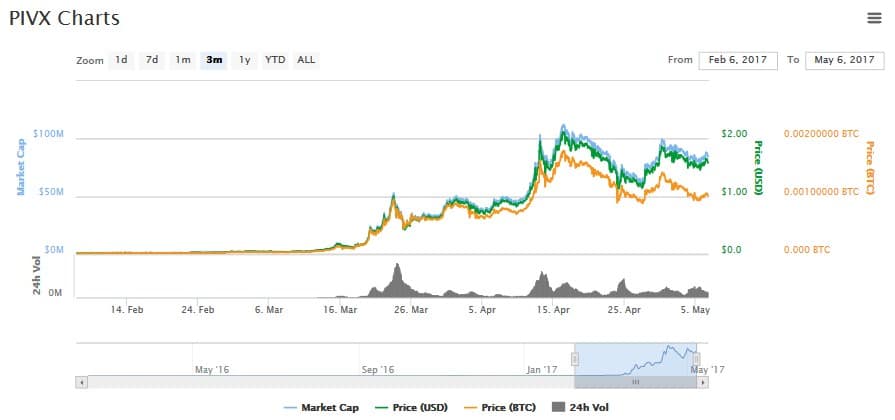 PIVX has been a beneficiary of a general upsurge in cryptocurrencies offering privacy to users. For example, Monero, Zcash, and DASH have performed strongly in 2017; monero breached the $30 handle on May 5 after starting the year around $15. Zcash and DASH have also been following an uptrend, both above $100 at the time of writing.
As more people become aware of the privacy-centric altcoin through integration with such services as Livecoin and Changelly, this will lay the foundation for further growth in the network, as PIVX's Elisha Owusu Akyaw says:
"This is another chapter in the never-ending novel of PIVX's growth. Livecoin's addition includes fiat pairs that help us eliminate the buy Bitcoin first problem for another section of our users which is very important for mass adoption of the cryptocurrency and direct pairs with privacy-centric cryptocurrencies also present an opportunity for us to reach other users in this market."
The PIVX team makes it clear that they want to expand, and fast. To do so, access and usage must be easy, and the team are adding the altcoin to exchanges so market participants can trade PIVX where they want and against their desired currency. With the addition to Livecoin, this is achieved, allowing traders to buy the privacy coin directly with fiat, or with cryptocurrency such as bitcoin or monero. A fruitful road lays ahead for PIVX, as it is only a matter of time before larger exchanges start taking notice.