Nubank Attracts More Than 1.8 Million Brazilian Residents to Its Crypto Platform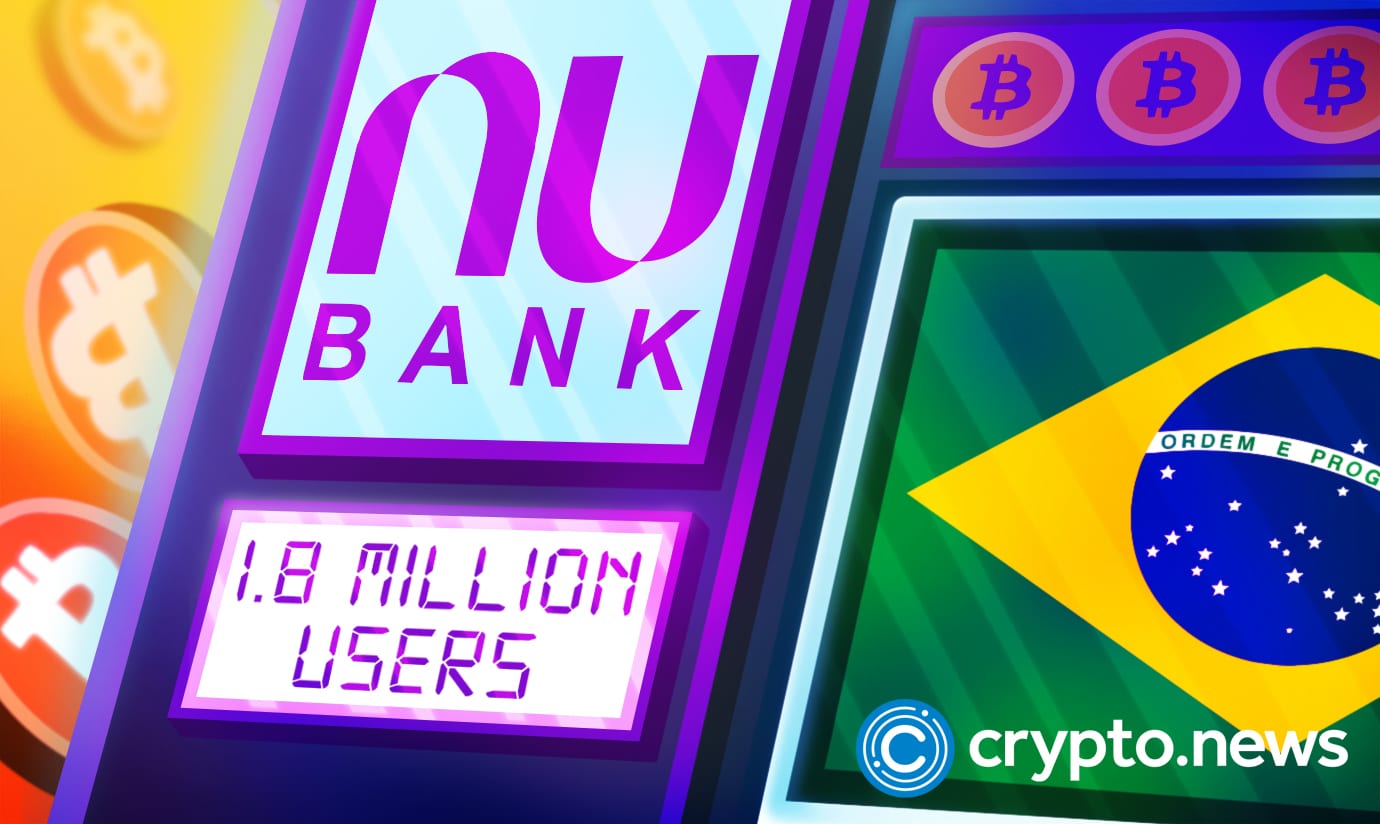 The largest fintech company in Latin America, Nubank has registered 1.8 Million new users from Brazil since the launch of its crypto exchange in July 2022, making the platform one of the fastest-growing digital currency ecosystems in the region, according to a press release on September 26, 2022.
70 Million Users Now Use Nubank's Crypto Services
In a press release on September 26, Brazil's Nubank announced that it had reached 70 million users from the Latin America region, noting that more than 1.8 million people in Brazil have used its crypto exchange since it was launched in July 2022.
The bulk of Nubank's clients is from its home country of Brazil, the company said in the press release. The digital bank has a significant presence in Mexico with over 3 million customers and Colombia with close to 500,000, in addition to having over 66 million users in Brazil. This year, Nubank is expanding to become one of the world's largest digital banks.
The CEO and founder of Nubank, David Vélez was quoted saying, "Our accelerated growth is driven by a constant search for efficiency, which balances expansion, new products, and revenue growth per customer."
The Warren Buffet-backed digital bank launched opened its crypto exchange to the public in June 2022 and it immediately attracted more than 1 million subscribers which nearly doubled to 1.8 million in late September. It is important to note that these figures represent everyone who used the crypto service at least once, the fintech giant also said its investment services business in Brazil surpassed 6 million active clients.
This isn't Nubank's first introduction to cryptocurrency, the digital bank has long been a proponent of cryptocurrency and its applications. In May 2022, the bank added bitcoin to its treasury and now allows customers to buy, sell and hold the currency in its mobile app. The largest Brazilian digital bank also planned to allocate 1% of its portfolio to Bitcoin to "strengthen the company's conviction" in the potential of bitcoin.
Brazil Continues To Embrace Crypto
In a country with one of the fastest crypto growth indexes in the South American region, the Brazilian government's stance on crypto is not yet clearly defined. In April 2022, Brazil's Senate passed the country's first bill on cryptocurrencies which was designed to kickstart the creation of a regulatory framework for the country's crypto industry.
The bill has yet to be signed into law and this allowed the country's Securities and Exchange Commission (SEC) to propose changes to the bill including classifying tokens as digital assets and securities so that they can fall under SEC regulations.
As the Brazilian government continues to mull over the acceptance of cryptocurrency, the Brazilian public is on an upward trajectory in terms of the adoption of cryptocurrency.
Already in 2020, the country saw the rapid development of FinTech, and judging by Nubank's most recent report, the rate of digital assets adoptions is likely to only become faster. Businesses are also joining the crypto train, one of Brazil's largest real estate developers, Gafisa, now accepts Bitcoin for property transactions.
However, Brazil isn't the only Latin American nation, actively pursuing crypto adoption. In February 2022, it was estimated that Venture Capital investments in cryptocurrency in Latin America, grew ten folds in 2021 alone.