Opera Integrates Bitcoin (BTC) and TRON (TRX) to Its Browser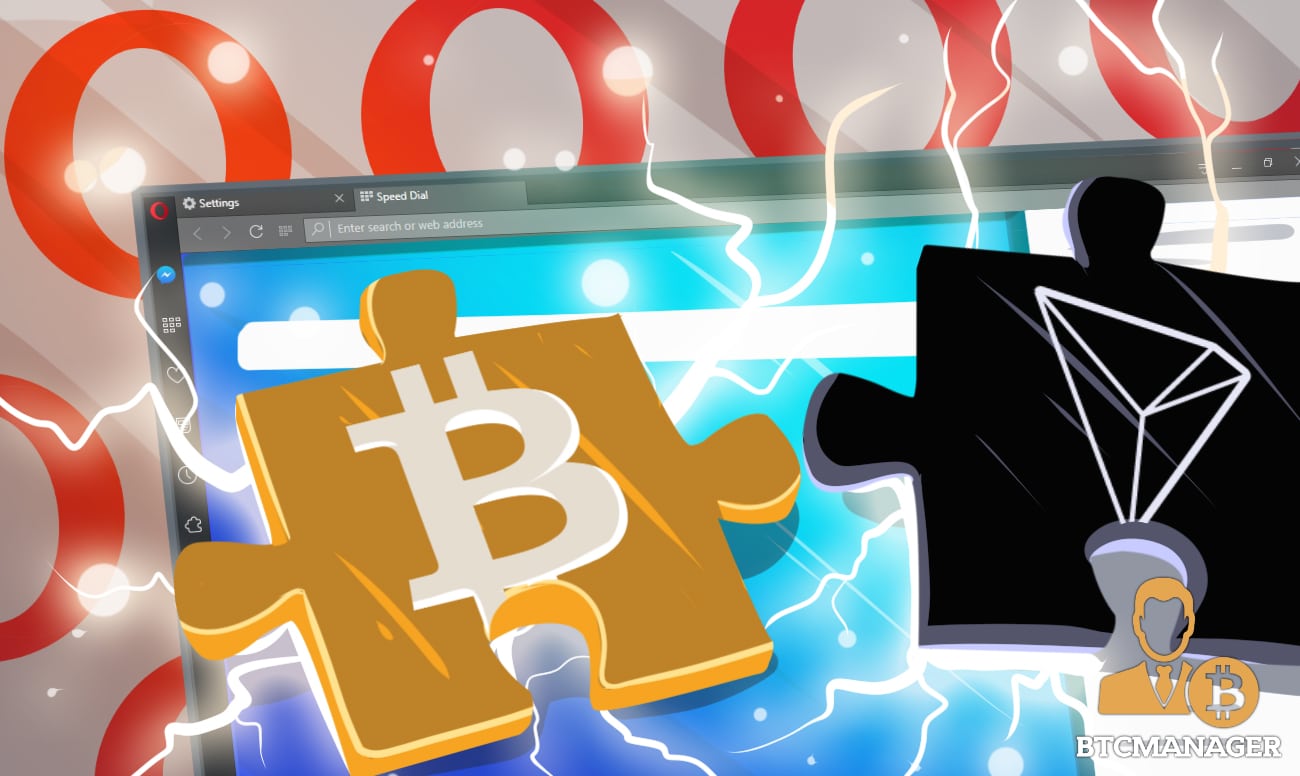 Opera has launched the ability to use BTC and TRX on the beta version of its browser, allowing for the further adoption of Web 3.0 protocols in the mainstream. Until now, the inbuilt crypto wallet had only supported ERC-20 tokens, which has now been expanded to include BTC and TRX, July 10, 2019.
Launching for Large Scale Adoption
Opera is one of the biggest browsers in the world, with most users predominantly using the mobile app. Bitcoin, the genesis network for cryptographically secured currency, is currently seeing the value of its native token soar immensely. In light of bullish adoption and price movement, Opera has taken the bold step of integrating the cryptocurrency to its wallet.
The most important outcome of this is experimental integration of Web 3.0 protocols. In the future, we may see Opera become a more diversified version of Brave, letting users transact and conduct e-commerce with a suite of different cryptocurrencies.
TRON is a popular cryptocurrency that has been growing rapidly in adoption despite muted development activity. The surge of users on the TRON blockchain, mostly owing to their integration of BitTorrent, has led to Opera allowing users to transact using the native TRX token on their browser.
In December 2018, Opera became the first major browser to build a crypto wallet into its public offering. Other than Brave, which was launched with BAT, Opera is the only mainstream browser from the Web 2.0 outbreak that has accepted and successfully launched a cryptocurrency offering on its browser.
While Web 3.0 still faces many challenges, mostly from a regulatory perspective, barriers to adoption like the understanding of a new complex economic framework and acquiring cryptocurrency to use are relatively easy obstacles to overcome.
Driving Mass Adoption
Opera can be a fundamental player in driving crypto adoption. With 182 million active users, this opens the world of cryptocurrencies to a plethora of new users – just as Libra intends to.
By driving Web 3.0 adoption, Opera is placing itself to capitalize on the incoming rush of users by competing with likes of Brave and Gab.
The Opera roll out with BTC and TRX is live on the Android, iOS, Mac OS, and Windows version of the platform. Its mass availability can prove to be a significant driver of mainstream adoption.