Roger Ver and his Struggling Battle for Bitcoin Cash Supremacy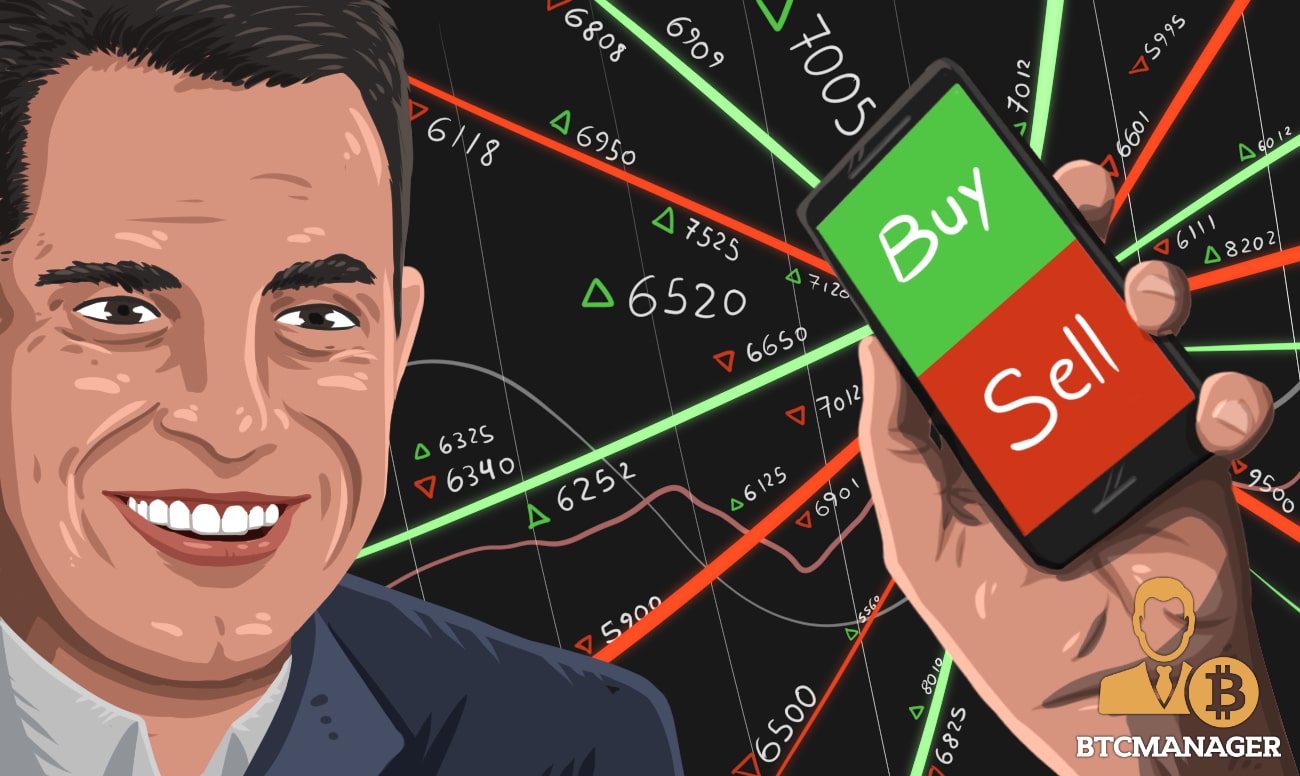 Roger Ver has revealed a plans to launch an in-house exchange with bitcoin cash as the base currency. This move is another tool in the marketing tactics applied by Ver and other bitcoin cash proponents to increase BCH adoption and to position it as "the real bitcoin."
Bitcoin Cash Adoption is Low
The Roger Ver-backed altcoin Bitcoin Cash (BCH) has been facing significant hurdles in its struggle to establish itself as "the real bitcoin." Despite Ver repeatedly stating that 'bitcoin cash is the real bitcoin' and his media outlet aggressively pushing this agenda, the market has (so far) decided that that is not the case.
According to data by Chainalysis, the number of bitcoin cash payments is on the decline. A review of the payments processed by 17 of the largest crypto merchant processing services, such as BitPay, Coinify, and GoCoin showed a significant difference between the amounts transacted in March and May. Bitcoin cash payments fell to $3.7 million in May from a high of $10.5 million in March.
In the weeks following the hard fork that created the altcoin, some cryptocurrency trading platforms, as well as wallets, added the digital currency to its list of supported currencies including Bittrex and Kraken. However, following the slump in the value of the cryptocurrency market towards the end of the last year, some exchanges decided to delist the altcoin again.
From its December 2017 all-time-high market capitalization value of $65 billion, BCH has fallen over 80 percent to its current $7 billion valuation. While bitcoin cash may share part of its name with the world's most valuable cryptocurrency, its market capitalization barely amounts to a tenth of bitcoin's valuation.
Speaking to Bloomberg, a senior economist at Chainalysis, Kim Grauer stated: "There are fewer users of Bitcoin Cash, fewer holders."
While the slowed BCH adoption may merely be a result or a mirror of the plunge in the overall cryptocurrency market, it seems Ver may have to keep up his continued marketing offensive if he hopes to attract a more significant number of users to the bitcoin offshoot. According to Chainalysis, some of the resistance to user adoption is rooted in the perceived centralization of the cryptocurrency.
Chainalysis' Grauer alluded to the fact that only 67 wallets own more than half of the circulating supply of BCH. These wallets are not located on exchanges, and they control about 56 percent of BCH supply.
In an even more worrying turn of affairs, two of these wallets hold between 10,000 and 100,000 BCH and maybe the players most influencing the amount processed through payment services. "And chances are, the wealthiest holders are the ones sending a lot of the traffic to merchant services," Grauer added.
Merchant and user adoption are just some of the troubles facing the altcoin. Since its 2017 creation, BCH has been facing challenge after challenge, many of which are connected to its frontman and evangelist Roger Ver.
The Genesis Block
Roger Ver has had a long and storied history in the cryptocurrency market. Starting as a strong supporter of the cryptocurrency market, especially throwing his weight behind bitcoin, Ver became somewhat of a household name in the industry.
An early adopter of the cryptocurrency, Ver began running a bitcoin-focused wallet from his website Bitcoin.com. He was also heavily involved in the various communication channels employed by the bitcoin community at the time. Ver participated in online discussions about the future of bitcoin and eventually adopted the moniker 'Bitcoin Jesus' due to his continued evangelism of the digital currency.
Things began to take a turn in 2015 when Ver started to express support for changes to the underlying software of the Bitcoin network. Much of this debate featured the block size argument. Ver began calling for a greater block size for Bitcoin. He believed this would help remedy the scaling challenges that the network had started to struggle with.
Ver experimented with many different versions of bitcoin offshoots, throwing his weight behind the projects he agreed with. Bitcoin XT was his first supported bitcoin clone. The project was designed to increase the size of the block to 8MB and was the creation of noted developers Mike Hearn and Gavin Andresen.
After the project failed to garner support, Ver set his focus on bitcoin-focused online discussion forums, such as Reddit, which he claimed were heavily censored and were to blame for the lack of support for Bitcoin XT.
The projects that followed, each with a focus on bigger block sizes, were Bitcoin Classic as well as Bitcoin Unlimited. Both of these projects failed to garner enough support to take off or to sustain their networks for extended periods. In his activities, Ver utilized his website Bitcoin.com to give exposure to whichever project he was supporting at the time. Ver also began to function as a moderator on r/BTC at around the same time, following his complaints of censorship on r/Bitcoin.
Courting major controversy throughout his public business dealings, Vers public persona began to acquire a less angelic hue. He has been accused of working with miners to create profits for them as opposed to working for the community and the future of bitcoin.
This was primarily a much-discussed topic during the creation of Bitcoin Unlimited when Ver, in connection with Chinese miners, was allegedly able to influence the creation of a new mining pool, which was then able to acquire about 7 or 8 percent of the hash rate of the Unlimited network.
However, Ver went from revered person to somewhat of a persona non grata following his most recent bitcoin fork. The Bitcoin Cash hard fork has catapulted Ver to new levels of infamy. While it has been common practice for Ver to use Bitcoin.com to provide free marketing for his projects, his more modern marketing tactics have left many within the cryptocurrency community displeased.
Bitcoin Cash came to be after its August 2017 fork from the Bitcoin blockchain with Ver offering his unwavering support. While it is his prerogative to support Bitcoin Cash, people took issue with his statements regarding the altcoin and its famous parent currency.
Ver has famously stated that 'Bitcoin Cash is the real bitcoin' and keeps referring to bitcoin (BTC) as "Bitcoin Core" in his media publication in which many cryptocurrency community members consider an attempt to mislead the public into buying into his agenda.
For people new to the cryptocurrency sector, the difference may be difficult to understand. The Ver-owned Bitcoin.com website has managed to draw significant amounts of ire with some bitcoin community members even mulling over a lawsuit.
Other questionable marketing practices include the bitcoin cash logo being nearly identical to that of bitcoin. Moreover, the BCH team uses other conduits like the Reddit (r/BTC) channel and Twitter (@Bitcoin) page to further confuse new digital currency investors.
Following the aggressive and questionable tactics employed by Ver and the BCH camp, concerns regarding the health of the cryptocurrency sector have been raised. For instance, A Yale law school graduate, Misha Guttentag, penned an open letter urging Coinbase to stop supporting the altcoin as it was facilitating consumer fraud.
Guttentag questioned:
"The big problem here is that when a consumer inevitably gets scammed — when they try to buy some Bitcoin Cash thinking they were getting Bitcoin — how do you think they're going to feel? Are they likely to stay and keep investing in the digital asset space? I doubt it. I bet that person is going to feel like they got scammed and never invest in digital assets again. And that is a terrible thing for a young industry to endorse."
This sentiment is widespread within the cryptocurrency community. A cursory look at social media will reveal some threads dedicated to complaints and accusations against the polarizing figure that Ver has become. Perhaps one of the most scathing comments released by his peers in the community is that of notable bitcoin developer Jimmy Song.
Aiming Vers recent actions as well as the nature of BCH as a currency, Song states:
"[Ver] has spent enormous amounts of money promoting BCH, doing interviews with anyone and everyone, debating anyone who will debate him, even ambushing people TMZ-style and saying things like "BCH is the real bitcoin" while continuing to hold BTC and "the flippening is inevitable" without willing to back those words up with bets."
Song adds that Ver "continues to spout" kooky conspiracy theories about Blockstream, Bilderberg, Gavin Andresen, Mike Hearn and private forum "censorship," which is the behavior of a "used car salesman trying to sell his wares, not someone that's being honest." His explosive commentary concludes by stating that BCH is a fiat currency, centralized and not different from any other altcoin without a well-defined use case.
While Ver continues to court controversy, he does maintain that his motivations come from a place of care for the entire cryptocurrency sector.
Speaking to Litecoin creator Charlie Lee, Ver recently stated:
"My entire goal for being involved in cryptocurrencies is I want people to be able to have peer-to-peer electronic cash that doesn't require permission from anybody they're lightning fast and super cheap for everybody that's why I'm here."
Ironic Forking Troubles
While the BCH camp continues to face mounting opposition from large parts of the cryptocurrency community, the project is also dealing with internal disputes regarding the future of the project. When BCH split off from Bitcoin, it set off a forking craze which resulted in dozens of "new" bitcoins.
However, it seems the bitcoin cash camp is also struggling to stay united under a single vision. The camp is now mulling over a hard fork, with the community split into two main camps. On one side of the debate is the mining giant Bitmain and on the opposite hand is the CoinGeek-led side.
Bitmain and Coingeek are both major mining firms and have been a significant part of whichever successes BCH has under its belt during its short existence. Jihan Wu-led Bitmain and Calvin Ayre-owned Coingeek are leading opposing camps who are threatening to create two new altcoins on November 15, 2018.
The debate between the two caps is centered on two different software upgrades. Bitmain is supporting an upgrade called the ABC proposal while the CoinGeek camp is throwing its weight behind the Bitcoin SV upgrade. The ABC proposal was created by leading Bitcoin Cash developer Amaury Sechet and includes changes to how transactions are ordered on the network.
Bitcoin SV is short for Satoshi Vision and hopes to revert the BCH network to the original specs set by Satoshi except with a much larger 128 megabytes per block. Satoshi Vision was announced by the self-proclaimed Satoshi Nakamoto, Craig Wright.
The irony of the debate is not lost in the cryptocurrency community. Speaking to Bloomberg, Lucas Nuzzi, director of technology research at Digital Asset Research, expressed these sentiments saying:
"It is ironic how the very same philosophy that led to the creation of Bitcoin Cash is now the cause of its demise. The only reason why Bitcoin Cash lasted this long was that of the mining support of Jihan Wu and Calvin Ayre, coupled with the marketing efforts of Roger Ver and CSW."
Speculations mount that there are financial incentives involved in the debate especially since in the past, forks tend to have price momentum in the short-term and can net significant profits for those well-positioned, like mining pools.
Ver, however, seems unshaken and commented saying:
"I don't think the differences are big enough currently to warrant a split."
Ver continues his marketing offensive, now setting his sights on a new BCH exchange. Earlier, he stated that the exchange would be posted on Bitcoin.com so "we'll have thousands or tens of thousands of new users every single day, adding that "if we build it ourselves, we can do it cheaply, and we get exactly what we want."