Russia Approves First Draft on Cryptocurrency Legislature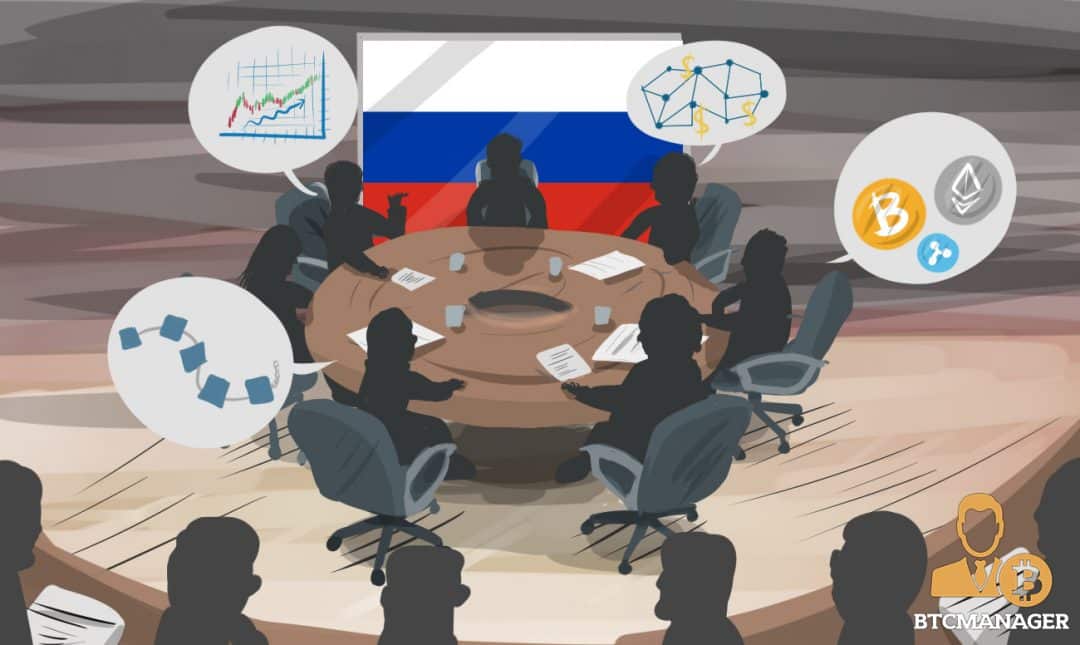 Shunning blockchain and smart-contracts for years, financial institutions are finally waking up to the potential that decentralized technologies hold, with a flurry of government and corporate companies making moves in the sector.
Cryptocurrencies are "Property of Value"
According to an official report by Russia's lower house of parliament, the first draft of the new laws defining cryptocurrencies was approved by a majority, on May 22, 2018. A total of 410 deputies approved the bill, and only one voted against it.
The draft specified treating cryptocurrencies and digital tokens as a property, alongside introducing laws for all activities on digital assets and blockchain technology, such as mining, ICOs, and wallet services. Explaining the motive, the bill stated that digital tokens and cryptocurrencies are issued by a single entity, or a variety of entities, and contain "emission goals." The bill added:
"In this document it is directly determined that digital financial assets do not constitute a legal method of payment within the territory of the Russian Federation."
Titled "On Digital Financial Assets," the bill has been under consideration since 2017, and seemingly adheres with its July 1, 2018 deadline.
Earlier in April 2018, the legislation received both positive and negative feedback from the Russian government, with the Kremlin demanding more clarity on the tax of digital assets, as well as laws for controlling foreign-exposure to Russian-issued ICOs.
However, the law drew criticism from several quarters, with a member of the lower house blockchain committee, Igor Sudets, stating that "no one will want" to issue a Russian-ICO if legislation is passed.
Law Follows Russia's Ruling of a Recent Property Case
On May 7, 2018, the Russian arbitration court of appeals recognized cryptocurrency as a "property of value" to settle a bankruptcy case. The verdict overturned a previous ruling on the dispute, which had at the time stated cryptocurrencies as "not recognized."
According to local news outlet RBC, Ilya Tsarkov, a Russian citizen who filed bankruptcy in October 2017, had earlier declined to include his 0.2 bitcoin (BTC) holdings to creditor Alexey Leonov for purposes of settling a debt.
The dictum considered the cryptocurrencies belonging to a bankrupt person as "holding the same value" as the debtor's real estate. The court ordered Tsarkov to include his bitcoin holdings in the plaintiff's settlement and directed him to hand over his "private keys" to Leonov.
Although the court did not provide a clear legal definition for its decision, it is believed that it considered cryptocurrency under the category of "other property." Oleg Permayakov, who heads the bankruptcy and insolvency division of the plaintiff's company, explains the move:
"For the qualification of the Crypto-currency as another property, one can turn to the practice of the European Court of Human Rights (ECHR), according to which 'property' means everything that has economic value for the participants of civil turnover and allows for a transition from one person to another."
In the practice of the ECHR, property is considered an umbrella term and includes business reputation and business connections, as well as potential future revenues, provided that the possibility of obtaining them is real and documented.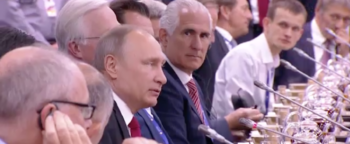 Putin Speaks at a Conference While Vitalik Buterin Looks on
(Source: Kremlin.ru)
Although Russia's stance on cryptocurrency is seemingly secretive, as the country has not passed any regulations outright on the digital currency, it maintains a rather holistic approach towards cryptocurrencies and blockchain.
Moreover, Russia's Prime Minister, Vladimir Putin, has reportedly been in talks with Ethereum co-founder Vitalik Buterin since 2017, presumably to understand Ethereum's role in the world's macro-economy. Interestingly, in the months after his meeting with Buterin, Putin personally intervened in the Russian Central Bank's potential decision to ban crypto-exchanges in 2017, instructing the bank to "stand down" from passing a decision.