ShapeShift Launches Trustless Digital Asset Portfolio Management Platform Prism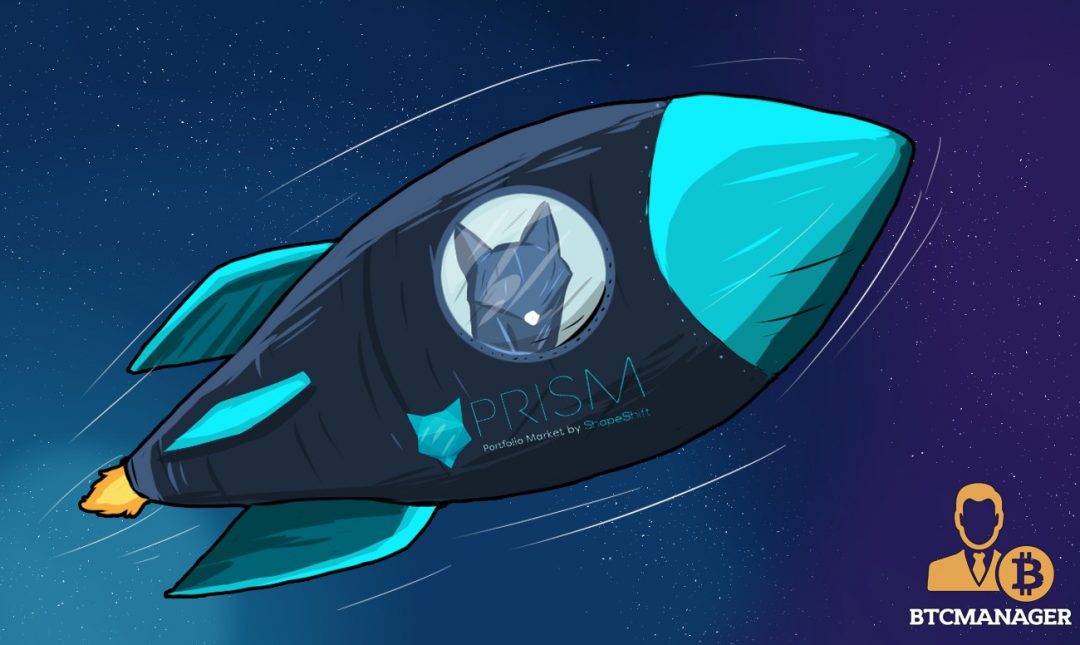 Switzerland-based cryptocurrency exchange ShapeShift announced on May 19 that it is launching the world's first trustless digital asset portfolio platform called Prism, which has been built on top of the Ethereum blockchain.
The new portfolio management platform enables humans as well as machines to gain exposure to portfolios of digital assets without having to trust a counterparty. The portfolios, which ShapeShift refers to as "Prisms," are customizable in allocation, duration, and size. Prisms can be acquired using nothing but an Ethereum wallet and by using ether as the collateral.
For example, if a user wants to gain $10,000 worth of exposure to anonymous digital currencies, he or she could purchase a prism that is composed equally of DASH, monero, Zcash, and PIVX by putting up the desired portfolio amount in ether. Once the portfolio is created, a smart contract tracks the value of her digital assets and holds her deposited collateral. The smart contract will also hold the equivalent amount of collateral from another party who took the opposite side of those trades (this will initially be ShapeShift). Then, a month later, when the combined value of the four privacy-centric digital currencies has increased by 20 percent, the user closes out the position and receives 120 percent of his or her deposited collateral back (minus fees).
Prism Offers Crypto Investors Many Benefits
One of the key benefits of investing in prisms as opposed to buying the digital assets individually is that there is no need to set up different wallets for each specific asset. Instead, prisms can be held in an Ethereum wallet. Furthermore, users do not have to have their funds lying on an exchange, where the collateral used to make the investment is securely held within the smart contract specific to that prism.
Moreover, since Prism digital asset portfolios are collateralized by both counterparties, there is no risk of non-performance. Trust is put in an objective open-source code as opposed to the subjective nature of human counterparts, which, in turn, reduces the risk for both involved parties.
Shapeshift plans to monetize the new platform using a fee schedule similar to traditional asset management companies. A 2.4 percent + 0.05 ETH "creation" fee is paid when the portfolio is constructed (although this fee is waived during the beta phase) and there is a monthly "capital fee" of one percent throughout the duration of the portfolio. Finally, a "rebalancing fee" amounting to 0.5 percent will also be charged when portfolios are rebalanced.
Working Toward a Trustless Offering
According to a blog post on the Prism website, "Prism is currently in closed invite-only beta, but operating on the live Ethereum network. It should not yet be considered "trustless." The code is not yet open-source (though it will be prior to full release)."
"Further, there is an escape hatch currently built into the smart contract code, which enables ShapeShift to withdraw and secure the collateral if smart contract bugs are discovered. This escape hatch will be removed (possibly at the option of the user) as we become comfortable with the security of Prism in the wild."
An independent security audit of the platform was conducted in early 2017 by Piper Merriam, and two further audits are planned before Prism official launch. ShapeShift is aware that smart contract code is still in a stage of early development and, hence, believe it is best to tread cautiously before releasing the product to the market.
Regarding the name of the platform, Prism was chosen as it represents, "the relationship of one source of light (ether) entering, and multiple shades of light (the portfolio components) being seen on the other side," according to the company's statement on the Prism blog.
At Prism the investor does not hold the underlying digital assets as his portfolio is an ether-based smart contract that tracks the performance of these assets. However, it allows investors to gain indirect exposure to a wide range of digital assets without having to manage each holding individually. Given the number of different platforms, logins, passwords, and two-factor authentications are involved in privately managing a multi-asset cryptocurrency portfolio, Prism's approach will likely be a very welcome solution for investors.
Prism will also include "social trading" features, which has gained popularity among investors in recent years thanks to social trading platforms such as eToro and Ayondo. Investors will be able to share their portfolio performances on a leaderboard that updates every 30 minutes. This enables less experienced investors to learn from their more experienced counterparts and provides them with the opportunity to copy the investment strategies of successful investors.
ShapeShift Enhances its Position in the Crypto Space
ShapeShift was founded in 2014 by Erik Vorhees with the aim to provide seamless conversion of bitcoin into altcoins and vice versa without having to interact with traditional financial intermediaries or fiat currencies in the process. In the last three years, ShapeShift has emerged as one of the most popular blockchain startups due to its ease of use when it comes to converting altcoins. It also increases much-desired privacy and security for user funds as their exchange platform requires no user login or personal data to convert cryptocurrencies. ShapeShift started developing the digital asset management platform Prism in late 2015 after two funding rounds where the blockchain startup was able to raise $2.13 million.
With the creation Prism, ShapeShift is extending its product range to cover the "hot" area of digital asset investing, after the company received $10.4 million in funding in April 2017. Prism has a unique never-before-seen approach to asset management by leveraging smart contract technology to create portfolios composed of a wide range of digital currencies and tokens. The new platform is also a testament to the increase in demand by investors who want to gain exposure to the cryptocurrency market in safe and secure manner. The recent impressive rally in both bitcoin and altcoins and the recent launches of other digital asset fund management platforms, such as Iconomi and TaaS, illustrate the demand for such investment vehicles.