Solana soars 90% in a month as Firedancer testnet launches
Solana has surged nearly 90% in the past 30 days and over 30% in the last week, coinciding with the testnet launch of its anticipated scaling solution, Firedancer.
On Nov. 2, SOL's price exceeded $45, attaining levels not observed since August 2022, as per data from CoinMarketCap.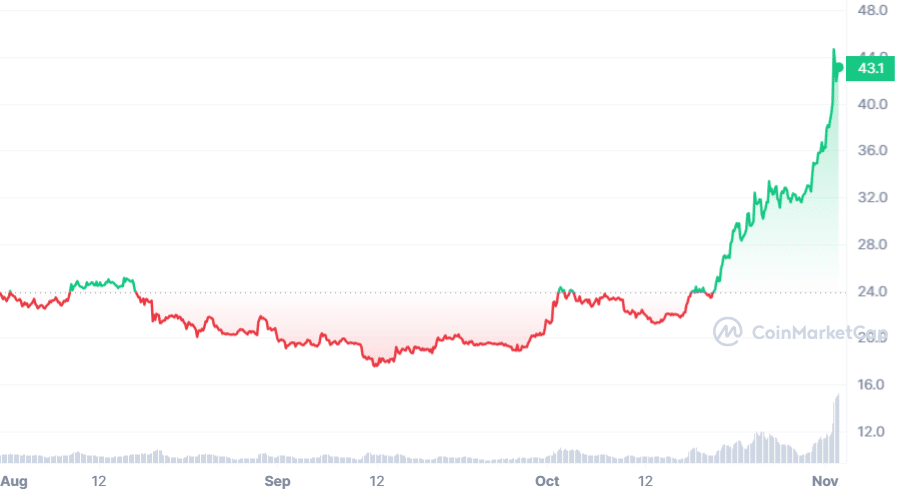 Long touted as a potential "Ethereum killer," SOL has indeed eclipsed Ethereum (ETH) in recent performance, with Ether showing a modest 11% gain over the same period.
Investment products tied to SOL have attracted substantial capital, with millions flowing in over recent weeks, as reported by CoinShares. Nonetheless, SOL's current value remains significantly below its all-time high of nearly $260, recorded on Nov. 6, 2021.
Firedancer hits Solana's testnet
At the Breakpoint conference held on Oct. 31, Dan Albert, the executive director of the Solana Foundation, revealed the launch of the testnet for Firedancer. The project, spearheaded by web3 development firm Jump Crypto since last August, is expected to enhance the network's speed, reliability, and validator diversity, with a mainnet launch projected for the first half of 2024.
Firedancer is being hailed as a sustainable solution to the network disruptions that have plagued Solana, which Dan Albert, the executive director of the Solana Foundation, has referred to as a "curse."
Solana's network faced significant challenges in 2022, with 14 recorded partial or complete outages. However, the network has shown signs of stabilization in 2023, with only one major outage reported in February.
Despite these improvements, there is a looming concern over potential selling pressure on SOL. This comes after transferring $56 million worth of SOL, previously staked with FTX, to an unidentified wallet. Furthermore, an additional $32 million in SOL associated with FTX and Alameda Research was moved to a wallet believed to belong to Galaxy Digital, the firm's designated liquidator.
The momentum for Solana continues beyond its recent price rally and the introduction of Firedancer. Solana Labs has now unveiled an initiative to support early-stage web3 startups.
The Solana Incubator program aims to provide budding companies the necessary funding to develop their ventures within the Solana ecosystem. It is expected to foster innovation and attract new projects, potentially contributing to the network's long-term value and stability.