Top 5 Emailing Services That Support Crypto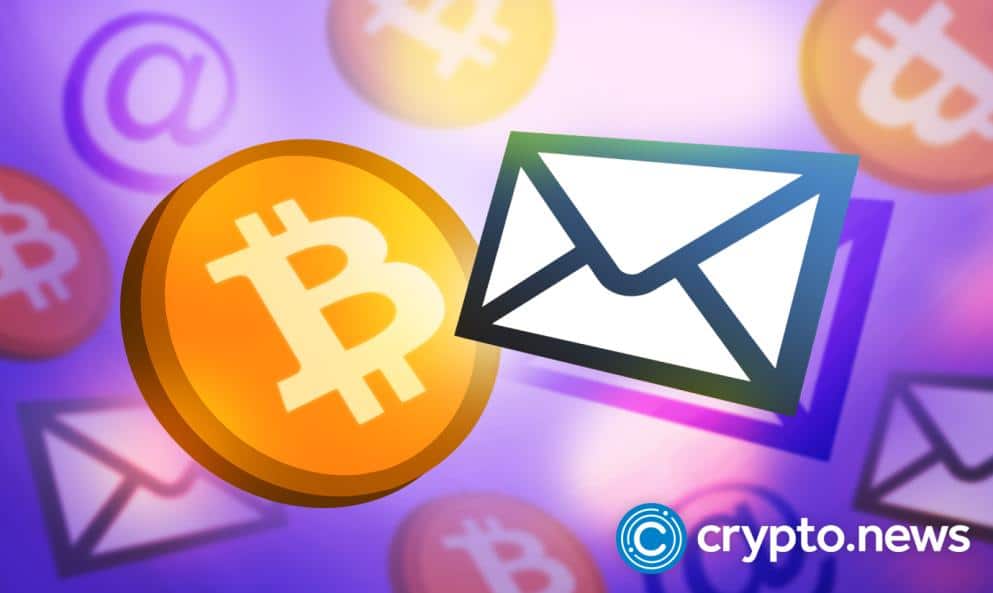 The rise of blockchain technology and decentralization has changed the narrative about how information is distributed. It has made it easier for people to access reliable and accurate information. For example, MailChimp updated its policy, stating that it will no longer support or market certain types of cryptocurrency and crowdsales. The concept of censorship used to be a way to prevent the spread of education. However, as a backfire, it has led to some of the most innovative innovations in the history of technology.
Why Email Marketing for Crypto?
For decades, email marketing has been a part of online marketing. It is still the most effective method for generating leads and improving the effectiveness of your marketing efforts.
According to Statista, in 2020, there were around 4 billion email users globally. There were also over 300 billion emails sent and received daily. Comparatively, by January 2022, the top social media network with 2.9 billion users is Facebook, followed by YouTube with almost 2.6 billion, Instagram with 1.5 billion, and WhatsApp with over two billion.
Getting a list and sending out thousands of emails is time-consuming and inefficient. Email marketing software eliminates manual processes and helps companies focus on more critical tasks.
With emails, a crypto startup can create appropriate content for different formats, such as text, graphics, and videos. They can also use these in the same message to promote their project.
Top Emailing Services Supporting Crypto
Many different types of email marketing tools are available, but not all support crypto companies. In this article, we shall look into the top emailing services that support crypto;
Drip
Drip is the first e-Commerce CRM created by Rob Walling in December 2013. The email service is focused on helping retailers increase their sales by developing effective email marketing techniques. In addition, Drip allows companies to build and manage relationships with their customers.
The power of Drip is its ability to simplify processes and provide effective marketing tools. Its clean and modern design helps make it an ideal choice for any organization. This software has everything you need to run effective email marketing campaigns. It can help you collect and manage multiple types of subscribers and send and manage campaigns. It also features a variety of third-party integrations that allow you to grow and streamline your work.
Drip also allows you to add a JavaScript library to your website that will allow you to use the opt-in form widget. However, it does more than just collect lead information. Every link in an email campaign has a unique tracking code that identifies the exact actions the recipient took on the page. This information helps you customize the experience for each individual. You can customize the call-to-actions on a page based on the user's history. You can also send them to a different page.
Pricing & Plans
One of the biggest perks of Drip is that it doesn't have any plan tiers. Instead, it charges based on the number of contacts that you have.
The cheapest plan from Drip is at $19.00/month with 500 contacts($0.038/contact). It comes with a 14-day free trial, and you can test their service without a credit card. They don't lock down features behind any plans so that you can try out the entire base.
AWeber
AWeber is a popular email marketing software that allows businesses to create and manage their custom email templates. With over 150 different options, this platform allows you to customize how your emails are sent.
Aweber is a powerful tool that will allow you to create an effective email marketing campaign. It has an easy-to-use interface and a support system that will allow you to start and maintain your campaign.
One of its unique features is its AI-powered email template designer, which makes it incredibly easy to create a beautiful and effective email. That is especially useful for people who are new to creating an email.
Other features of AWeber include a drag and drop email builder, a variety of email automation options, a free image library, and a tag-based contact targeting system. In addition, you can create landing pages that are designed to play videos.
Pricing
AWeber offers both a free and a paid plan. The latter is calculated based on the number of subscribers and comes with the lowest prices. You can opt for either the monthly or quarterly payment plans.
AWeber offers a paid plan with a payment of $16.15/month with 500 contacts. There is also an option of a 30-day money-back guarantee with no questions asked.
SendX
SendX is a powerful email marketing tool that helps small businesses build trust with their customers. As an email marketing service provider for emerging crypto and blockchain companies, SendX believes cryptocurrency and blockchain hold tremendous potential. It features a drag-and-drop editor and a variety of other features, such as segmentation, automation, and A/B split testing.
You don't need to start building an email from scratch. With SendX, you get a library of pre-built templates that you can use to create effective and engaging email campaigns. You can also customize your message with any template or pre-existing one.
SendX can also help you grow your engagement and increase your fundraising efforts. It can automate sending emails, which can help you save time and increase your chances of getting more people to join your organization.
With SendX's automation features, you can create multiple email campaigns that are sent to your subscribers automatically when certain events or activities happen.
Pricing
SendX pricing plans range from $9.99 to $79.99. An annual purchase will guarantee a 25% discount across all the plans.
Unlike the enterprise plan, the business plan does not have an executive ROI review and lacks advanced email marketing training. However, they do not offer a free plan, but it comes with a 14-day free trial.
MoonMail
MoonMail is a cloud-based email marketing tool ideal for small and mid-sized businesses that need a simple yet effective way to manage their email marketing. Email Octopus is a simple and effective email marketing tool with a clean and straightforward interface. It is also very profitable to use and affordable.
With a drag-and-drop editor, users can create custom email marketing templates that you can use for various purposes. These templates can include interactive headers, email validation features, and more. MoonMail also offers spam reports, complaint tracking, and bounce management.
MoonMail has an option to use the statistics dashboard to analyze and monitor the effectiveness of your campaigns. This tool is also available in multiple languages so that users can easily understand the results of their campaigns.
MoonMail allows users to store their contacts and an unlimited number of recipients. It also provides automatic management of various email complaints and spam.
Pricing
Moonmail offers a free plan that features 30 campaigns per month and ten recipients per campaign. A professional plan also goes for $19.99 + $0.05 for every 1,000 emails sent. The number of emails is rounded up to the nearest thousand, starting from $4.99. Subsequent pricing is calculated based on your account's reputation.
Email Octopus
Email Octopus is a powerful email marketing software used by various industries, such as charity organizations, self-published authors, and e-Commerce stores. It features a variety of tools and features, including a drag-and-drop builder, an auto-action editor, and an autoresponder.
Email Octopus is a good choice if you are looking for basic email marketing software. It does not have the bells and whistles of other software, but it is still very affordable for small business owners looking to keep in touch with their customers.
The API feature in Email Octopus allows websites and applications to interact with the software. That allows you to create and distribute content across various platforms. It is very useful since it will allow you to work efficiently by creating and distributing content for one platform.
With Email Octopus' integration and add-ons, users can easily create and manage multiple campaigns and workflows. They can also connect various gravity forms and automatically add their information to their inventory. One of the most important features of the platform is that it allows users to link their social media accounts.
Pricing
This service is offered in a sliding scale pricing structure that allows you to pay for it with a monthly subscription higher than the $20 option. All of the features will stay the same, but you'll pay an additional $10 to $15 for each additional block of 5,000 subscribers.
The number of emails you'll be able to send monthly will also increase. That means that you'll be able to send around ten times as many emails as you have subscribers.
Final Thoughts
Through email marketing, you can save around 70% of your working time by sending out automated messages to your clients. There are various types of campaigns that you can send, and they can be tailored to meet your needs. This strategy can help you focus on other aspects of your business, such as increasing the number of people engaged in your services.
In addition, email marketing costs are lower than other digital marketing tactics, allowing companies to maximize their budget. That is because it allows them to focus on their core business.