Top dogecoin whale dumps almost 1.5b coins amid recent pump
On-chain data shows that the second-largest dogecoin (DOGE) whale dumped massive holdings amid the recent DOGE rally. Per the data, the big fish made a substantial profit.
According to data provided by BitInfoCharts, the address "DDuX…1wwKF" sold around 30.6% of its dogecoin holdings, roughly 1.47 billion DOGE, in just a week. The address mentioned holds 3.32 billion coins, making it the second-largest dogecoin whale, excluding exchange holdings.
Moreover, the whale received its first holdings — accumulating roughly $970 million worth of dogecoin at the price point of $0.07 — in July 2022 while having to sell the tokens on Sep. 16, 2022, due to a notable dip in the DOGE price — losing around $11 million in the mentioned timeframe.
The whale made a significant comeback on Dec. 19, 2022, purchasing 3.84 billion DOGE at $0.071 each. While FUD surrounded the market, the whale rose his dogecoin balance to 4.79 billion coins — worth $315 million — on March 11.
Per the data, the whale has made a total profit of around $93 million since creating the wallet.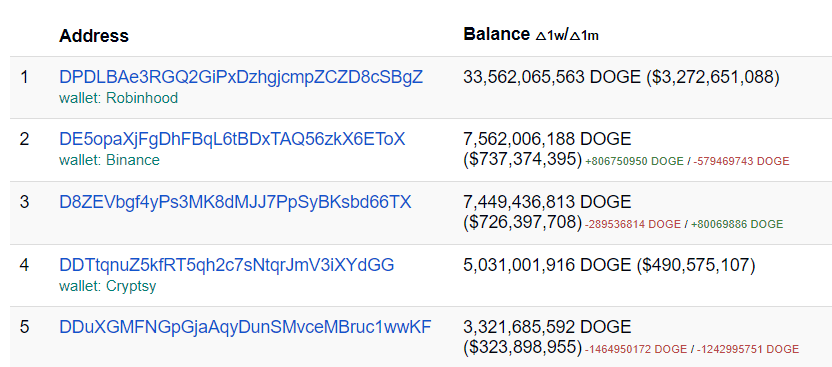 Moreover, the American financial service company Robinhood still remains the largest DOGE holder — accumulating a whopping 33.56 billion coins, worth more than $3.27 billion at the time of writing.
Dogecoin is down by 3.2% in the past 24 hours and trading at $0.096 at the time of writing. The asset's rally started when the billionaire Elon Musk changed Twitter's logo to DOGE.