VeChain-based VeCarbon Partners with AWS for Carbon Management Services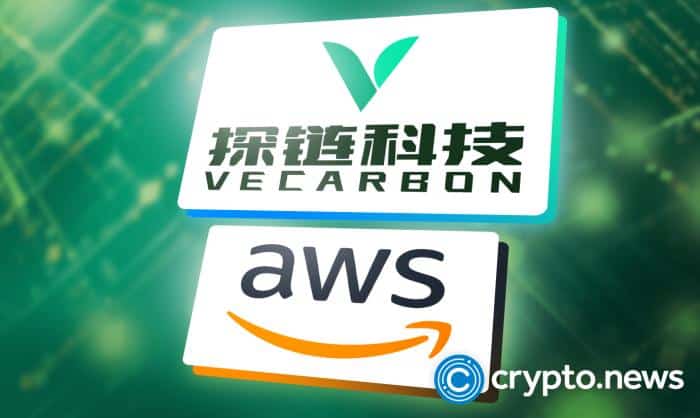 VeCarbon, a vendor of carbon accounting management services, has entered into a partnership with Amazon Web Services to enhance the scalability, security, and other features of its network.
VeCarbon welcomes AWS as a Technology Partner
The VeChainThor public blockchain started a fascinating chapter in its aim to provide blockchain-based carbon management solutions for nations and, eventually, continents following the debut of Shanghai Tanlian Technology Co., Ltd., the company behind VeCarbon.
Across the world, countries like China announced strict carbon emission limits in September 2020, including the dual targets of "carbon peaking" by 2030 and "carbon neutrality" by 2060. With this objective in mind, businesses have been forced to examine their current business models and look for technological ways to reduce their carbon footprints.
In order to enable and develop cutting-edge global scale carbon management services, VeCarbon, an accounting software-as-a-service (SaaS) program enabled by the VeChainThor public blockchain, revealed it has partnered with Amazon Web Services (AWS). VeCarbon demonstrated multiple successful use cases for its products across numerous sectors and applications before the alliance was announced.
In an effort to support VeCarbon in its ambition to offer nations and continents blockchain-powered carbon management services, Amazon Web Services has now joined the company as a technical partner. VeChain anticipates that its platform will generate substantial amounts of data in the upcoming years, necessitating colossal analytics and storage capabilities.
VeCarbon will receive its computing power from AWS as well as the "huge" resources required to deliver its services. The company will provide "versatile computing and processing capabilities" for the carbon management platform.
VeCarbon, which was established earlier this year, anticipates that AWS, with its sophisticated cloud service platform and technological expertise, will play a significant role in realizing those capabilities.
VeCarbon's Capabilities
VeCarbon's platform offers its clients the tools and services required to achieve low-carbon transformation and the Sustainable Development Goals through its sector expertise and blockchain technologies offered by VeChainThor (SDGs). Numerous businesses and organizations are being pushed to change their business models in order to reduce CO2 emissions because high carbon emissions are one of the most pressing issues the world is now facing.
The Tokenist stated earlier this year that the mining of bitcoins contributes 0.08 percent to world CO2 emissions. Additionally, a study last month by congressional Democrats revealed that the energy used by American cryptocurrency miners is equivalent to that used by almost every home in Texas.
What Does VeCarbon Require to Fulfill its Mission?
VeCarbon's developer, Shanghai Tanlian Technology, is up against significant challenges in creating a comprehensive SaaS solution that addresses a variety of business requirements and circumstances. Computing power is one of the most important requirements for VeCarbon to keep offering top-tier carbon management services since standardized carbon products have enormous "multi-source real-time and quasi-edge access needs."
Security and stability are two more factors that are equally vital. Storage and data security become crucial topics for consideration as a result of the carbon management services it offers to its commercial clients.