Wyoming Authorities Officially Recognize the First DAO in the United States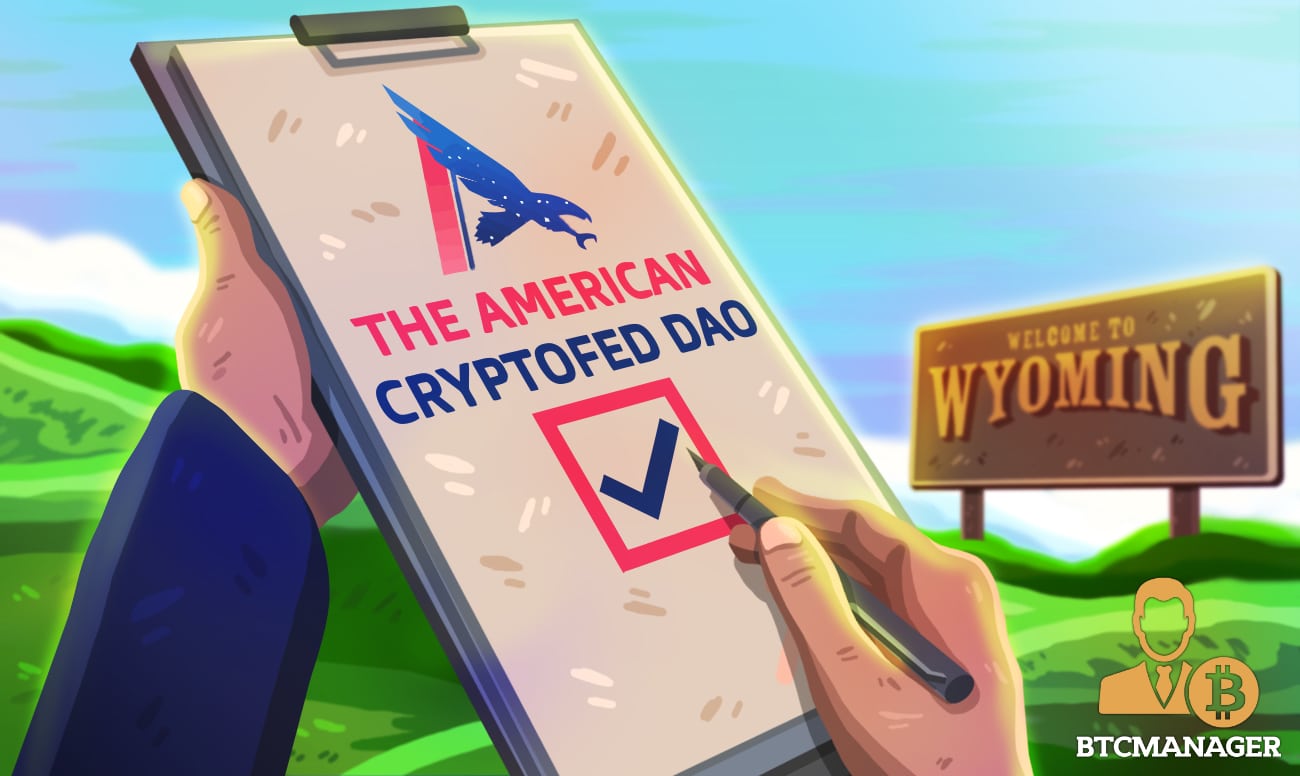 The U.S. State of Wyoming has legally recognized the American CryptoFed DAO as the first decentralized autonomous organization in the United States.
First Legalized DAO in the US
In a press release on Sunday (July 4, 2021), the American CryptoFed DAO announced that it received notice of legal recognition from the office of the Wyoming Secretary of State on July 1, 2021. 
Back in March, the Wyoming State Senate approved a bill to recognize DAOs as companies. The bill became law and came into effect on July 1, 2021. 
Commenting on the latest development, the CEO of the American CryptoFed DAO, Marian Orr, said:
"Wyoming is the leading digital assets jurisdiction in the USA, and now with this DAO law, Wyoming is arguably the top blockchain jurisdiction in the world. What this means is that creating a true digital currency with mass acceptance is now possible." 
According to the announcement, the newly legalized DAO will be governed by two governance tokens. One is the Ducat, which, according to its website, is "an inflation and deflation protected Stablecoin" used as a store of value and for daily transactions. It also has unlimited issuance.
The second native token called Locke is a governance token with a maximum of 10 trillion 'coins' in circulation. Also, it would be used by those taking part in decision making and network rule, as well as to stabilize the ducat. 
Stating the function of the DAO native tokens, Orr said:
"Our digital currency enables municipalities, merchants and consumers to engage in digital transactions without the cost of processing fees. As a former mayor, I can tell you those costs add up fast. This means cities and their constituents will no longer lose money through transaction fees, enabling increased revenues."
The American CryptoFed DAO said that the tokens will be issued in accordance with the Token Safe Habor Proposal 2.0 by the US Securities and Exchange Commissioner (SEC), Hester Peirce.
Wyoming Blazing the Trail
Meanwhile, Wyoming continues to be ahead of other states in the US, when it comes to blockchain and cryptocurrency adoption. As reported by BTCManager in June, Wyoming issued a bank charter to the digital asset bank Wyoming Deposit and Transfer. 
Kraken was the first company to be issued such a charter back in September 2020, which the second charter issued to Avanti Bank in October 2020.