Wyre said to shut down and lay off employees as CEO declares scaling back
Crypto firm Wyre has reportedly informed its employees it is shutting down operations in the first quarter of 2023. Its CEO insists that the company is scaling back.
Wyre, a blockchain-based payments transfer company that has operated since 2013, is reportedly halting its activities since January 2023, according to sources familiar with the matter cited by Axios.
The company has not yet confirmed the shutdown officially. Crypto.news has reached out to the Wyre team but has not yet received a response.
However, the company's CEO Ioannis Giannaros responded to Axios request, claiming:
"We're still operating but will be scaling back to plan our next steps."

Ioannis Giannaros, Wyre CEO
Employees posting on Wyre shutdowm
The broad market slump and crumpling of cryptocurrencies in 2022 have seen struggling companies rumpling down. Wyre has been struggling in the last year, leading to layoffs at the end of the last year. The inner circle anonymously confirmed the reduction in staff at Blind, a professional community of employees: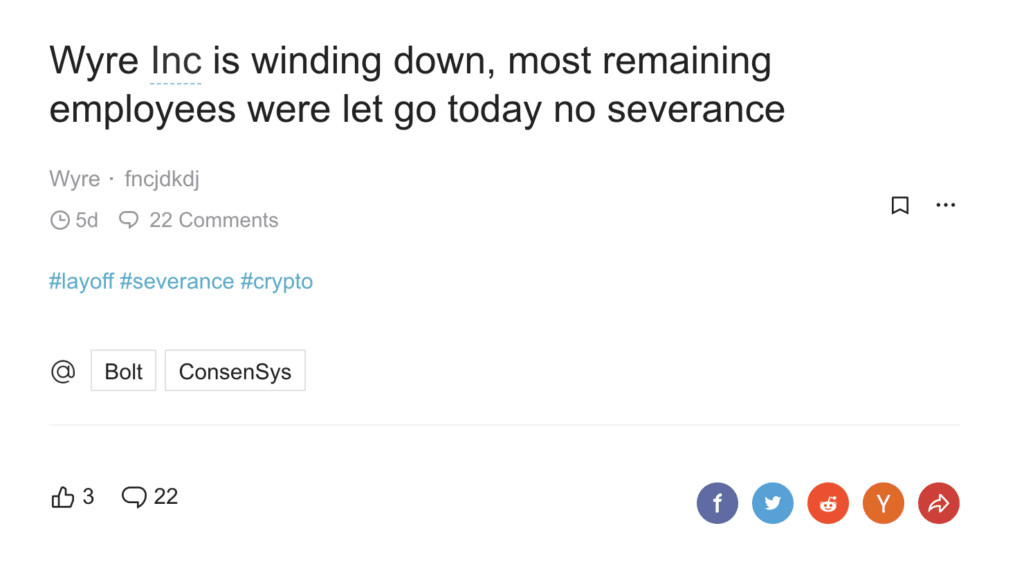 Two former personnel of Wyre confirmed the looming shutdown in a conversation with Axios. One of them said that Wyre CEO updated some employees through email during the holiday session. The communication entailed a planned liquidation and dissolution of operations of Wyre in January 2023.
Former employees added the company was yet to offer them severance packages after their layoffs.
Another laid-off employee, technical engineer Michael Staib, raised the alarm about Wyre on LinkedIn. In a recent message, he decried Wyre's business, indicating that the company will not continue having a profitable venture: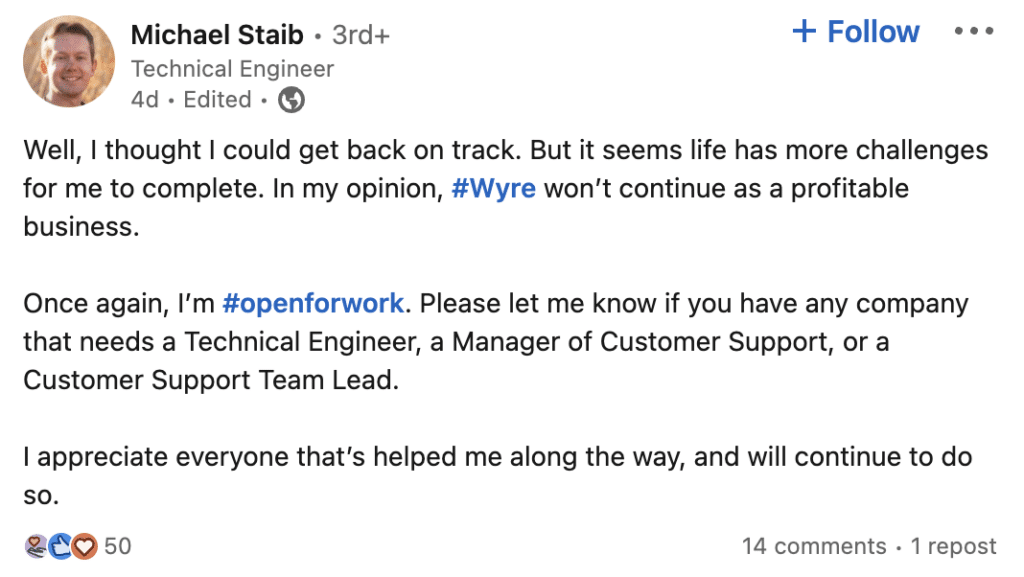 What happened to Wyre before the turmoil
Bolt's move to acquire Wyre at the cost of $1.5 billion did not materialise after cancellation in September. Bolt wanted to establish its presence in the crypto market, but the deal did not occur.
Data from Crunchbase indicates that Wyre has $29.1 million raised from nine rounds of funding. The latest funding was from Convertible Note, which occurred on December 12, 2021. The company enjoys the backing of 28 investors, whereby Samsung NEXT and FJ Labs are the latest investors. Wyre possesses two organisations over the years in operation. Hedgy is its most recent acquisition, made in September 2018.