In 1 Year, Samsung Has Gone from Bitcoin Miner Manufacturer to Accepting Crypto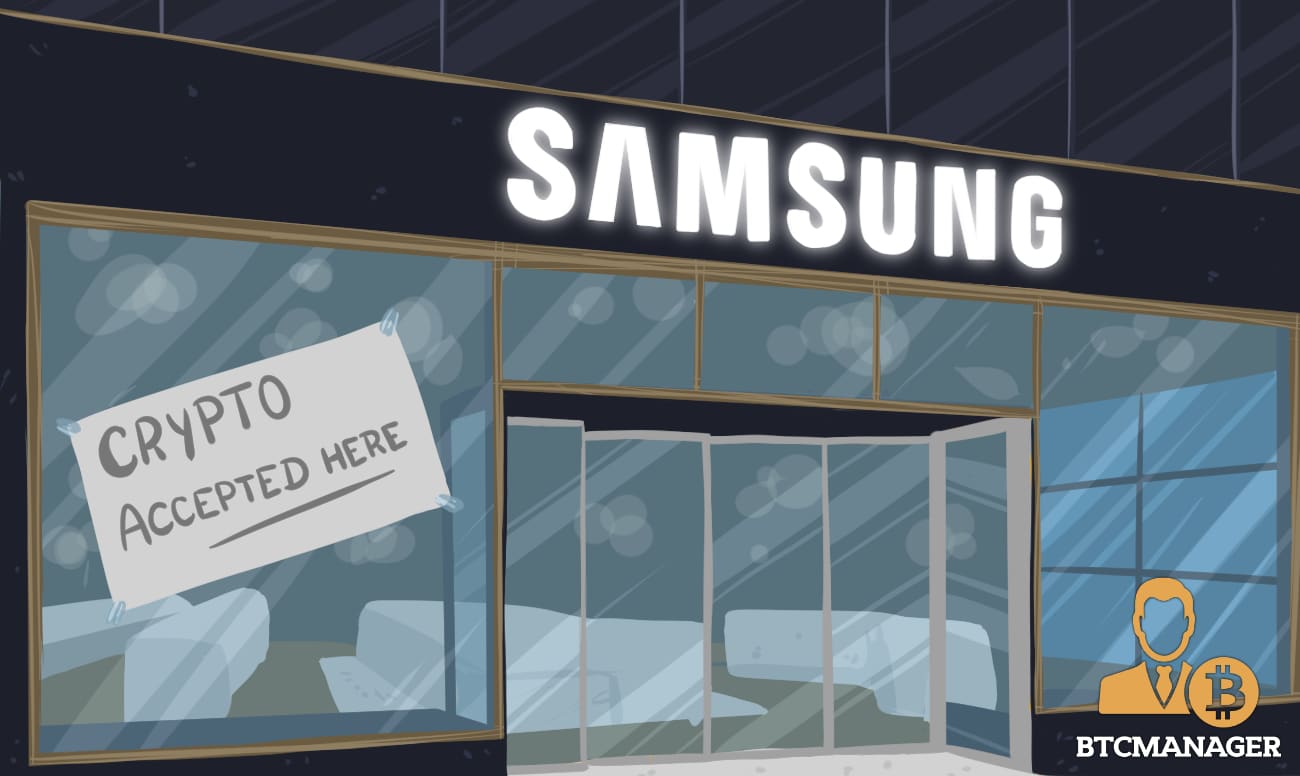 Samsung, the $290 billion electronics giant, has started to accept crypto in its stores in the Baltic region as an alternative to fiat money on July 21, 2018.
Heavily Involved in Crypto
In South Korea, Samsung remains as the dominant conglomerate in virtually every major industry including insurance, real estate, construction, shipbuilding, automotive manufacturing, and finance. For decades, Samsung has continued to aggressively expand into a wide range of industries, with a focus on developing innovative technologies and solutions to combat existing companies.
Most recently, Samsung has established its focus on the global cryptocurrency sector, using its resources to compete with major companies in the cryptocurrency mining and payment industries. Merely months after initiating its bitcoin ASIC miner manufacturing venture with its foundry in its headquarters in Suwon, South Korea, Samsung has integrated cryptocurrencies like bitcoin, ether, and NEM into its stores in Lithuania, Latvia, and Estonia.
The CopPay team, which announced its partnership with Samsung earlier this week, said that the South Korean technology conglomerate has acknowledged the growing demand towards digitized payment methods and agreed to a strategic partnership that would allow authorized Samsung dealers in the Baltic region to accept payments in digital assets.
"Customers in Tallinn, Riga, Vilnius, and Kaunas can buy Samsung smartphones, tablets, laptops, TV-sets, and more with digital money. There is a growing trend toward business digitalization and allowing customers to pay for goods and services in cryptocurrency, whether at global retailers or local restaurants," the CopPay team said.
In an interview, former Goldman Sachs CEO Lloyd Blankfein emphasized that similar to the progression from gold to cash, bitcoin could be the natural progression from fiat money to digital money. Further, he pointed out that it is "arrogant" for skeptics to dismiss the probability of consensus currencies competing against reserve currencies in the long-term.
Blankfein explained:
"You move a little bit further and you get bitcoin that is not a fiat currency so I don't trust, it and I don't like it. On the other hand, if it works, I say maybe it was a natural progression from hard money to digital money."
The acknowledgment of cryptocurrencies as a legitimate alternative means of payment by a company the size of Samsung could exponentially fuel the adoption of digital assets as currencies, especially in regions such as South Korea, China, and the Baltic, that have already developed strong cashless societies.
Previously, Samsung emphasized that the performance of its bitcoin mining equipment manufacturing venture in its foundry based in Suwon could potentially lead the conglomerate to engage in various cryptocurrency and blockchain-related businesses.
Other conglomerates in South Korea such as the country's largest telecommunications giant SK Telecom and electronics conglomerate LG have taken a different approach towards penetrating the cryptocurrency sector. SK acquired Korbit, the third biggest crypto exchange in South Korea, to appeal to retail traders and individual investors, while LG has developed its own blockchain network to support decentralized applications (DApps).
What's Next?
A July report on the security of the blockchain and the usability of cryptocurrencies on smartphones has suggested that the integration of digital assets on Samsung Pay, a widely utilized FinTech payment network in South Korea, could be next in line, especially given that its main competitor, Kakao Pay, has already integrated cryptocurrencies via UPbit, the country's most significant cryptocurrency exchange it operates.
Over the past few months, conglomerates in South Korea have shown a healthy competition between each other within the global cryptocurrency sector to remain at the forefront of cryptocurrency and blockchain development. Continuous efforts by Samsung, LG, and SK, to improve the infrastructure of the local cryptocurrency industry will legitimize the cryptocurrency sector and provide a better ecosystem for developers, investors, and users.