10 Best Crypto Debit Cards in 2022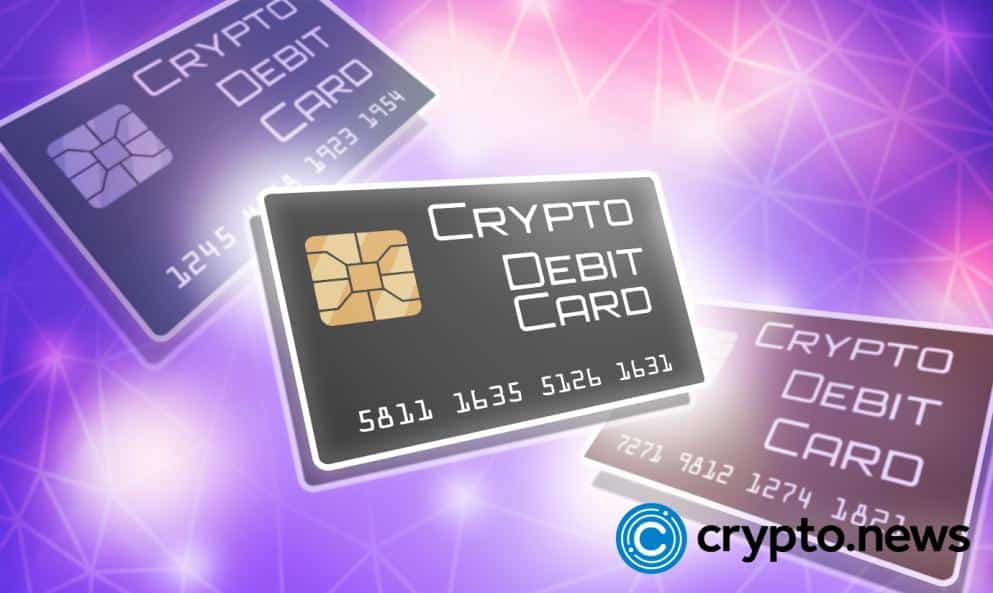 A crypto debit card is a digital payment tool like a regular credit or debit card. It lets you buy at online stores and make payments to services like Uber, Venmo, and Apple Pay. There are a lot of crypto debit cards on the market right now. How can you pick the best one for your needs? Let's go through some of them.
The Ideal Crypto Debit Card
The ideal cryptocurrency debit card brings a new level of convenience to its owner. It allows them to spend or earn their crypto assets in physical stores or online, even if the merchants don't accept cryptocurrency. Instead of exchanging Bitcoins into local currencies, cardholders preload their debit card with a set amount of cryptocurrency, which is then automatically converted at the time of purchase into the country's fiat currency.
With a crypto debit card, you can make purchases with cash back rewards and even pay taxes. The beauty of it is in the ability to do this through secured mobile access. In addition, the crypto debit card should support different types of cryptocurrencies.
10 Best Crypto Debit Cards
Today we'll dive into the top crypto debit cards, show you how to use them, and help you find which one is best for you.
Coinbase Debit Card
Launched in 2019 by Coinbase, the Coinbase Card is available in the United Kingdom and to select customers in the United States of America. Upon registration, the Visa debit card is linked to one's online Coinbase account. With a Coinbase account, users can store various forms of cryptocurrencies, including Bitcoin, Ethereum, Stellar Lumens, Litecoin, Dogecoin, and more.
The Coinbase Card is the most preferred as it attracts no annual fees. However, an issuance fee is charged for residents in the UK Users earn up to a 4% cash back reward upon purchasing through the Crypto rewards program. However, these rewards are acquired when purchases are made using Bitcoin or Stellar Lumens.
The Coinbase Card offers many security and convenience features. The two-factor authentication feature paired with instant card freezing ensures that one's coins are secure. The mobile Wallet allows cardholders to shop and withdraw cash from any Visa ATM worldwide. Cardholders can only withdraw a maximum of $1,000 daily. Another desirable feature is the incorporation of a spending tracker-good for managing daily spending.
Binance Debit Card
Binance launched the Binance Card following its acquisition of Swipe-a crypto debit card Company. It was then released in select European countries in September 2020. Currently, it supports its stablecoin, Binance USD, Bitcoin, Binance Coin, Ethereum, and Swipe's SXP token. The Binance Card charges no administrative, processing, or annual fees. However, one may occasionally be subject to third-party payments.
The Binance card is a great tool to earn additional cashback on your purchases. The card is used anywhere Visa cards are accepted, including ATMs and withdrawals through one's account. It offers seven cashback levels (based on BNB monthly balance), and the maximum cashback amount is 8%. Users can check all cashback transactions in the cashback vault on the mobile app or PC. The rewards earned depend on the user's BNB account balance.
However, not all transactions are eligible for the cashback program. That is up to the discretion of Binance and its partners. For instance, they specify that the cashback program does not consider transactions made on digital wallets, cryptocurrency exchanges, digital banking services, money remittance services, stored value goods, and specific other categories.
Bitpay Prepaid Crypto Card
Like other crypto debit cards discussed above, the BitPay Mastercard lets users spend their coins in the real world. It is operated by BitPay Inc. and is currently accepted at millions of points of sale worldwide. The card issuance fee is $10.
To use the card, one must have a BitPay wallet. The Wallet supports multiple cryptocurrencies, including Bitcoin, Bitcoin Cash, and Ethereum. Cardholders can conveniently convert their cryptocurrencies into their desired country's fiat currency at ATMs. The conversion is free, although network fees may be applied. Compared to other providers, BitPay's crypto exchange rates are pretty competitive.
Upon conversion, the funds are available to spend depending on the transaction and amount loaded. Users are allowed a maximum ATM withdrawal of $6,000 per day. Only a maximum single load of $10,000 is permitted per day. On spending, cardholders can only spend up to $10,000 daily. The BitPay Mastercard, however, has no cashback rewards, reducing the net spending cost. That is a significant downside compared to other crypto debit cards in the market. In addition, the card attracts a steep inactivity fee of $5 per month.
Embily Visa Debit Card
The Embily Visa Card is used in all stores that accept Visa. Like its counterparts, it supports nine cryptocurrencies, including Bitcoin, Ethereum, and Stablecoins, and its fee structure competes favorably. The card attracts a monthly service fee of 2 euros, a loading fee of 1%, and a 1.50% charge for foreign transactions. The cards can be in both physical and digital versions. The virtual card costs 1 euro while a virtual card costs 5 euros inclusive of delivery worldwide. Users can manage up to 5 cards by connecting them to Apple Pay or GooglePay.
The card supports transactions worldwide. Although it lacks a cashback feature, users can earn coins by referrals. A referral makes a $10 discount on a physical card and a $5 discount on virtual cards. On the other hand, the referrer gets an equal amount on top of a 0.10% from their loaded amount.
Compared to its competitors, Embily's platform provides the best user experience. It offers a smooth experience by boosting a clean interface and intuitive navigation. In addition, it has a library of resources and FAQs that address the user's widespread concerns. This feature compensates for its lack of a mobile app.
BlockFi Rewards Visa Signature Card
The BlockFi Visa Card is arguably one of the best crypto-earning cards in the market. Users earn up to 1.5% rewards on all purchases made using it. It supports monthly conversions from Bitcoin, Ethereum, Litecoins, and many more, depending on what users choose in their BlockFi account. In essence, the card is a monthly cashback card that users use to purchase coins.
With the BlockFi Visa Card, users enjoy 1.5% back in crypto purchases and 0.25% on all eligible trades. The deal is sweetened by the ability to earn 2% back after spending at least $30,000. In addition, users gain a bonus of 0.25% of their coins on BlockFi, available to users with a load of $500.
In my opinion, other cards are better unless one is already highly invested in the BlockFi DEX. My sentiments resonate with the fact that the card attracts low rewards. It lacks bonus categories, and rewards are not realized in real time. As such, one can't time big purchases to fall in the period when the crypto's value is muchly favorable- the crypto bull market.
Crypto.com Visa Card
Formerly recognized as the MCO Rewards Visa, the Crypto.com Visa Card brings convenience alongside other benefits to the user. The card charges no annual fees. It is a Visa prepaid debit card and thus is acceptable for use across all merchants accepting Visa cards.
Crypto.com supports multiple cryptocurrencies making it a good choice for all investors. The platform converts crypto coins to fiat currency in real-time before loading them onto the Visa card- protecting users from fluctuating market values. Although it supports multiple currencies, cardholders earn cash back in the form of Cronos (CRO) rewards. The CROs can then be traded on the Crypto.com platform into fiat currency or other coins.
Crypto.com's Visa card comprises different card levels dependent on one's stake. Possessing the highest card (Obsidian) unlocks more perks than the lowest card (Midnight Blue). With a Midnight blue card, the acceptable ATM withdrawal limit is $500, while with an Obsidian, the limit is $2000. Obsidian earns 5% Cronos rewards and 2% on card spending. The Midnight Blue, on the other hand, makes no cash back.
Nexo Mastercard
The Nexo Card is a must-have for all Nexo users. It lets its users access crypto-powered liquidity across 40 million stores worldwide. For now, the card is only available in select European countries. Unlike other cards, Nexo lets users spend without the need to trade their crypto. The user's digital assets serve as collateral.
The Nexo Mastercard bears zero fees. No monthly fees or inactivity fees are charged. Users enjoy instant 2% cash back rewards for Nexo and 0.5% for Bitcoin upon transactions with the card. On top of retaining their digital assets, users earn without actually spending. The rewards are, however, paid out in Bitcoin or Nexo's token (NEXO).
The Nexo card is available in physical and digital forms for seamless access. Users can link the cards to their favorite mobile wallets from the Nexo Wallet App. Apple Pay and GooglePay are also integrated into the card. Users can control the card through the Nexo App, which boosts features such as instant card freezing and notifications on all spending.
TRASTRA Visa Debit Card
The TRASTRA Visa Card is a lovely debit card available to users in the European Economic Area and can be used worldwide. Like the other crypto debit cards, it focuses on introducing convenience into the crypto ecosystem. It can be used for shopping, paying merchants, peer-to-peer cash transactions, settling bills, and money transfers to banks. TRASTRA Visa Card hosts multiple cryptocurrencies such as Bitcoin, Bitcoin Cash, Ethereum, Litecoin, Ripple, and USD Coin.
The card issuance fee stands at 9 euros and subsequently attracts a monthly cost of 1.25 euros. Deposits are made through wire transfers and SEPA transfers. Withdrawals through the ATM attract 2.25 euros if withdrawing EUR. Withdrawal of another fiat currency sets you back 2.25 euros plus 3% of the withdrawn amount.
The TRASTRA Visa Card bears no spending commission. Any non-Euro purchases cost a spending fee of 3% of the transaction value. Thus it is only helpful for Euro shopping.
Uphold Mastercard
The Uphold Mastercard is a good choice for investors that need more control over their crypto spending. It is ideal for travelers as it accepts about 40 cryptocurrencies, 23 National currencies, and precious metals. In addition, it attracts no foreign transaction fees. However, ATM withdrawals attract a transaction fee of $2.50.
In terms of rewards, the Uphold Crypto Debit Mastercard offers a 2% back in crypto rewards when one spends in crypto. Soon, users will be earning 1% cash back on all purchases. For instance, if you spend 2% of your Bitcoin, you will receive 2% back. This feature is valuable because many businesses do not reimburse you for the cryptocurrency you use but rather in their native tokens. Also, to begin receiving rewards, you are not required to stake or lock up your money or cryptocurrency for a predetermined period.
As a new card, it lacks a track record and good customer feedback compared to existing cards. Customer service is unreachable. It isn't easy to find any details regarding the debit card unless you're a current customer, and you'll have to wait days for a response.
Jubiter Debit Card
In particular, Jubiter Card supports Litecoin and Bitcoin. Future versions of the card will probably support even more cryptocurrencies. Since it is a VISA card, you can use it anywhere the cards are accepted. Of course, this is highly beneficial for its consumers.
No issuance fee is charged to obtain the Jubiter Debit Card. The cost per month is 1.80 euros. Although many credit cards don't charge any monthly fees, this is by no means excessive. The commission on expenditure, however, is the most significant fee. The loading cost and the currency conversion fee stand out the most (if using the card in any fiat currency other than EUR). The expenses are 1.60 percent and 3 percent, respectively.
The card's maximum balance is set at 60,000 euros: This is unquestionably a high limit. Your card is automatically linked to the platform's cryptocurrency wallet, which is how the balance is topped off and where you can easily spend your coins. An instant freeze, AES-256 encryption, and fraud protection are some of the card's robust security features.
Conclusion
The popularity of cryptocurrencies grows as they are accepted as payment methods. This use case is one of many which show that the rate of adoption of the assets is skyrocketing. It is good news for those who are already banked in the crypto space. However, it is best to be very careful while investing there as it is highly unregulated and may not be entirely secure from foul players.