BBVA Completes $150 Million Syndicated Loan on Ethereum Blockchain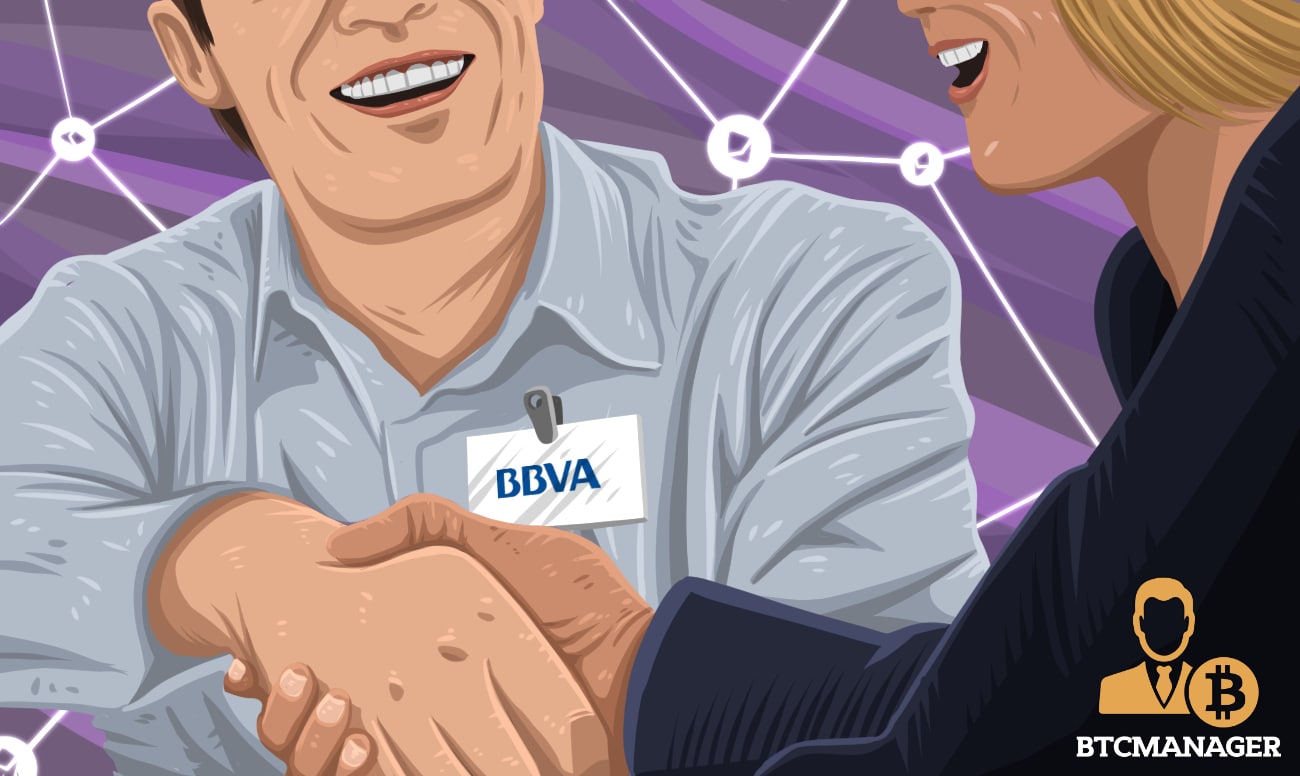 One of Spain's leading banks, Banco Bilbao Vizcaya Argentaria (BBVA), has successfully signed off the terms of a $150 million syndicated loan with the help of blockchain technology, reports Finextra, November 7, 2018.
Multi-million Loan carried over a Private Blockchain
Notably, the syndicated loan transaction was carried out over a private blockchain network in the presence of two legal advisors, Linklaters and Herbert Smith Freehill, and three banks, namely, BNP Paribas, BBVA, and Mitsubishi UFJ Financial Group (MUFG).
Syndicate loans differ from a normal loan in that they are arranged by a group of banks for a single borrower. In this case, the loan was arranged for Spain's national electrical grid operator Red Eléctrica Corporación.
Speaking of the technicalities, the end-to-end steps were recorded in a Hyperledger technology-powered network. This included transactions beginning from the initial negotiations till the signing of the final agreement.
After being signed off successfully, the syndicated loan's unique document identifier was recorded in Ethereum's public blockchain network to ensure that the data remains unalterable against possible third-party manipulations.
The latest transaction by BBVA continues the growing trend of high magnitude DLT powered deals it has carried out with its corporate clients.
Some of the recent transactions completed through blockchain technology include the €325 million agreement signed between BBVA and the Spanish energy giant Repsol to develop DLT-based banking solutions, and a $75 million corporate loan disbursed in collaboration with Indra in April 2018.
Sharing his thoughts on the development, Ricardo Laiseca, head of global finance, BBVA said:
"BBVA is simplifying the processes related to corporate financing and is betting on the use of new technologies, like blockchain, to digitise loan negotiations and contracting. We work with our corporate clients to be able to provide them with the most innovative financing solutions."
The continual use of blockchain technology to close high-value deals is a testimony to the confidence BBVA holds in it.
Steady Adoption of Blockchain in the Banking Industry
Blockchain technology has long been seen as a disruptive force that could potentially change the shape of the banking industry, and it's not hard to guess why.
BTCManager reported on August 2, 2018, how the Agricultural Bank of China (ABC) successfully issued a $300,000 loan using a private blockchain.
On a more recent note, banking giant HSBC partnered with Belgium's ING Bank to execute a trade transaction for India's Reliance Industries using the blockchain network provided by a U.S. based company Tricon Energy.