Bitcoin Remains Firmly at its $6,500 "Stablecoin" Mark: BTCManager's Week in Review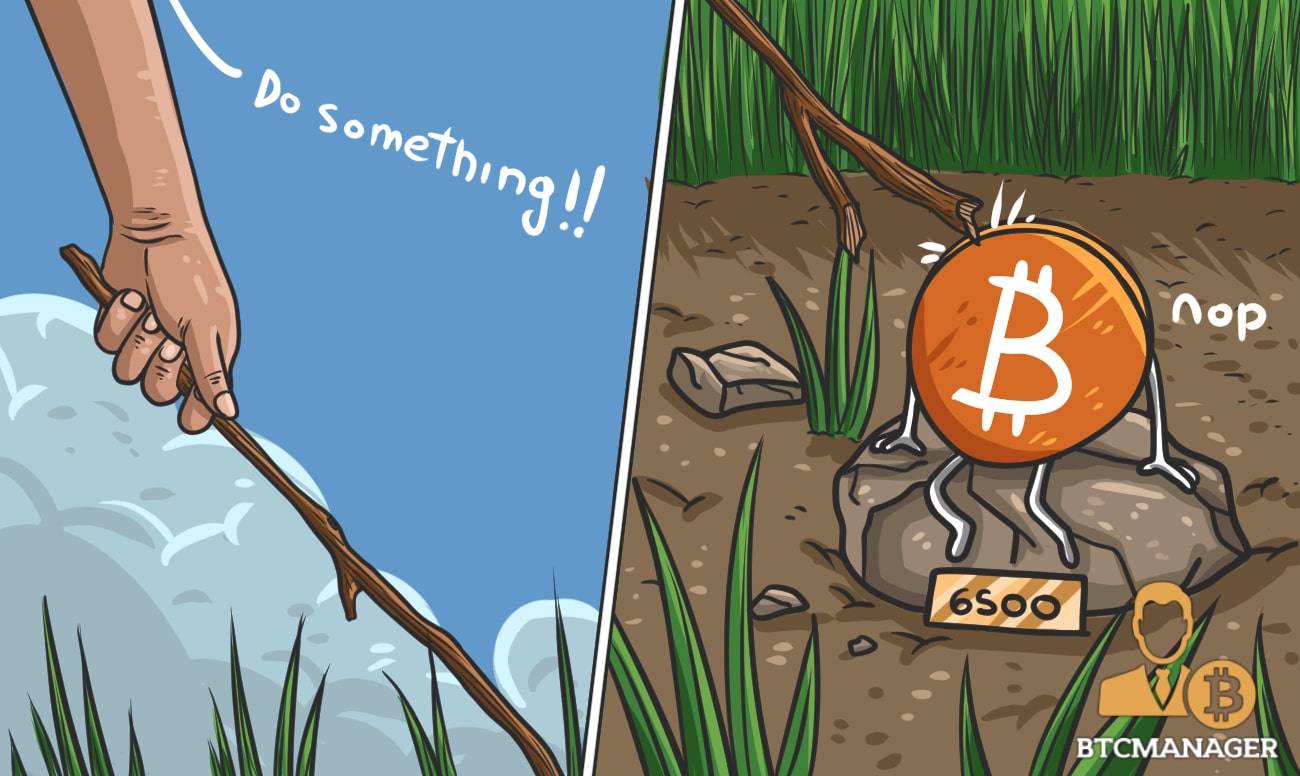 The price of bitcoin barely moved in the past seven days – ranging from $6,450 to $6,550, to close the week effectively unchanged around the $6,500 mark.
This week's headlines have been driven by more adoption-positive news such as Visa saying that it will consider adopting cryptocurrencies if that will be the way the market evolves, Bakkt confirming the launch of its BTC futures for December, and the announcement by Sony developing a contactless cryptocurrency hardware wallet.
Moreover, bitcoin mining giant Bitfury has announced that it is considering going public in 2019. At current valuations, Bitfury's IPO would be valued between three to five billion dollars.
Despite crypto asset prices making no signs of moving back towards last year's highs (yet), the sentiment towards cryptocurrencies seems to have changed from "they only are being used by criminals" to "they will be used by everyone soon."
Publicly-traded technology companies and financial institutions are getting involved in the cryptocurrency markets not only because of its recent hype but because they believe that cryptographic assets are here to stay.
That also suggests that it should only be a matter of time until asset prices start to reflect this confidence in the future of crypto.
This week's contributions have been provided by Priyeshu Garg, Nigel Dollentas, Ogwu Osaemezu Emmanuel, and Shaurya Malwa.
Visa Says Cryptocurrencies Are not a Threat, Might Adopt Crypto Assets in the Future
Visa CEO Al Kelly doesn't see cryptocurrencies posing a threat to Visa shortly, and said that the financial services giant wouldn't get into the cryptocurrency business until they become more traditional payment instruments, CNBC reported on October 25, 2018.
Despite Mastercard's unexpected push for a patent outlining "fractional reserve banking" for crypto assets, financial services giant Visa doesn't seem to be rushing into digital currencies just yet.
During an October 25 episode of CNBC's Mad Money, Visa CEO Al Kelly spoke with host and former fund manager Jim Cramer and discussed the company's future in crypto.
Kelly said that cryptocurrencies do not pose a threat to Visa in the near term, but that the credit card firm is prepared to implement crypto-friendly systems if the digital currencies become more established.
"I think there has to be some market that it becomes somewhat like a fiat currency for us to be comfortable," Kelly said in the interview, adding that crypto was not a threat to Visa in short to medium term "in any way."
Sony Develops Contactless Cryptocurrency Hardware Wallet
Sony Computer Science Laboratories, an arm of Sony Corporation, announced October 23, 2018, in a press release the development of a contactless IC card with the purpose of being used as a cryptocurrency hardware wallet.
While hardware wallets are an improvement from regular software wallets, their main disadvantage is that they need to be tethered to a computer.
While this is okay for desktop situations and for situations where funds are not immediately needed, hardware wallets are a poor choice for mobile payments, an area that cryptocurrency needs to compete against convenient solutions like credit cards and debit cards.
Sony fixes this by developing mutual authentication/encrypted communication technology within a single card, even making it possible to securely generate and store a private key within a tamper-proof module within the card.
Private keys for other information can be stored as well, allowing the card to also function in different ways users will be able to come up with.
Bitcoin Mining Company Bitfury Considers European IPO
Most famously known for their cryptocurrency mining ASIC chips, Bitfury is reportedly interested in public on a major stock exchange in 2019, reported Bloomberg on October 25, 2018.
The mining company has had talks with global investment banks with countries all through Europe in preparation for a trading debut in Amsterdam, London or Hong Kong.
With Bitfury reporting a revenue of $450 Million in the past year leading up to March 2018, the company could be a very profitable addition to anybody's stock portfolio.
If Bitfury were to take their company public within the next two years, valuation estimates are already in the $3 billion – $5 billion range. These numbers are given in a cryptocurrency bear market and coupled with how fast the sector develops; we could see valuation numbers far higher as we approach 2019 and 2020.
Intercontinental Exchange (ICE), which is the parent company of the New York Stock Exchange (NYSE) has announced that its recently established cryptocurrency exchange, Bakkt, will launch physically-settled daily bitcoin futures contracts on December 12, 2018, according to a notice by ICE on October 22, 2018.
As stated in the news release, ICE Futures U.S. Inc. has set December 12, 2018, launch date for the new Bakkt Bitcoin Daily Futures Contract. Per the firm, the Bakkt bitcoin futures contract is a physically settled daily futures contract that will trade in U.S. dollar terms (BTC/USD).
The contracts will be traded on ICE's trading platform, and the team says all trades will be cleared and guaranteed by ICE Clearing Us, which is the primary counterparty for all the firm's forex futures transactions.
The physically settled bitcoin futures contracts will have a minimum price movement of $2.50 per contract, with blocks executed at $0.01 per bitcoin ($0.01 per contract). ICE says there will be no price limit for the contracts and one daily contract will be listed for trading each business day.
The Shenzhen Court of International Arbitration published a case analysis on October 25, 2018, via WeChat, clarifying its ruling on an economic dispute that involved a business contract relating to possession and transfer of crypto assets.
According to cnLedger, a prominent crypto and blockchain Twitter account that focuses on Chinese developments, the court's verdict indicates that Chinese law permits consumers to transact and own Bitcoin. The local source added that the Shenzhen body had ruled the crypto asset legal due to its inherent nature as "property" and its "economic value."
However, despite the same court also ruling that Bitcoin isn't and never could be considered a legal currency, the lawyers working on the case didn't agree with imposing an outright ban on the coin.
Spanish Regulators Mandate Cryptocurrency Holders to Formally Identify Themselves
The Spanish government has reportedly approved a draft law that will make it mandatory for digital asset holders with over €50,000 ($57,000) in their cryptocurrency wallets to identify themselves and announce their exact holdings. This new rule is targeted at curbing cryptocurrency tax evasion, according to a Finance Magnatesreport on October 24, 2018.
Per sources close to the matter, it will no longer be business as usual for cryptocurrency investors in Spain.
Authorities have approved a draft law focused on making it compulsory for holders of at least $57,000 to identify themselves and state the exact value of blockchain-based virtual currencies under their possession to enable the tax authorities to do better administer relevant regulations.
"It is stated as mandatory that people and companies inform the Tax Agency about this," said Minister of Finance, Maria Montero. Similar to the United States, profit gotten from cryptocurrency transactions is subject to income tax laws, but unlike in the U.S., bitcoin transactions do not attract a value-added tax.
Cryptocurrency businesses in Japan can now self-regulate their operations, as per a recent Financial Services Agency (FSA) directive reported by Reuters on October 24, 2018.
The self-regulation dictum was extended for supporting the growth of the burgeoning digital assets sector in Japan. Previously, local cryptocurrency exchanges formed an independent body called Japan Virtual Currency Exchange Association (JVCEA) in June 2018 to develop, discuss, and maintain minimum standards in the industry.
The JVCEA is expected to make extensive rules governing the sector for the safeguarding of customer assets, creation of operational guidelines, and preventing money laundering. Besides, a set of mandatory police compliances will be developed and provided to the body to enforce on all members.
In a statement, the JVCEA called for further efforts to build a trusted cryptocurrency industry for customers. Interestingly, Japan is already at the forefront of crypto-regulations; the country was the first major economy to legalize bitcoin and to regulate cryptocurrency exchanges, focusing on the fine line between technological innovation and ensuring consumer protection.