Bitcoin vs. Fiat: The Cryptocurrency Outperformed 3 National Currencies in 2018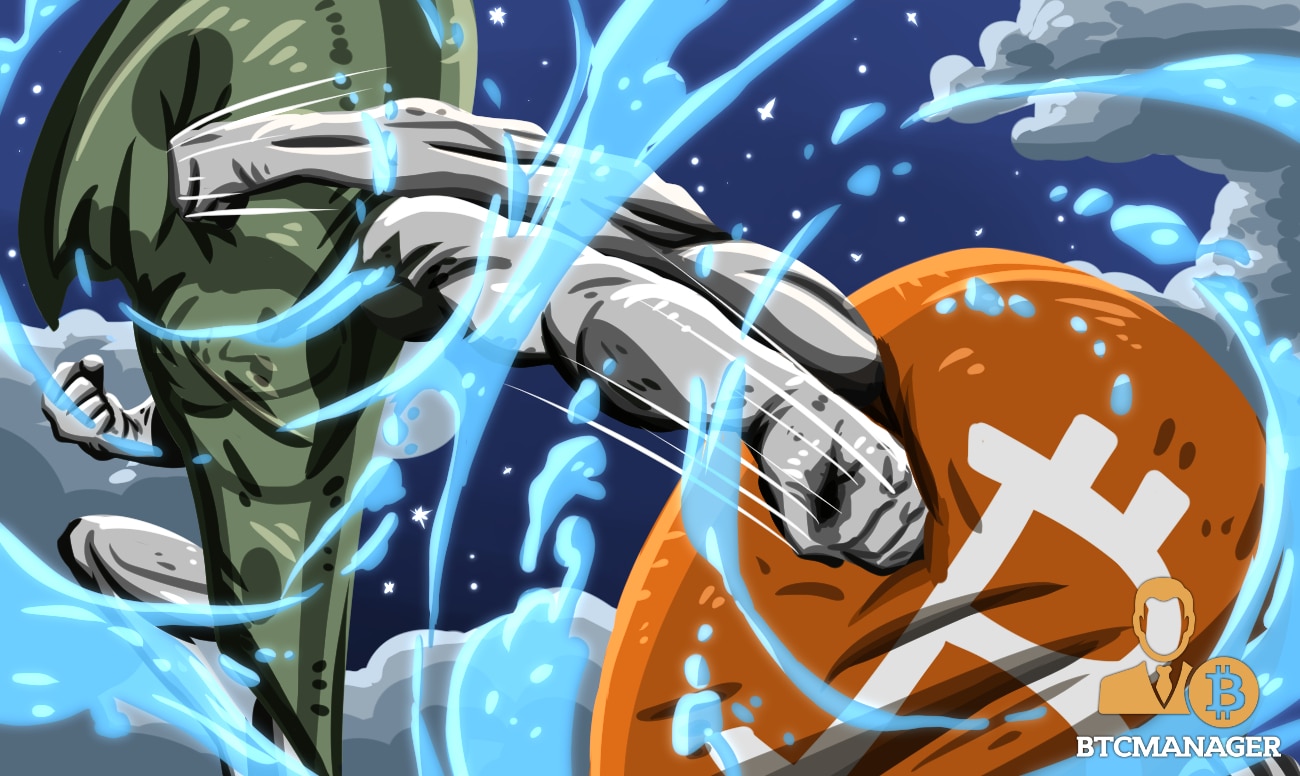 As many countries in South America, Africa, and Eastern Europe are in the midst of an economic crisis, depreciating national currencies don't come as a surprise. What did come as a shock was the fact that bitcoin would be the first to challenge the stability of fiat currencies, outperforming three different national currencies in 2018, as research from Pension Partners has shown on September 2, 2018.
Bitcoin More Stable Than Fiat
According to Charlie Bilello, the director of research at Pension Partners, a New York-based investment advisory which manages mutual funds and separate accounts, bitcoin managed to outperform three national currencies year-to-date despite its steep decline since December of 2017.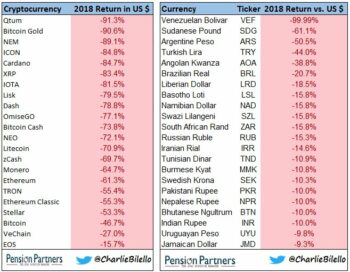 (Source: Twitter )
Bilello's September 2, 2018 tweet showed a chart comparing the returns of cryptocurrencies and reserve currencies that revealed Bitcoin has outperformed the Venezuelan bolivar, Sudanese pound, and Argentine peso.
The Pension Partners research showed an analysis of Year-to-date (in 2018) return of cryptocurrencies and certain fiat currencies in comparison to the U.S. dollar. The investigation revealed that bitcoin's 46.7 percent dip still put it ahead of the Venezuelan Bolivar, Sudanese Pound, and Argentine Peso which fell 99.99, 61.61, and 50.5 percent respectively.
Bilello's chart also showed that that three of the worst performing cryptocurrencies in 2018 were Qtum (QTUM), which fell 91.3 percent, Bitcoin Gold (BTG), which lost 90.6 percent of its value, and NEM (XEM), whose 89.1 percent dip put it in third place.
Not surprisingly, Pension Partners concluded that the best-ranking cryptocurrencies were EOS, VeChain (VET), and Bitcoin (BTC), which fell 15.7, 27, and 46.7 percent respectively.
According to the chart, the best among the falling lot on the fiat side have been the Jamaican Dollar, Uruguayan Peso, and Indian Rupee falling 9.3, 9.8 and ten percent respectively.
Bitcoin Still Strong despite Third Worst Correction
The third worst correction bitcoin and the rest of the cryptocurrency market have experienced since 2012 didn't stop it from outperforming many reserve currencies over the past year.
Recently imposed U.S. sanctions could be blamed for the recent dip in fiat currencies, especially when it comes to Turkey. The Turkish lira fell by more than 20 percent after the U.S. government tightened its sanctions against Turkey by excluding the region from the global financial system.
Argentina and Venezuela also saw their national currencies decline in value, but this time due to hyperinflation. The Venezuelan bolivar also saw a further decline after the country's President Nicolas Maduro officially announced his decision to replace the national currency with a state-backed cryptocurrency called the Petro.
According to data from BTCManager, August 2018 was the most stable month for bitcoin in more than a year, which demonstrates the cryptocurrency's newfound stability.
As big cryptocurrencies such as bitcoin and EOS are mostly disconnected from the broader financial market, institutions are expected to increase their demand for crypto as a newly emerging asset class. This increase in demand might be what allows cryptocurrencies to continually outperform national currencies in the future.