Charity Raises $14 Million in Bitcoin, Ether, Ripple Donations to Fight Homelessness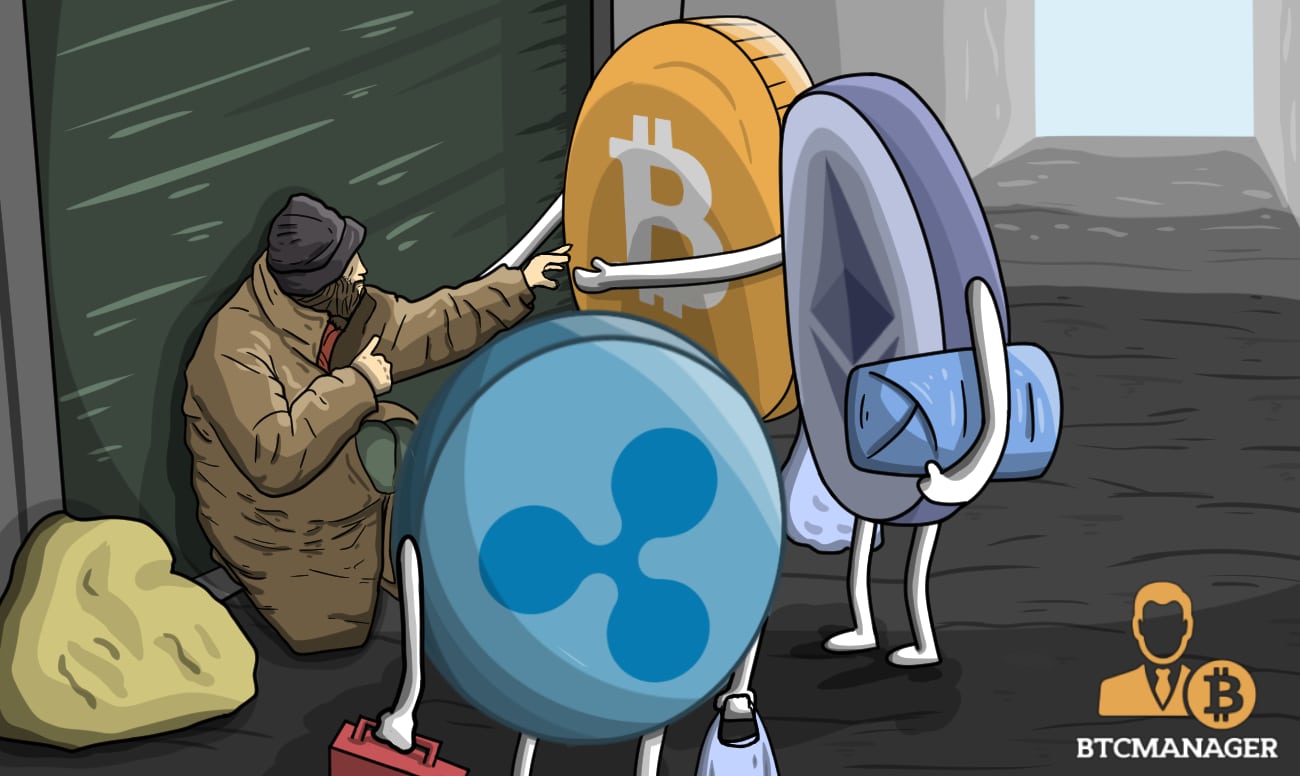 A San Francisco charity that accepts cryptocurrencies raised $14 million in donations, including bitcoin, ether, and ripple, to benefit the homeless in yet another sign that mainstream adoption of virtual currencies is on the rise.
Crypto Superstars Attended Gala
Many top Silicon Valley tech moguls and financiers attended the May 3 charity gala hosted by the nonprofit Tipping Point Community, Bloomberg reported. The guest list was a who's-who of crypto superstars, including:
Chris Larsen, CEO of Ripple,
Brian Armstrong, co-founder and CEO of Coinbase,
Dan Morehead, founder of Pantera Capital, a crypto and blockchain venture-capital firm,
Meyer "Micky" Malka, founder of fintech VC group Ribbit Capital.
Tipping Point Community is one of the few charities in the United States that embraces cryptocurrency donations, but observers say that's a trend that will mushroom. "I think a lot more charities will be accepting crypto in the future," said Coinbase CEO Brian Armstrong.
A Tipping Point rep said the cryptocurrency donations, which were made with a QR code printed in the program, will be converted into U.S. dollars and used within the next fiscal year to fight poverty and homelessness.
Bloomberg reporter Amanda Gordon tweeted a photo of the program and asked when New York charities will start accepting crypto donations. "Accepting crypto at a gala is the new thing in Silicon Valley – when will NY catch up?" she wondered.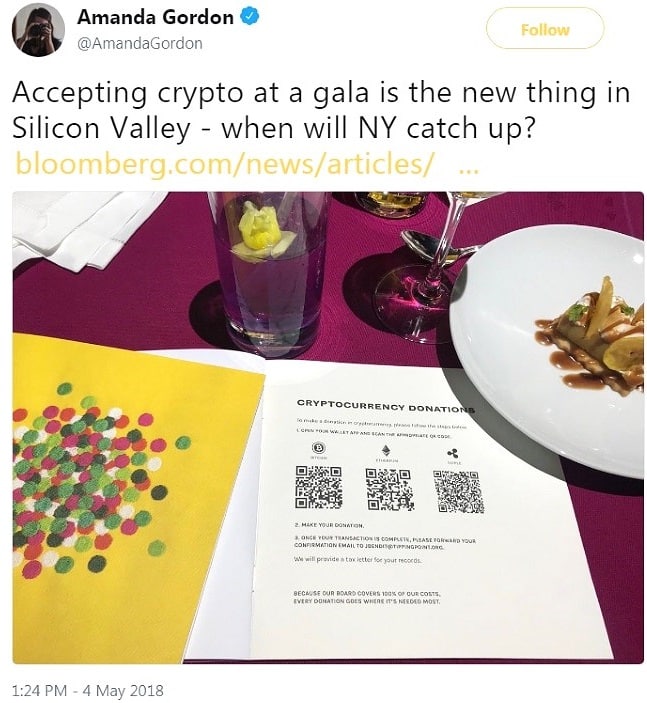 Amanda Gordon (Twitter)
Ripple boss Chris Larsen was heartened that Silicon Valley moguls are using their newfound riches to help those less fortunate than themselves.
"This is all about making sure that wealth is getting to people who need it most, and this helps lubricate that goal," Larsen said.
Homelessness in San Francisco has skyrocketed in recent years, and Silicon Valley's tech millionaires and billionaires have stepped up to spread the wealth.
Ethereum's Blockchain Used to Fight Censorship
This commitment to helping the underprivileged is a hallmark of Ethereum co-founder Vitalik Buterin, as BTCManager previously reported.
Buterin — whose net worth reportedly tops $400 million — said one of his goals is to use his crypto wealth to make a positive impact on the world. "My goal [is] to positively impact the lives of millions of people around the world," he said.
In February 2018, Buterin donated $2.4 million in ether to the SENS Research Foundation, a Silicon Valley nonprofit that researches age-related diseases. In April 2018, Buterin donated $1 million in cryptocurrencies to an African charity that helps refugees.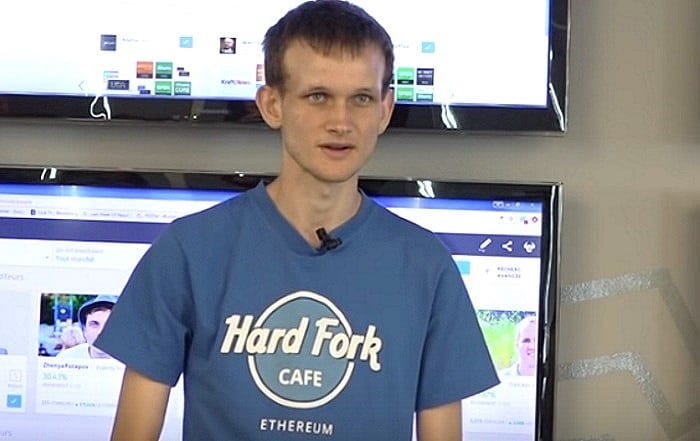 Vitalik Buterin (YouTube)
And it doesn't stop there. Ethereum's blockchain is currently being used to fight censorship in China, as BTCManager also reported.
After Chinese officials censored a university student's letter urging the government to stem the epidemic of rapes in the country, cryptocurrency activists posted her emotional missive on the Ethereum blockchain so the government couldn't scrub it off online platforms.
Blockchain evangelists pointed out that even if the Chinese government deleted the letter, there would always be an indelible record of it. "Blockchain has no 404 page, it's permanent," noted one person, who said an error code will always denote the missing web page for all to see.