Coinbase Roundup: Series E Funding, Institutional Interest, and Listing the Basic Attention Token (BAT)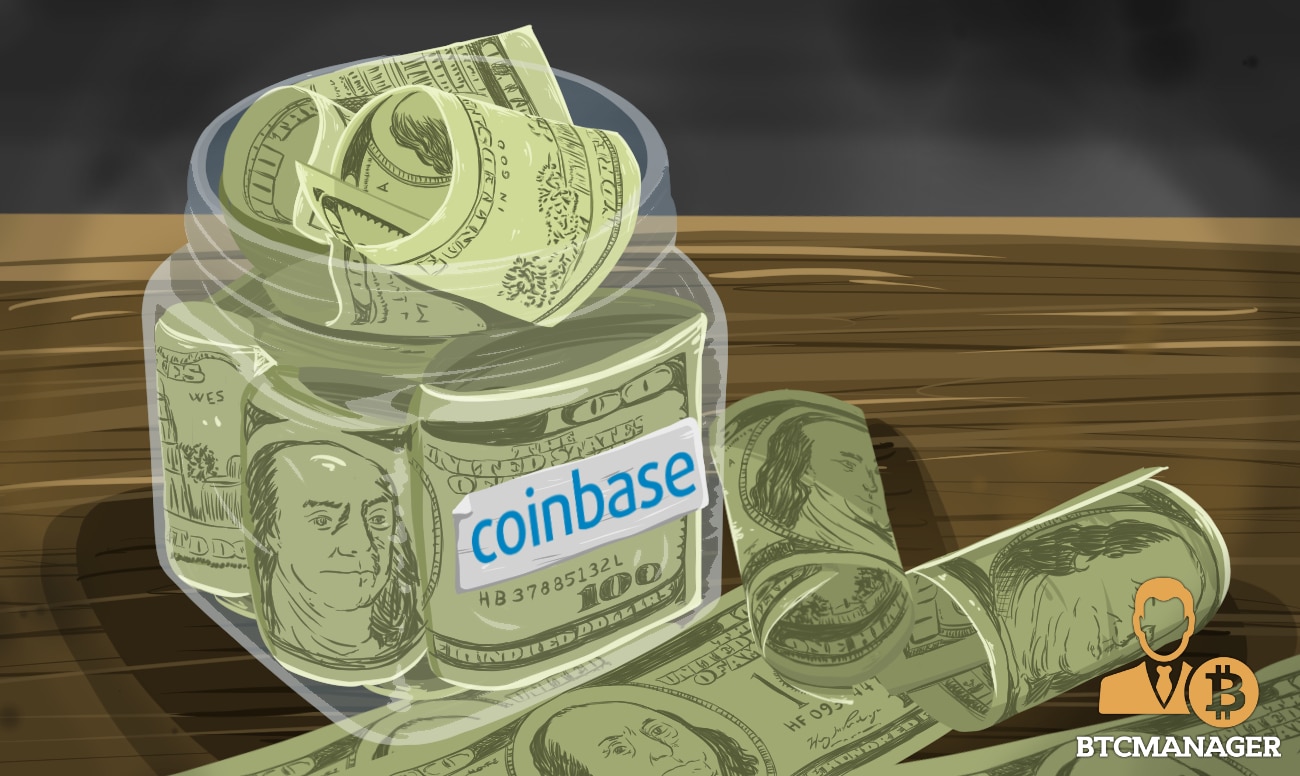 American cryptocurrency exchange Coinbase has closed its fifth Series E funding round. On October 30, 2018, the company announced that it had successfully secured a $300 million investment "to accelerate the adoption of cryptocurrencies and digital assets." This new influx of capital gives Coinbase a total valuation of over $8 billion, according to an official blog post. The funding round was led mainly by Tiger Global Management, and also attracted capital from Y Combinator Continuity, Wellington Management, Andreessen Horowitz, Polychain and other investors.
Coinbase notably closed its previous funding round in August 2017, in which it raised $100 million from IVP and other participants. At the time, the company was already one of the best-funded cryptocurrency startups, with a total valuation of around $1.6 billion. Coinbase and the entire cryptocurrency ecosystem by extension have matured in technology and value since then. The company also made headlines in February when it told shareholders that it had topped $1 billion in revenue in 2017.
Aggressive Acquisition Strategy
In March, Coinbase hired Emilie Choi, a former LinkedIn executive, as the company's first Head of Mergers and Acquisitions. Over the next few months, the exchange bought out several smaller rivals and integrated them into the company's workforce.
In April, Coinbase acquired Ethereum dApp browser Cipher for an undisclosed amount and tasked founder Pete Kim with heading the engineering effort at Toshi, Coinbase's own decentralized app platform. Two days later, it also bought cryptocurrency startup Earn.com for a whopping $120 million, bringing co-founder Balaji Srinivasan on board as the exchange's first CTO.
While Coinbase has been facing stiff competition in the cryptocurrency exchange business by the likes of Robinhood, the company has stated that it will soon begin exploring a wide range of crypto-related products and services. This includes efforts such as Coinbase Custody, "an institutional-grade service optimized for storing large amounts of cryptocurrency in a highly secure way." The service recently obtained a license to operate as a Qualified Custodian under the New York Banking Law.
Coinbase IPO Unlikely?
In an interview with Bloomberg Technology, Coinbase COO Asiff Hirji also confirmed that the company is looking into diversifying its income streams. He continued:
"Currently, our revenue streams are 100 percent transactional. The custody business and other businesses are more fee-based, so what you will see is that will grow as part of our overall revenue, which gives us more stability and predictability to our revenue stream."
Hirji also said that Coinbase has no intention of launching an IPO in 2019 or anytime soon. While the possibility of the company going public at some point in the future was not completely ruled out, he said that an IPO is "not even close to the top of the list of things we're worried about right now."
However, Hirji also admitted that the company may have moved too fast in the institutional space with the launch of its index fund earlier this year. Launched in March 2018, Coinbase Index aimed to "track the overall performance of the digital assets listed by Coinbase, weighted by market capitalization." By targeting the professional crowd, however, Hirji said that they underestimated the regulatory hurdles involved in delivering such a product. This led to it getting rebranded to Coinbase Bundle, which was marketed to end-users as a way to purchase "the first five cryptocurrencies that were listed on Coinbase" weighted by market cap.
Turbulence at Coinbase
Hunter Merghart, appointed as the head of trading at Coinbase six months ago, has reportedly resigned from the position. While the company has not officially confirmed the resignation, sources within Coinbase indicate that he is already exploring other opportunities. Before Coinbase, Merghart was employed at the British bank Barclays as director of equity trading in the U.S. for approximately two years. The executive that hired Merghart, Adam White, notably also quit Coinbase in favor of an executive position at the institutional crypto platform Bakkt.
Nevertheless, Coinbase plans to take its cryptocurrency exchange offering one step higher with the inclusion of several more digital assets. In a blog post published July 14, 2018, the company said that it was "exploring the addition of several new assets, and will be working with local banks and regulators to add them in as many jurisdictions as possible." The assets under consideration included Cardano, Stellar Lumens, Zcash and 0x. Notably, the exchange has already added one currency, Ethereum Classic, since the start of 2018.
On November 2, 2018, Coinbase Pro announced that it would indeed be listing the Basic Attention Token (BAT). The native Brave Browser token enjoyed a hefty boost in valuation following the announcement, and jumped from $0.26 to $0.31 according to CoinMarketCap. It is currently trading at $0.29. 
BAT is launching on Coinbase Pro! Starting at 1pm PT today, customers can transfer BAT into their Coinbase Pro account. Traders can deposit BAT, but cannot place or fill orders. Order books will remain in transfer-only mode for at least 12 hours. https://t.co/31wbi09uyx pic.twitter.com/2YC7xtOjuI

— Coinbase Exchange (@CoinbaseExch) November 2, 2018
Speaking with Bloomberg, Hirji confirmed that Coinbase is still looking to expand its range of supported currencies. He said, "You should expect us to go from seven [currently supported currencies] to that total number that we think is worth it over the next year or so." As for global availability, he clarified:
"We're going to add them geography by geography, because the U.S. has not kept pace where regulation is [concerned]."
Partnership with Wilshire Phoenix
New York-based investment firm Wilshire Phoenix announced October 31 that it would be partnering with Coinbase Custody to launch a new crypto fund aimed at the institutional audience. According to the press release, the fund is expected to be launched by the end of 2018 and will be "organized as a statutory trust." Capped at $500 million, the fund aims to increase exposure to bitcoin and the rest of the cryptocurrency market. The release further explained:
"While the fund is not intended to replicate a direct investment in Bitcoin. It will seek to provide investors and financial institutions with the ability to gain exposure to Bitcoin while mitigating some of the risks involved from sudden price movements of Bitcoin."
Now that Coinbase Custody is a fully regulated entity, a Qualified Custodian, and fiduciary, it can offer Generally Accepted Accounting Principles (GAAP) compliance, an important point for any institutional-grade fund. Wilshire Phoenix Founder and CEO Bill Herrmann said, "Coinbase Custody provides Wilshire Phoenix a best in class platform on which to securely store digital assets. They are steadfast in their commitment to implementing and executing solutions for institutional clients as opposed to merely talking about their future plans to do so."