Coinbase vs. Robinhood: Which Is Better to Trade and Grow Crypto Holdings On?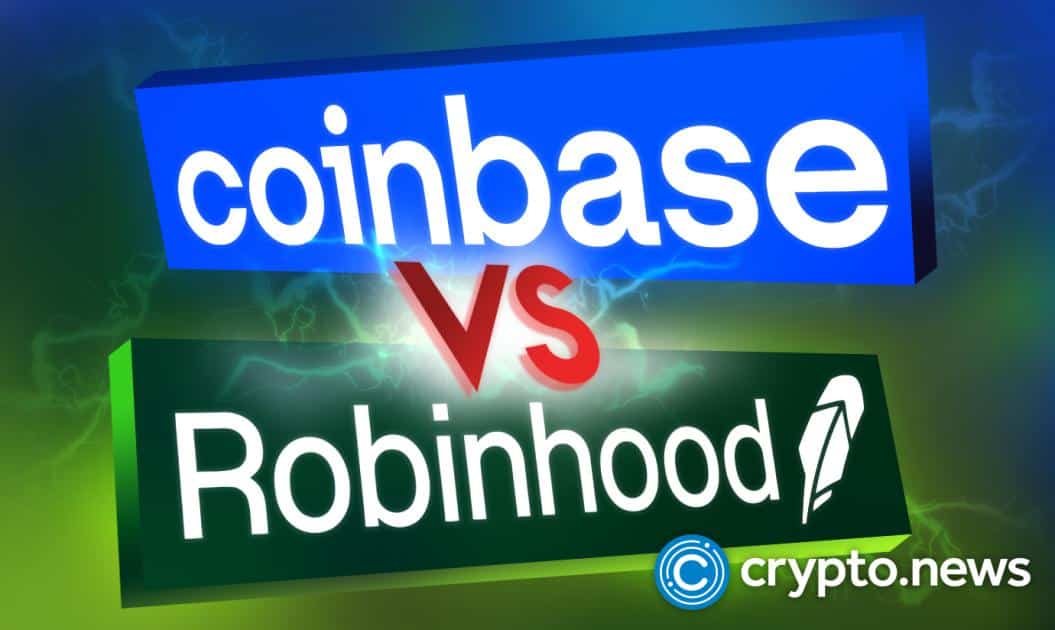 Coinbase and the innovative trading app Robinhood are among the most popular platforms for trading crypto globally. Both are among the most utilized investing and trading platforms. They are also well known for user-friendly UIs. Coinbase and Robinhood are similar in many respects, but they also differ in a few key areas. Coinbase. Coinbase caters to traders deeply immersed in the world of cryptocurrencies. On the other hand, Robinhood allows customers to invest in and trade stocks, ETFs, and options.
An In-Depth Look Into the Crypto Exchanges
The crypto economy ecosystem is no longer what it was a decade ago. It has ushered in decentralized business models comparable to those used by regulated businesses. Cryptocurrency exchanges are the systems that facilitate trade using such methods. A cryptocurrency exchange is a marketplace where you can buy and sell cryptocurrencies.
Cryptocurrency exchanges function similarly to other trading platforms in the global market. They provide you with accounts where you may create different order types to trade in the cryptocurrency market. Some crypto exchanges, for example, allow for advanced trading options such as margin accounts and futures trading.
Other options include crypto staking and crypto loans, which allow you to earn interest on your cryptocurrency holdings. Most exchanges also provide learning opportunities to keep you up to speed on all things crypto. Cryptocurrencies have risen from a fledgling idea to an actual commodity in which banks invest.
Money laundering is a serious issue in every country. Cryptocurrency, while offering cheaper and faster transactions across borders, also opens some chances to facilitate crime, such as money laundering and terrorist financing. Regulators have had to change their approach as the crypto space evolves, assessing its risks and rewards, to keep up with the shifting landscape.
Robust anti-money-laundering procedures include failproof KYC processes to identify and authenticate individuals. Authorities intend to eliminate suspicious behavior in the cryptocurrency industry due to this. The United States appears to be leading in the race for crypto KYC/AML regulations. FinCEN has established requirements in the US that crypto exchanges must carry out KYC measures and AML compliance programs.
Earlier this year, Coinbase and Robinhood were among the 18 VASPs entities to create TRUST. The 18-member group joined together to bring digital assets in step with global anti-money laundering (AML) rules. These VASPs participated in the launch of the Travel Rule Universal Solution Technology (TRUST).
The TRUST platform was built in response to FATF-mandated AML data disclosure guidelines. These recommendations were also issued by the Financial Crimes Enforcement Network (FinCEN).
Both Coinbase and Robinhood offer excellent security measures. Similar security features can be found on Coinbase and Robinhood, including two-factor (2FA) authentication and Federal Deposit Insurance Corporation (FDIC) insurance for dollars.
Their nearly identical levels of user functionality can be confusing to many investors. But which one is the best fit for you? Continue reading to learn more about the various options for converting fiat currencies into cryptocurrencies.
Company Overview
Coinbase is the biggest crypto exchange, with approximately 90 million users across over 100 countries worldwide. It's the 2nd-largest centralized exchange in the United States (by volume). Coinbase was founded in 2012 by Brian Armstrong. It went public on the NASDAQ stock exchange in 2021. Today, Coinbase offers trading on 170 different cryptocurrencies.
Coinbase has made a point of coordinating with key financial institutions and regulators. Coinbase is licensed as a money services company in 42 US states. It's also regulated by the UK's Financial Conduct Authority and the Federal Financial Supervisory Authority (BaFIN) in Germany, among other authorities. Coinbase is a fully regulated, SEC-conformed company that is subject to extensive financial reporting requirements.
Vlad Tenev and Baiju Bhatt launched the mobile-friendly stock trading platform Robinhood in 2013. The platform has more than 17 million active users and was listed on the NASDAQ stock market in 2021. In 2018, Robinhood added cryptocurrency trading, which now provides for 11 cryptocurrencies.
Users in the United States and the United Kingdom can access Robinhood. It is licensed in 27 states, including the Financial Industry Regulatory Authority (FINRA). The SEC also regulates it as a publicly-listed firm. The Robinhood app is highly regarded for its user-friendly interface and the opportunity to assist new traders in getting started with trading. They debuted the option to purchase Bitcoin in 2018, and since then, they've added several other well-known digital currencies to their platform.
Coinbase vs. Robinhood Summary
| | | |
| --- | --- | --- |
| Feature/ Service | Coinbase | Robinhood |
| Features | Has user-friendly appsAvailable in more than 100 countrieswithdraw crypto to PayPal or a digital wallet Simple interfaceCredit card purchases available | Has Intuitive applicationssupports purchases of crypto, stock, ETF, and optionsNo-fee tradesSimple interface All-in-one option for crypto and stock trading |
| Supported cryptocurrencies | Over 140 crypto coins | 7 crypto coins |
| Security Features | 2-step verificationCold storageBiometric fingerprint loginsFDIC-insured for USD balancesAES-256 encryption for digital walletsKYC and anti-money laundering protections in place | 2-step verificationFDIC-insured for USD balancesCold storageSIPC coverage for ETF, stock, and cash fundsHas insurance against crypto platform breaches |
| Type of Supported Transactions | BuySellSendReceiveCrypto exchange | Limit ordersBuySell |
| Maximum Trading ammount | Limits vary based on your payment method and region | No limits, but must wait for ACH funds to clear |
| Licensing | 42 US statesFCABaFIN | SECFINRA27 states |
| Payment Methods | Debit cardCredit cardBank transferApple PayGoogle PayPayPalWire transfer | Bank Transfer |
| Minimum Deposit | $2 | None |
| Pricing Structure | Flat fee + transaction fee | Commission-free |
| Trading Tools and Features | Customizable trading platformcrypto order bookSelf-custody wallet | Line chartsNews feed |
| Coustomizable Indicators | Yes | None |
Key Features
Supported Currencies
Robinhood restricts its crypto offering to Bitcoin, Ethereum, and Dogecoin (7 total crypto supported). On the other hand, Coinbase offers more coins than Robinhood, with over 170 crypto alternatives, and they're constantly adding new ones. It's worth noting that Ripple (XRP) is not currently only available on Coinbase and Robinhood.
Both platforms provide the ability to purchase cryptocurrencies in dollar amounts, allowing you to buy fractions of coins. Coinbase requires a $2 minimum purchase. Robinhood's minimum purchase is denominated in all supported native currencies.
Robinhood is a popular choice among investors since it allows you to buy stock, ETFs, and options. Robinhood only accepts USD fiat currency. However, Coinbase supports USD, EUR, and GBP. Both platforms enable you to purchase fractional coins.
When it comes to cryptocurrency, Coinbase is by far the most popular choice. However, there are two important things to consider. First, Robinhood has made it clear that it intends to add more cryptocurrencies in the future. As a result, before deciding which platform is ideal for you, it's a good idea to verify the most up-to-date availability of the assets.
Second, keep in mind that Robinhood is just one aspect of what you can do with cryptocurrencies. It's also a full-fledged stock and options trading platform. Therefore, it may be an excellent alternative for customers who want to buy and trade some of the most common cryptocurrencies and other financial assets.
Trading Fees
Robinhood claims to have "no-fee trading" for both equities and cryptocurrencies. While this is technically true, it was under SEC investigation for its payment for order flow strategy. Coinbase, on the other hand, charges a fee of up to 0.60 percent for transactions. There are various costs depending on the payment method utilized. These fees are pretty steep.
Some see Robinhood's lack of trading fees for crypto or stock as a positive alternative to Coinbase's high price list. Commission-free trading, on the other hand, does not imply any costs. Robinhood gets money as a broker when market makers execute trades at a fee. As a result, you may pay greater than market pricing for crypto.
Robinhood, unlike Coinbase, does not provide information on order flow fees. The lack of transparency makes it difficult for investors to determine which platform is less expensive when purchasing crypto.
| | | |
| --- | --- | --- |
| Fees | Coinbase | Robinhood |
| Bank Account | 1.49% | 0%/ Free |
| Wallet | 1.49% | N/A |
| Debit/ Credit Cards | 3.99% | N/A |
| ACH Transfer | Free | Free |
| Wire Transfer | $10 deposit, $25 Withdrawals | N/A |
| Crypto Conversions | 0.50% | N/A |
| TradesPurchases | 0.50%0% to 0.50% | N/AN/A |
Ease of Use
Both Coinbase and Robinhood are extremely simple to use for novice investors. However, there are significant distinctions between the two. It's somewhat easier to sign up and trade at Coinbase because debit or credit card payments are accepted there. Robinhood, on the other hand, only supports ACH deposits. The Coinbase app has a higher rating than Robinhood's.
Both platforms provide customer support via email, and responses are not always immediate. As a result, regardless of which platform you use, you may not get an answer to your query right away.
Users can quickly sign up for Coinbase through its app and purchase cryptocurrency by connecting their financial accounts. You can create a Coinbase account using your email address and password. KYC and AML standards must be met after you've been registered with Coinbase
Robinhood is a user-friendly platform that requires minimal effort on the part of the consumer. With just a few clicks, you may see the crypto price and place an order. Create a free account using your email address and a password to sign up. Once you've confirmed your email address, add two-factor authentication to secure your account.
Both platforms provide a general overview of the crypto market, including prices for all cryptocurrencies available to trade. Coinbase has lists of top gainers and losers, making it simple to pick through the 170 cryptocurrencies accessible on the exchange. On Robinhood, you can sort cryptocurrencies by price change over the current day.
Other Features
Coinbase and Robinhood are two different platforms that enable you to buy cryptocurrencies. Although they have similar features, Coinbase and Robinhood are not the same types of service. Robinhood is a broker for cryptocurrency purchases, whereas Coinbase is a complete exchange with additional features. Here are just a few of the distinct characteristics of each platform:
Coinbase allows customers to trade one cryptocurrency for another right on the platform. It also allows users to withdraw their crypto and spend it on decentralized apps or investments. Coinbase has a news section on its site, keeping customers up to speed on cryptocurrency developments. These articles are tailored to the cryptocurrency you're viewing in the app.
Coinbase lets you create a list of cryptocurrencies you want to be alerted about. If the price of a crypto goes up or down by a significant percentage, you will get a notification on your phone or in Coinbase account. Coinbase has user education built into its platform and mobile app. These educational videos teach users about a particular cryptocurrency project. The videos also give people a small bonuses for viewing them.
On the other hand, Robinhood allows users to place a limit order on their crypto. This means that they specify the amount of crypto they want to buy or sell and the price they are willing to pay or sell for. This gives investors more control over their orders. Robinhood does not charge fees when buying or selling cryptocurrencies. This can be good for investors because they may not have to pay extra costs when making transactions.
Security and Privacy
Both Coinbase and Robinhood provide robust security measures. Coinbase, on the other hand, goes above and beyond to safeguard your cryptocurrency. Coinbase and Robinhood also use almost similar security features including two-factor (2FA) authentication and FDIC for USD balances.
Coinbase has a digital wallet that is protected with a secure 12-word recovery phrase. It allows you to withdraw your cryptocurrencies from Coinbase. Users can also use the platform to store and trade their crypto on decentralized exchanges.
Coinbase keeps 98 percent of all holdings in "cold storage." This protects your assets from internet theft. Furthermore, Coinbase has a cryptocurrency vault. These vaults can be set up to require several user signatures before the money is taken out. Finally, Coinbase follows KYC guidelines in the United States. The exchange verifies a photo ID and customer home address to secure user accounts.
Robinhood allows you to see all the devices that have accessed your account and remove any that you don't recognize. Robinhood says most of their cryptocurrency is stored offline (though it doesn't say how much).
Staking Rewards and Securities
Coinbase enables you to borrow money using the Bitcoin in your trading account as collateral. You can borrow up to 40% of the value of your Bitcoin. The feature allows you to keep your cryptocurrency while receiving cash for reinvestment or debt repayment. You must pay interest each month, and there's no maximum duration on your loan.
You can also earn money by staking coins on Coinbase. You can stake Ethereum, Algorand, Cosmos, Tezos, USD Coin, and Maker for up to 5.00% APY in return for interest. Robinhood doesn't provide borrowing or staking services, although you can margin trade with a Robinhood Gold account.
Coinbase is, by design, all cryptocurrency. You'll have to look elsewhere if you want anything else — stocks, ETFs, or options. In contrast, Robinhood offers a broader selection of equities, options, ETFs, and cryptocurrencies. However, bonds and mutual funds are not offered by the platform. Even with a smaller pool of crypto, the app will attract a lot of traders because it provides what it promises.
Trading Experience
Coinbase and Robinhood are both highly user-friendly to first-time investors and those looking to put little money into the market. Both platforms are ideal for beginners, although fees at Coinbase may take a bite out of your investment, whereas Robinhood does not charge a fee, allowing consumers to pay less per trade.
Both platforms provide comprehensive information about the cryptocurrency market, including rates for all the cryptocurrencies that may be traded. Coinbase provides lists of top gainers and losers to make browsing the exchange's 170 cryptos easier. You can sort cryptocurrencies on Robinhood by how much their value has changed in the last 24 hours.
The Coinbase Pro user interface improves trade a great deal. This platform is designed for seasoned traders. You may save chart layouts and indicators as defaults, making it simple to run your favorite technical analyses on various cryptocurrencies. The Coinbase Pro platform may be overwhelming for investors unfamiliar with cryptocurrencies or trading.
Which Exchange Is Better to Trade On?
Both Coinbase and Robinhood are user-friendly platforms for purchasing cryptocurrency, but they also have very significant differences. Both platforms have limited trading capabilities. The answer to this question varies from person to person. However, it is reasonable to assume that people interested in cryptocurrency or other types of crypto would find Coinbase a better fit.
The Robinhood vs. Coinbase comparison shows that most cryptocurrency investors and traders like Coinbase. Coinbase supports trading in more than 170 cryptocurrencies, while Robinhood just 11. This distinction is crucial. Robinhood's major benefit over Coinbase is that it provides completely fee-free cryptocurrency trading. Coinbase fees, however, are comparable to those charged by other large exchanges.
So its up to the investor to research more on the platforms and decide which one is a better fit for them. They could also research on more alternatives like Binance and some DEXs.
Final Take
The best platform for you depends on your cryptocurrency goals. When it comes to cryptocurrencies, Coinbase is the superior platform because it has a considerably wider range of cryptocurrencies available for trade. It also allows users to "own" their bitcoins by sending them anywhere they want, spending them on real-world purchases, and more.
Robinhood's simple, the no-cost platform may be ideal for you if you're just looking to take advantage of cryptocurrency's price appreciation potential over time. Consider that Robinhood's cryptocurrency platform is still in its early phases of development, and it will undoubtedly improve a great deal over the next year or two. Also, remember that Robinhood allows you to trade equities and options, making it more of a one-stop investment platform than Coinbase.
The bottom line is that some consumers will be better off with Coinbase, while others will be better off with Robinhood.