Crypto Lender Hodlnaut Lays off 80% Of Workforce, Applies for Singapore Judicial Management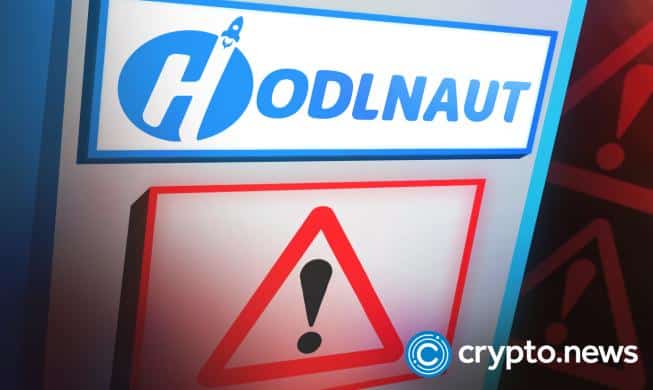 The beleaguered crypto lender Hodlnaut has announced major layoffs and has applied to be placed under judicial management due to bleak financial circumstances.
Hodlnaut Lays off 80% Staff
Singaporean crypto lender Hodlnaut has laid off the majority of its employees and has filed for judicial management owing to its dire financial circumstances.
Hodlnaut, which provides interest-bearing crypto investment options in vetted institutions, confirmed the grim situation on Friday. The company's dire financial state is attributed to losses suffered by its Hong Kong subsidiary following the infamous TerraUSD (UST) crash, excessive volumes of withdrawals, and a general decline throughout cryptocurrency markets.
The firm has opted to apply for judicial management, which means that the Singaporean Court will appoint a manager to review its accounts and actions as a last resort in order to avoid liquidation of Hodlnaut's Bitcoin (BTC) and Ether (ETH) holdings.
Judicial management will also enable the firm to implement a recovery plan and possibly rehabilitate itself. According to the company's announcement, it intends to restore its asset to debt ratio to 1:1 in order to allow users to withdraw their initial cryptocurrency deposits.
Hodlnaut also stated that it was examining the possibility of allowing users to withdraw initial deposits with accrued interest in full prior to closing their Hodlnaut accounts. This is currently pending the approval of the soon-to-be-appointed judicial manager.
The company will take steps to stabilize its liquidity by lowering burn rates, with all open-term interest rates changing to 0% APR beginning August 22. In addition, the company confirmed that it had laid off 40 employees, accounting for 80% of its workforce, in order to cut costs even more.
The Judicial Management application will be submitted on August 22, just a few weeks after Hodlnaut halted withdrawals and deposits on its platform. The company has asserted that it had no investment exposure to the insolvent lender Three Arrows Capital; however, on-chain analytics indicate that Hodlnaut had exposure to Terra's failed algorithmic stablecoin UST.
Hodlnaut further indicated that actions with the Singapore Attorney-General and the Singapore Police Force were ongoing.
Lending Crisis Hits Singapore Hard
The city-state of Singapore has had a turbulent bear market as a result of a large number of lending companies and cryptocurrency funds that have ties to the country.
The cryptocurrency exchange Zipmex filed for bankruptcy in Singapore on July 22 to avoid legal action from creditors following the suspension of withdrawals.
Singaporean regulators are also hard on the trail of Three Arrows Capital, an insolvent cryptocurrency hedge fund that defaulted on its debts to other prominent crypto lenders.
The fund was also chastised by the Monetary Authority of Singapore (MAS) for "giving false information to MAS and exceeding the assets under management (AUM) threshold allowed for a registered fund management company (RFMC)."
Additionally, the MAS has been very vocal about the need to adopt new safeguards for cryptocurrency users in order to avoid additional freezes and concerns regarding platforms.