HashCard Comes to Rescue: Enabling Traditional Spends With Cryptocurrency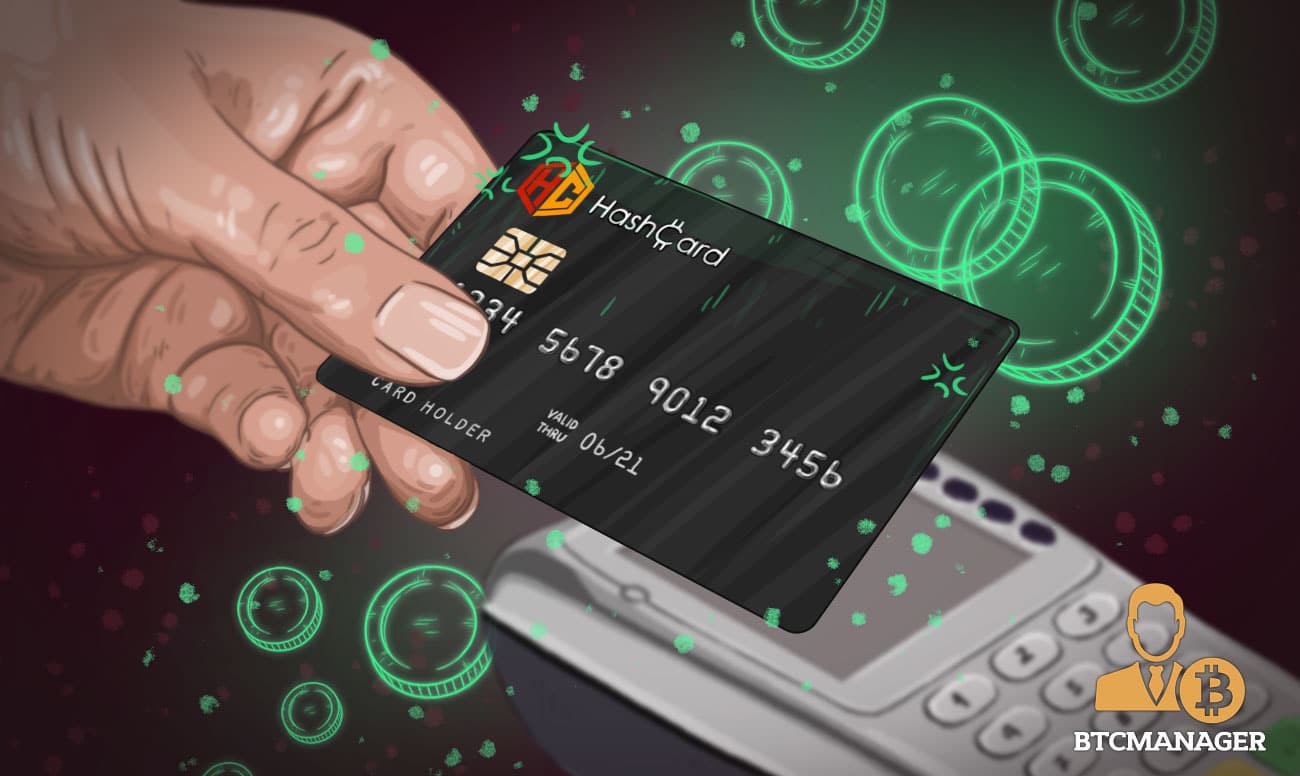 In a comprehensive solution to users' ability to employ a cryptocurrency debit card, the HashCard project is offering a crypto-linked card that will enable traditional card payments but with digital currencies.
With a prospective client base of millions of users, the HashCard ICO is an answer to the noted desire of many to enjoy traditional transactional methods when spending cryptocurrency. In spite of vast investments, according to the developers, no satisfactory solution has yet emerged that marries traditional consumer transactional abilities with virtual currencies.
The platform ensures the HashCard can be employed wherever debit or credit cards are accepted. It works for online purchases and "in the bricks and mortar space. It's just like a regular credit/debit card with the key difference being that the user is spending Ether, Bitcoin and 25+ altcoins."
Cardholder Crypto Purchases
Just as with VISA or Mastercard-issued plastic cards, the crypto-loaded HashCard will pay only the exact amount required to effect a purchase, converting from digital currency into existing fiat currencies, with the remaining balance kept in the user's crypto-wallet. The developers point out that each time a user swipes his card, a transaction takes place in real time. The exact amount spent with the HashCard is first exchanged from altcoins, bitcoin or ether. The balance of funds owned by the cardholder is kept in secure cryptocurrency wallets.
The ICO seeks to roll out the card offer on a global scale, now that practical application has proved successful and the issues of currency exchange at "precise inter-bank rates" have been resolved.
What Issues will the HashCard ICO Solve?
With the emergence of blockchain currencies, user enthusiasm has often been met with a concurrent acceptance that existing transactional capacities will diminish or even disappear, at least for the moment. There has been resistance to employing cryptocurrencies for real-time payments, particularly from vendors, as the current model has optimized ease of use and speed of payments.
Paying for goods and services in dollars or other fiat currencies, with cash or via EFT or by swiping a card, has become the known norm for billions of people. Complicated transactions, slow messaging and also digital coin volatility have made some users averse to the uptake of virtual coins.
Furthermore, the whole notion of virtual currencies has entertained a "maybe" population across the globe, those who have been loathing to relinquish existing currency practices in exchange for wholesale adoption of digital coins. They have been hesitant, justifiably, to let go of the ease and simplicity of established payment methods. A part of the hesitance has also been frequent complaints about transaction costs when using digital coins.
The HashCard Solution
In a welcome step forward, users can now treat and transact with digital currencies exactly as they do existing national currencies. Very importantly, costs are exact, and the typical ease of use of any debit card is now enabled with HashCard. Not only that but "precise inter-bank rates are guaranteed when using the HashCard."
HashCard user accounts are instantly funded at no cost, with bitcoin or ether. Moreover, from the fourth quarter of rollout, "Fiat funding will be available to load the Hash Card," according to the project's proposal.
"Using the HashCard to fund purchases is simple. Via the HashApp you can view the ETH/BTC/ETC/USD balances in your wallet. The only exchange is the exact amount of cryptocurrency required for the purchase currency exchange."
Also, users have the option to convert their cryptocurrency balance on the card to USD and maintain that currency for transacting, thus allowing those who are concerned about virtual coin volatility to secure their currency values.
Put simply, in the words of the developers, "The ultimate goal for HashCard is to accept as many cryptocurrencies as possible. The HashCard vision is to make cryptocurrency a part of people's daily life via an iOS and Android user-friendly wallet combined with a debit card. The goal is to be like fiat currencies." Users can at last peg costs and operate in a known environment employing existing fiat currency transaction methodologies.
ICO Snapshot
Token Type: Utility,
Symbol: HSHC,
Physical Card Issue: Free during the ICO; $100 afterward which is only payable in HSHC tokens,
Annual Card Fee: Free, providing the annual spending is more than $1,000 or if the user holds more than 10,000 HSHC tokens for six months,
Renewal Card Fee: $25 payable in HSHC tokens,
Lost/Stolen Card Fee: $25 payable in HSHC tokens,
Token Sale: May 1, 2018, to June 12, 2018. Sale begins 3 PM GMT,
Total Token Supply: 150 million,
Soft Cap: $3 million,
Hard Cap: $9 million,
Price: 1 HSHC = $0.10.
There will be no annual or monthly fees for the in-built inter-bank exchange protocol. The fees that users incur will be "1.75 percent for all transactions (swipe and exchange) of ETH/BTC and [a] two percent ATM withdrawal fee."
Another attraction of the ICO is that "The first 3000 early subscribers will benefit from a lowered flat fee of just 0.5 percent." The core value of this ICO is that the card will now allow users to effect "…real-time payments without first needing to convert the cryptocurrency in their wallet."
Further Details
Token Discount: Stages,
Type:

ERC20 Token

,
Issue: 72 Hours after Token Sale ends,
First 48 Hours: 30 percent Bonus; Minimum Contribution $100.00,
Days 3-12: 20 percent Bonus; Minimum Contribution $50.00,
Days 13-22: 15 percent Bonus; Minimum Contribution $25.00,
Days 23-32: Ten percent Bonus; Minimum Contribution $5.00,
Days 33-42: Five percent Bonus; Minimum Contribution $0.10.
The HashCard Team
The core team at HashCard comprises CEO Karol Kozlowski, CFO Pawel Goch and Vasiliy Gulyar on Business Development.
Conclusion
In the team's own words, "By tapping into data from study participants and making the assumption that each individual, on average, holds two wallets, we believe there are currently between 2.9 million and 5.8 million unique users that actively use a cryptocurrency wallet."
It's apparent from the ICO details that the developers have been enabling the ultimate dream of a crypto card by wading through innumerable needed protocol investigations and additions to accommodate and tie into existing user experience of typical fiat currencies and the payment options that accompany them.
As the first of its kind, the HashCard offer is set to tie into a massive user base from the outset and also grant virtual currencies much-needed legitimacy. Especially looking at the ICO structure with applicable costs and discounts, as well as the annual costs – potentially zero – this is a token investors are likely to snap up.
BTCManager does not endorse any content or product on this page. While we aim at providing you all important information that we could obtain, readers should do their own research before taking any actions related to the company and carry full responsibility for their decisions, nor this article can be considered as investment advice.