Moonshot Week 5: Own Where You Trade, KuCoin Shares (KCS)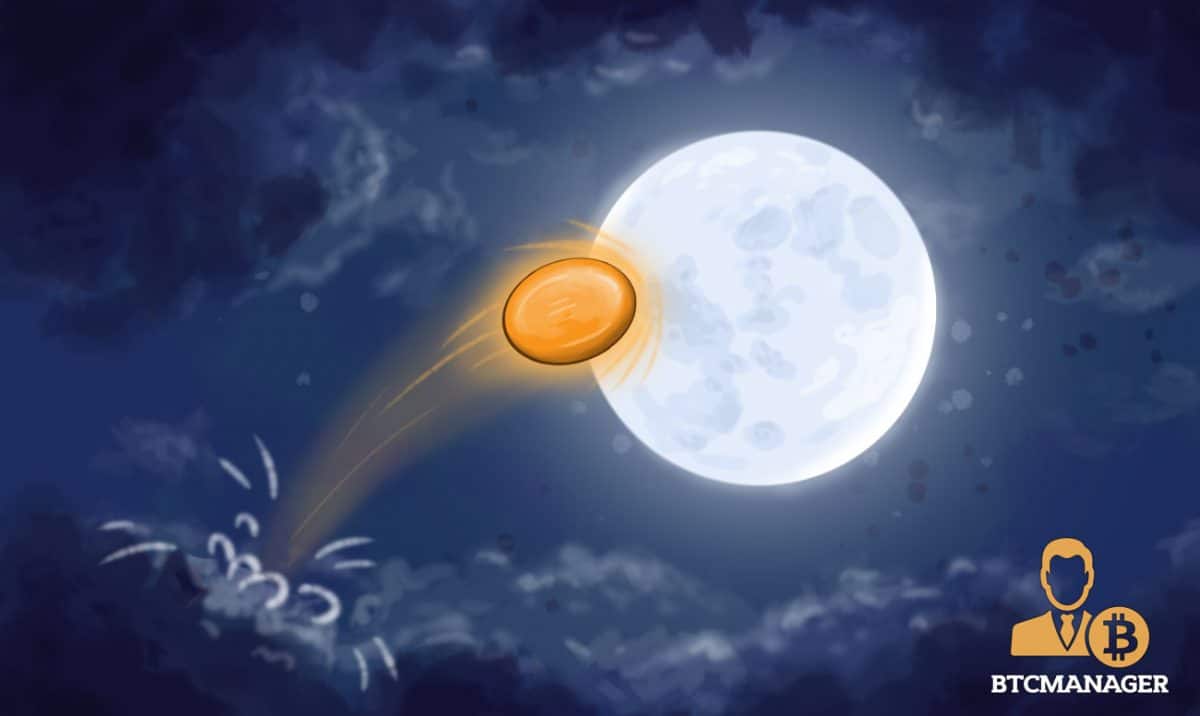 To read the fourth part of our Moonshot series, which focuses on Oyster Protocol, click here.
Each week BTCManager and the JaketheCryptoKing are going to explore a new moonshot opportunity. We are in week five of this moonshot experiment! With markets as low as they are currently many coins in the coming months will yield significant returns because of the rebound.
However, the goal is to find an altcoin that can truly "moon." Two to three hundred percent returns are great but what about ten times your money in six months? These coins exist in the cryptocurrency marketplaces; they solely need to be found. This week's Moonshot; KuCoin Shares (KCS).
Current Crypto Markets
The masses tried to jump on the cryptocurrency bandwagon at the end of 2017 and to the dismay of many felt their first real correction. The cryptocurrency markets are the perfect atmosphere to have the possibility of attaining returns in excess of 100 percent. Many who have been in the space have had returns of more than 1,000 percent over 2017. All of the major coins (BTC, LTC, ETH, etc.) from the beginning of 2017 to the end attained returns over 1,000 percent. As a coin's market cap grows rapidly, it is less likely to sustain that growth. The smaller market cap coins or ones suffering current negative news will have the highest likelihood of providing the "mooning" each investor dreams of.
From the end of January to the beginning of February BTC suffered one of its greatest corrections in history having fallen more than 70 percent since it's high of almost $20,000. Since, its low of just under $6,000, BTC has rebounded nicely. This initial rebound generally precedes a bull run in the entire crypto markets. To take advantage of this bull run make sure to be holding past moonshots; DBC, TNC, DRGN, PRL, and now KCS.
What is a Moonshot?
A moonshot is a coin that you believe is undervalued significantly with a high likelihood of achieving returns far higher than market alternatives. Prior moonshots included; DRGN, DBC, and TNC. DBC was a coin based on the NEO blockchain specializing in lowering the cost of artificial intelligence computing. While TNC is a scaling solution for NEO, similar to Raiden Network for Ethereum. DRGN, the brainchild of Disney, specializes in helping existing companies implement the blockchain through either an ICO or an internal platform.
PRL, the newest addition from last week, allows internet website hosts to remove ads but still receive revenue by individuals allowing a minute amount of their computer's processing power to contribute to the PRL network while the visitor is on the site. PRL is also having an airdrop at the beginning of April and should be held at least until then! KCS is the newest coin on our list and is the cryptocurrency of the KuCoin platform.
Understanding your risk tolerance is a very important part of entering the crypto space. ICOs and Moonshots are the highest risk, highest reward investments in an already higher risk space. Make sure to understand picking moonshots to hold for months at a time is barely better than gambling, although the returns are far higher and the downside risk is capped by whatever you invest originally. Make sure to maintain a diversified portfolio even if you hold many moonshots. Diversification is key to reduce risk but also lets you capture gains in multiple different cryptocurrencies.
Diversification is key, but understanding one's risk tolerance is also essential. If your risk tolerance allows moonshots have the possibility of producing exponential returns if their roadmap goals are achieved. This week's moonshot is unique compared to the others:
KuCoin Shares (KCS)
KuCoin Shares (KCS) has a much larger market cap than all previous moonshots. KCS also has many different reasons for being on this list than the other four moonshots. Most moonshots are chosen for their depressed market caps and forward-thinking projects that will revolutionize the space they operate in. KCS is very different in that it is not revolutionizing anything but is providing a fantastic dividend. When the dividend is working of course. The last few months have been spotty with dividends sometimes being received by KCS holders and sometimes not. This has resulted in unsatisfied coin holders and significant negative sentiment.
Buy low, sell high. These four words all investors and traders live by. Currently, KCS would be considered "low." The individual coin value was above $20 three times in January between January 7-12. KCS has not been able to resolve the issues that resulted from a huge influx of traders leaving many KCS holders disappointed. The KCS value is based on the dividend paid daily and if there is no dividend, then what is the value of the KCS? With an occasional dividend and promises from KuCoin that all back dividends will be paid shortly the individual cryptocurrency price is approximate $4.46 with a market cap of $406 million.
Most cryptocurrencies had nice recoveries at the beginning of February, but KCS continued to slide from a high of over $20 to under $4.50 where it resides today. The public is livid with KuCoin's lack of ability to quickly solve this problem while continually adding new coins to their platform daily. However, what is very clear is with new currencies being added daily, new traders are flocking to the site benefiting volume over both the short and long term. With negative sentiment at its highest, and public comments from KuCoin promising to fix this issue soon after the Chinese New Year (which was last week) it seems KCS is poised for a rebound. This rebound will be in the form of a 300-400 percent short-term gain as KCS pays dividends owed going back weeks while solving the issues with their referral bonus.
The KuCoin exchange has not paid out for their volume trading and Twitter competitions for the months of January and February. They have only paid some KCS holders their daily dividend while others have been receiving nothing. People with large referral counts have not been able to "extract" their referral bonus for weeks, and the amounts in only a few cryptos show that they are accumulating at all. These are significant issues plaguing the KuCon exchange currently which has led to very negative sentiment.
However, KuCoin was not hacked, they have a strong team behind them that is currently finishing celebrating one of China's largest holidays. If one were to follow the buy low sell high rule and fade public sentiment, now would be the time to purchase. KuCoin has already stated on Twitter this week that this will all be resolved very shortly. If true KCS will moon in the very short ter, if they fail to do so expect a continued crash of their value.
What is the KCS Cryptocurrency?
The KCS crypto is the token of the KuCoin exchange. It is an ERC-20 based token, and 100 million were distributed during their ICO. Their value is derived from the breakdown of the KuCoin trading service fee. KuCoin's trading service fee at 0.1 percent is lower than both Bittrex and Binance. The distribution of the fee collected from every trade is distributed 10 percent to KuCoin, 50 percent to KCS holders, and 40 percent to the individual that referred the trader. If no one referred the trader the amount paid to KCS holders and the KuCoin exchange goes up dramatically. With such a high dividend the KCS's value is mainly derived from the daily dividend paid to it. When this dividend ceases, the value and utility of the KCS token becomes almost nothing.
The Binance token, BNB, provides a utility for holding it and trading. KuCoin does not do this because their trading fees are already lower than what Binance provides for trading on their exchange and owning the BNB. The BNB cuts Binance's costs by 50 percent, but Binance is more than 100 percent more expensive than KuCoin to trade on in the first place. KCS has one real utility, its ability to provide a daily dividend at a high percentage of the total volume transacted. If KCS is unable to do this their value diminishes quickly, as has recently been witnessed. KCS must fix the problems currently plaguing it, but once it has there will be nowhere to go but up.
Conclusion: KCS Mooning in the Short Term
The public is outraged that KCS cannot fix their dividend program but is adding cryptos daily to their exchange. They are also upset that the referral system was removed, no more new referral bonuses or incentives to recommend friends, while prior referred traders were supposed to remain accruing the referrer the bonus. However, even this system has stalled. KuCoin's volume based promotions that promise prizes like real Lambos have not been paid since the beginning of January. However, KuCoin's Twitter remains optimistic, promising to resolve all these issues in the coming weeks. Negative sentiment could not be higher, and the public could not be more annoyed. KuCoin needs to fix these problems.
However, the minute one of the many problems is fixed the upward trend will begin. Most cryptos enjoyed a nice February rebound, not KCS. Their slide has continued as their referral bonuses, dividends and promotions have yet to be paid out in a regularly occurring manner. KCS has a great trading platform, had a great referral and dividend system and is adding a substantial number of coins, boosting volume daily.
Expect KCS to moon when KuCoin fixes their dividend system, referral program, and pays out promotions dating back a month. If you believe KuCoin will remain a major exchange the opportunity to "buy low" has presented itself. When KuCoin resolves their dividend, referral, and promotion problems the time will be presented to "sell high."
To read the King's prior articles, to find out which ICOs he currently recommends, or to get in contact directly with the King, you can on Twitter (@JbtheCryptoKing) or Reddit (ICO updates and Daily Reports).
To read the entire Moonshot series, click here.