Ripple Partners With Lemonway To Bring ODL To Sweden And France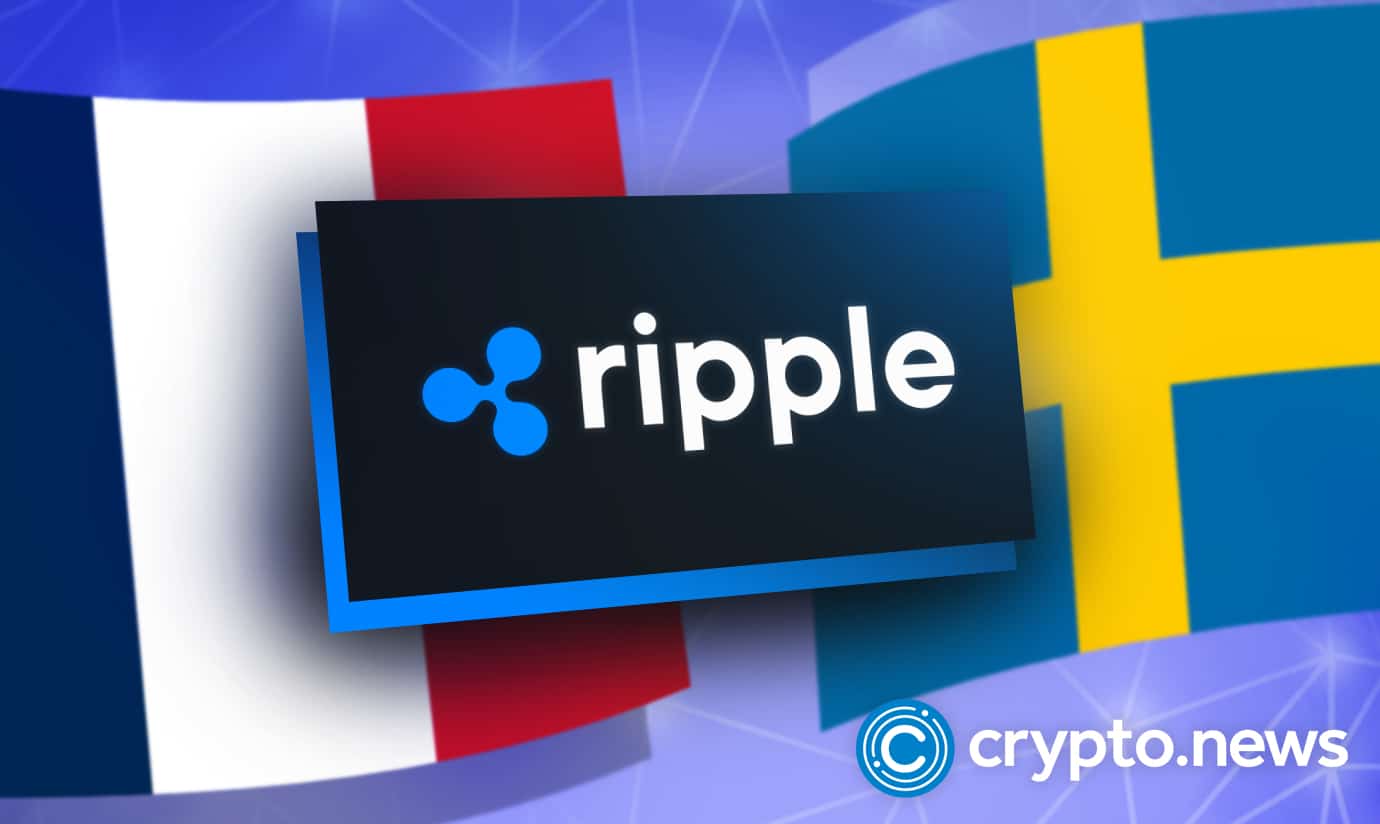 Today, Ripple, one of the leading enterprises in crypto and blockchain solutions, states that it has expanded its On-Demand Liquidity (ODL) service in France and Sweden. The company has partnered with two entities, Xbaht and Lemonway, to make this happen.
Ripple Expands ODL Service To France
Per the report, Lemonway will use RippleNet's ODL feature to improve its payment processes in France. Meanwhile, Ripple's latest partnership is coming when France becomes receptive to crypto technology. The country has come to release such technology's potential in its economy.
By collaborating with Ripple, Lemonway can achieve business efficiency by removing the need for the firm to pre-fund accounts in other countries. Hence, they can use previously locked pre-funded funds to expand their operations.
Furthermore, Ripple also revealed that it had gained another ODL customer in Sweden. This is the company's first in the country. The new ODL customer, Xbaht, is a firm that provides money transfer services between Thailand and Sweden.
Xbaht's new cooperation with Ripple allows the firm to deliver cost-effective and quick retail transfers via ODL. Tranglo, a Singapore-based cross-border payment company, will facilitate the entire process.
Meanwhile, Ripple and its latest clients will work together to make it easier for companies and individuals in Sweden and France to conduct real-time transactions across borders using RippleNet, Ripple's financial technology.
Ripple Providing Real Use Cases For Blockchain And Crypto
Sendi Young, Ripple's Managing Director for Europe, said the company is happy to work with Xbaht and Lemonway, its first ODL users in Sweden and France. 
According to Young, Since Ripple's inception in 2012, the organization has worked on developing real-life use cases for crypto ad blockchain. The aim is to offer users fast cross-border payments free from traditional payment problems. 
These problems include high cost, unreliability, and lack of speed. Therefore, Xbaht and Lemonway hope to bypass such problems using crypto's global liquidity.
Jeremy Ricordeau, Lemonway's Chief Operating Officer, commented on the matter. Ricordeau said the new partnership would allow Lemonway to improve its services and offering to users.
Ripple's solutions will provide the company with greater flexibility removing the hurdles of traditional banking, Ricordeau added.
Additionally, Michael Andersen, Xbaht's CEO, said the organization believes in seamless and fast payment processes. Xbaht's mission is to provide Thai people in Sweden with money transfer services.
Ripple's ODL Service Growing In Europe
Ripple's products continue to be in high demand across Europe. As per Ripple's New Value research, 70% of participants at European financial firms believe blockchain will have a major or considerable influence on their operations in the coming years. Moreover, over 59% of the respondents in the research are eager to adopt blockchain for remittances.
Ripple is the dominant player in blockchain and cryptocurrency enterprise solutions. The firm has witnessed unparalleled worldwide expansion as users scale their operations with ODL. ODL had grown more than 9 times year-on-year as of Q2 2022. The annual payment volume run rate of RippleNet currently exceeds $15 billion.
Meanwhile, Ripple's ODL feature now allows cross-border payments in over 25 payout markets, such as Indonesia, Thailand, Malaysia, Poland, Singapore, etc. Xbaht and Lemonway have joined other firms like Novatti, Pyypl, FINCI, FlashFX, iRemit, SBI Remit, FOMO Pay, and others whose clients enjoy ODL's benefits.