SBF trial day 4: witness recounts Alameda's $65b credit line and alleged unlimited FTX withdrawals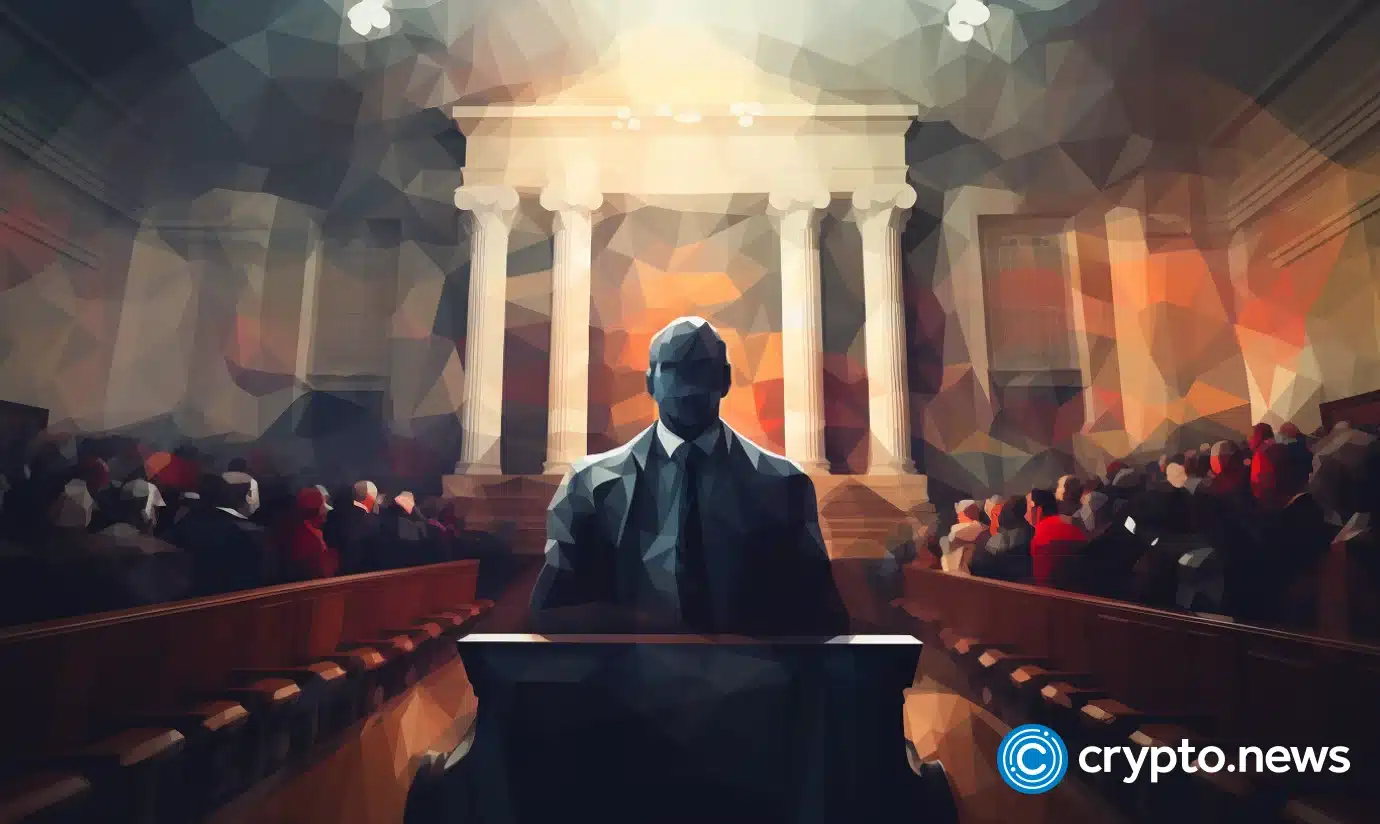 Gary Wang told prosecutors that Alameda Research withdrew more value from FTX than the exchange made from fees, owing $20 billion once, while Judge Kaplan reprimanded defense attorneys for repetitive questioning on SBF's trial day 4.
Former FTX CTO Gary Wang named founder Sam Bankman-Fried as a co-conspirator of fraud on day 3 of SBF's trial. Paradigm's Matt Huang said his VC marked down $278 million invested in Sam's crypto exchange and Adam Yedidia detailed a "code error" that fostered Alameda's unusual overcast on customer assets.
Amid caches of overruled defense objections and the prosecution's search for smoking guns, curtains closed on the third day of Sam Bankman-Fried's trial for fraud.
The former FTX CTO testified to acts of wire fraud, securities fraud, and commodities fraud. Wang, who worked for both FTX and Alameda, said Caroline Ellison, Nishad Singh, and Sam Bankman-Fried were in on it too.
SBF has denied criminal wrongdoing, but the other three pled guilty and reached deals with the government to testify.
Former FTX co-CEO Sam Trabucco, somehow, remains disconnected from the criminal proceedings.
Alameda opened trades with negative balances – witness Wang
Federal prosecutors resumed the examination of Wang, diving into Alameda's trading on FTX's platform and novel treatments reserved exclusively for SBF's crypto hedge fund.
Wang attested to an "allow negative" bypass enabled on Alameda's FTX account, which allowed only Alameda to secretly trade beyond its balance and eventually withdraw $8 billion in customer assets, both fiat and crypto like Bitcoin (BTC) and FTX Tokens (FTT), Wang explained.
Wang said Alameda could enter positions whenever they liked even if the firm's account on FTX was below zero, indicating the hedge fund experienced heavy losses and often lost a lot of cash.
In Going Infinite, author Michael Lewis said it cost Bankman-Fried and FTX $500 million per day to keep Alamada running at one point.
Former FTX director of engineering Nishad Singh, who pled guilty, added the allow negative code to FTX's engine in July 2019, at SBF's behest, according to the witness. FTX launched in May of that same year.
Wang's testimony told of several Alameda accounts on the crypto exchange, some for trading, and others for near-unrestricted withdrawals, with one account being labeled as "Cottonwood Trading".
The prosecutor's questioning uncovered details on FTX's margin lending system — $2 billion for the entire userbase. Alameda operated under different rules and had access to a $65 billion credit line, Wang said. No other entity or user had a margin that large, with Alameda's margin larger than its counterparts in the tens of billions of dollars, according to the former Alameda CTO.
On social media and phone calls with investors, SBF guaranteed customer asset safety and said Alameda was only a market maker, Wang told the court.
The witness said Bankman-Fried was particular about his hedge fund's public image, taking lengths to dispel any doubts concerning impartiality on FTX's trading platform or the company's integrity.
One strategy SBF used, according to the witness, was selling the public on a fake insurance fund.
Behind the scenes, Alameda tapped its massive credit line to withdraw customer crypto from the exchange, Wang said on the stand.
According to the witness, a database query showed that Alameda withdrew more funds than FTX generated in revenue from fees. The hedge fund's balance read negative $200 million, Wang testified, while FTX's revenue at the time was $150 million, he said.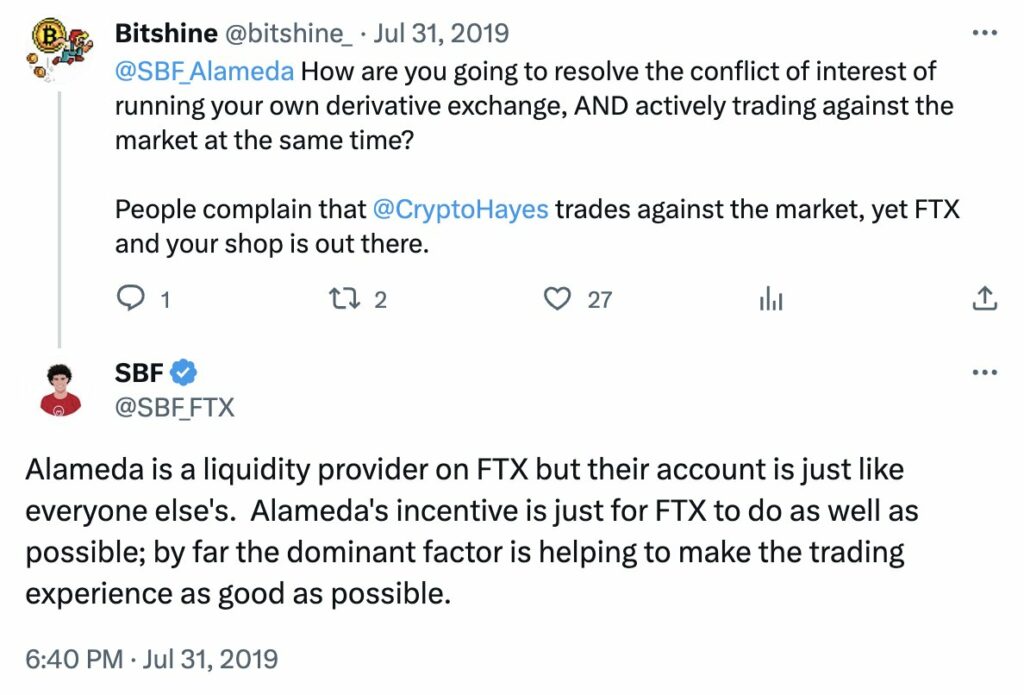 Judge Kaplan recessed the SBF trial on day 4 around 12 p.m. New York time. Prosecutors plan to enter audio evidence.
Note: On day 1, voir dire, the Judge outlined the order of SBF's prosecution – first for defrauding customers, secondly for fraud on investors.
So far, the prosecutors' questioning has examined Alameda trading on FTX, the firm's open access to users' assets and cash deposits, and at the nerve center — SBF calling the shots and in the loop on everything.
After recess, prosecutors pressed further inquiry into Alameda's staggering deficits which escalated into billions of dollars per witness account.
SBF instructed Ellison, the former Alameda CEO, who entered a plea deal, to repay loans from lenders like Genesis. They used customer funds, Wang admitted.
FTX's founder mulled shuttering his hedge fund by this point, according to Wang, as Alameda was $20 billion in the red. The witness said he, SBF, Caroline, and Nishad were in the know.
After I said the Alameda balances were off by billions, he [SBF] asked to meet in the Bahamas office [$35m "housing project"]. He asked me about the bug… And then he told Caroline and said Alameda could return the loans.

Former FTX CTO Gary Wang testifies on Alameda
SBF also compared Alameda to Modulo, a separate hedge fund backed by Alameda with $400 million in investments. Xiaoyun "Lily" Zhang, Modulo's founder, worked with SBF at Jane Street Capital and the two reportedly shared private interests outside of work.
AUSA Danielle Sassoon ended Wang's examination for the prosecution on day 4.
Judge Kaplan curtails the defense's circling cross
SBF's lawyer Christain Everdell opened cross-examination by entering Wang's plea deal with the government into evidence and fielding questions about Alameda's strategic exemptions due to its purported internal market-making role at FTX.
Regarding Alameda's boosted trading speed and exemption from auto-liquidation on FTX's margin system, Wang's response suggested that SBF's hedge fund held sizable positions capable of moving markets.
Allowing those positions to get liquidated could "cause damage" the witness stated, suggesting that Alameda's trades could tank crypto prices if left unchecked.
Everdell followed with redundant questions, to which Judge Kaplan responded, "We've been over all this".
Day 4 of the trial concluded at 2 p.m. New York time.
After the jury was excused, AUSA Nicolas Ross said prosecutors would address the defense's delay tactics during the next hearing on Oct. 10.
The first week of SBF's trial featured four witness testimonies including accounts from Gary Wang and Adam Yedidia, two individuals who knew Bankman-Fried beyond his public persona.
Wang told the court he would have been facing 50 years maximum for his admitted crimes, if not for his plea agreement with the government.