Stakeholders Call for Major Bitcoin Exchanges to Delist Tether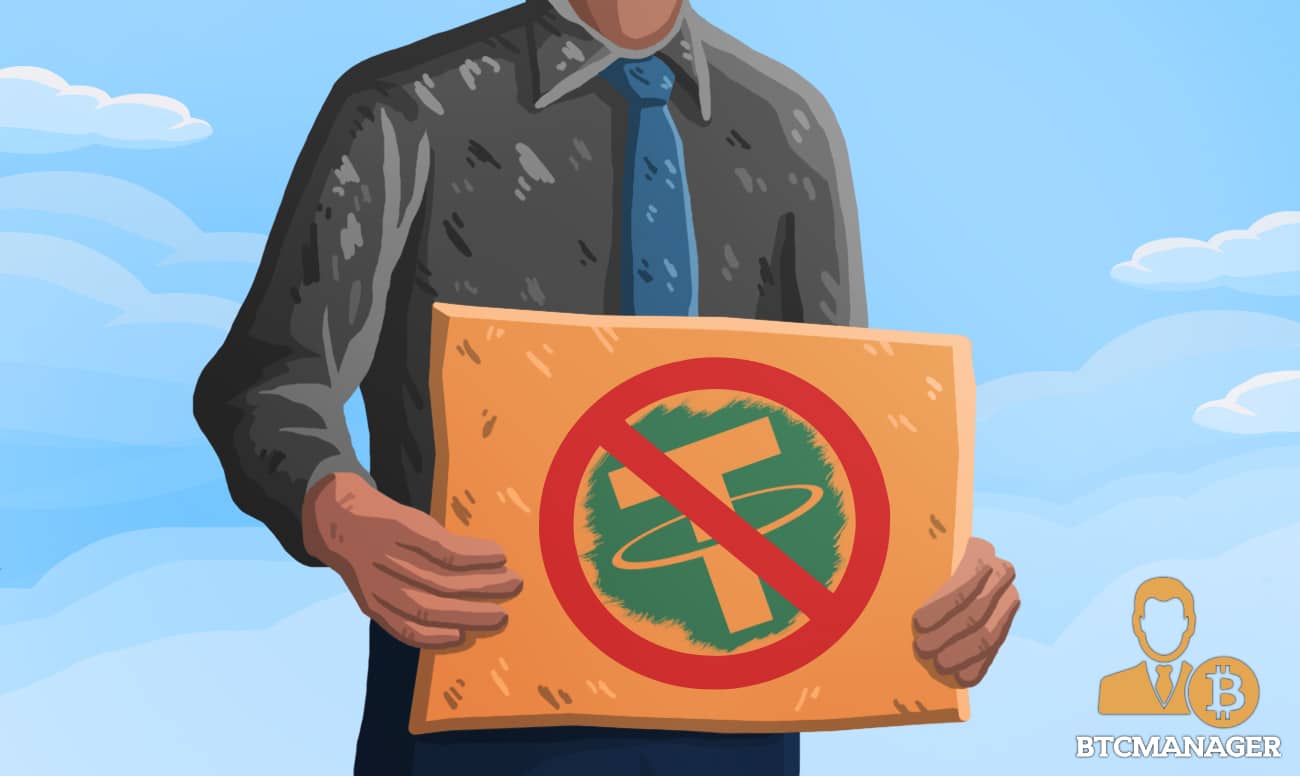 There is currently a growing call from many in the cryptocurrency industry for major Bitcoin exchanges to delist Tether (USDT). This development comes amid an investigation into suspected fraudulent activity by Tether and Bitfinex running into almost a billion USD.
If Bitcoin SV, Why Not Tether?
On social media platforms like Reddit and Twitter, commentators are calling on the likes of Binance and other prominent cryptocurrency bourses to delist the controversial Tether stablecoin.
Some point to the decision by Changpeng Zhao, the Binance chief, to delist Bitcoin SV back in mid-April following the actions of Craig S. Wright (CSW) and Calvin Ayre. According to those in favor of delisting USDT, the recent revelations emerging about the business practices of Tether and Bitfinex make the antics of CSW pale in comparison.
IQFinex, a small-sized cryptocurrency exchange with a daily turnover of about $1 million has already announced that it will be delisting USDT from its platform.
Some respondents on Reddit, however, called on community leaders to exercise some restraint in their chosen line of action. For them, any drastic action might cause significant harm to the stability of the cryptocurrency market as explained by a Redditor dubbed "rekkkttt:"
"I think it should be phased out and not pulled too quickly. They just need to take the next step of limiting the pairs for USDT until it's nothing more than a forgotten sh*tcoin. This would incentivize people to pull out of it but not cause a major panic [hopefully]."
Knocking USDT off its Perch
Lending a voice to the issue, Brian Armstrong, the CEO of the San Francisco-based Coinbase said it is time the market moved away to a more "trustworthy" stablecoin. In a tweet published on May 1, 2019, the Coinbase chief called for platforms to pivot away from Tether to USD Coin (USDC).
https://twitter.com/brian_armstrong/status/1123687870395502592
A Redditor with the username "MeowMeNot" suggested a possible route to pivot away from USDT without destabilizing the market, saying:
"I am more concerned about systemic problems that Tether could create. There are better alternatives available. If Tether is removed from exchanges people will move over to stable coins that are actually backed by verifiable assets, and the 'too big to fail' aspect of Tether will be mitigated."
Since the emergence of stablecoins like Paxos (PAX), USDC, and True USD (TUSD), Tether's 100 percent dominance of the stablecoin space has become diluted despite still holding the lion's share of the market.
According to data from TradeBlock, Tether's dominance of the stablecoin market has fallen to 75 percent since the onset of this latest financial saga. As reported by BTCManager, the New York Attorney General (NYAG) accused Bitfinex and Tether of conspiracy to cover up losses of more about $850 million of client funds.
$USDT (Tether) continues to dominate stablecoin trading volume. In the figure below we diagram trading market share for the bitcoin-stablecoin pair, across various exchanges. Despite concerns, Tether has gained greater market share over the first few months of the year. pic.twitter.com/aUfduMQiZT

— TradeBlock (@TradeBlock) April 23, 2019
Tether lawyers later revealed that USDT was only 74 percent backed by cash and other equivalents despite maintaining at length that the popular stable currency was 100 percent backed by USD deposits.