Trezor Confirms Upcoming Cashaddr Support for Bitcoin Cash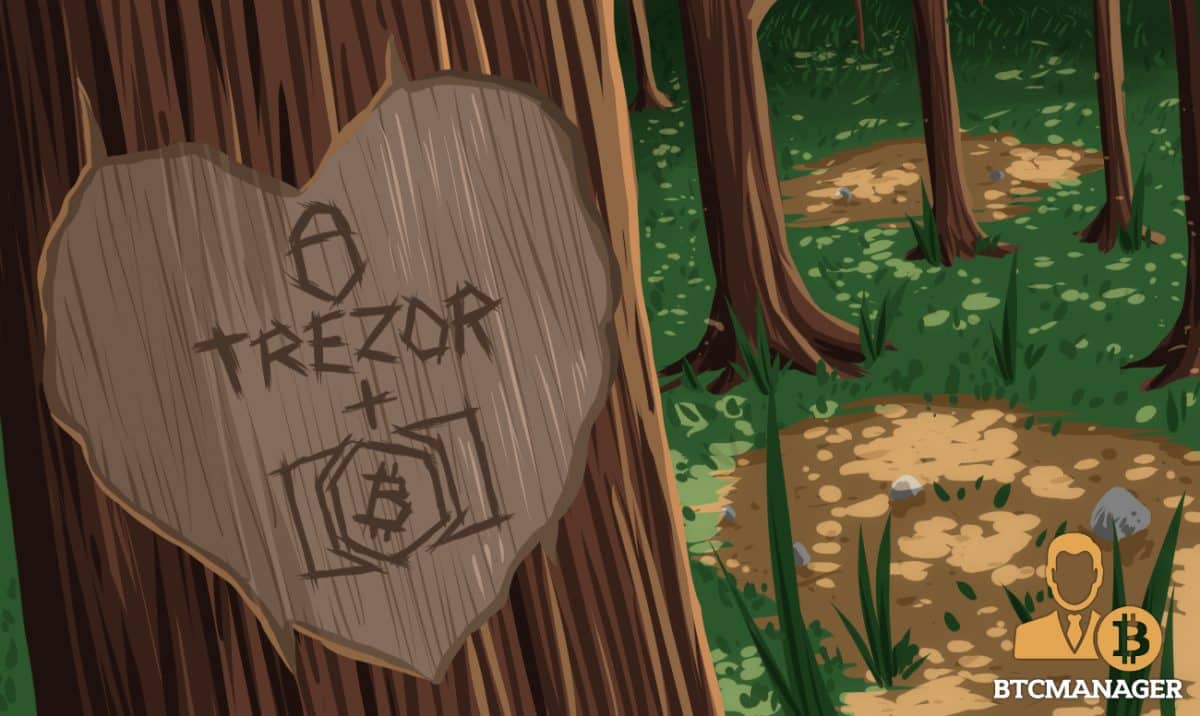 Hardware wallet Trezor recently announced via Twitter on April 1, 2018, that Cashaddr support for Bitcoin Cash is currently in development.
The recent confirmation is a big step forward for Bitcoin Cash (BCH), considering Trezor is one of the most popular hardware wallets in the cryptocurrency industry. Bitcoin Cash is currently the fourth highest cryptocurrency, just behind Ripple and Ethereum.
According to CoinMarketCap, Bitcoin Cash's market cap sits around $10.9 billion, which is roughly four percent of the whole cryptocurrency market.
Bach N., the marketing manager of Trezor, announced the development via Twitter as a response to a tweet from Bitcoin Cash advocate James Elliot.
No ETA, but the cashaddr support is being developed: https://t.co/MPhpJWw47R

— b a c h. (@_xbach) April 1, 2018
Growing Support for Cashadrr and Bitcoin Cash
Although there is no official timeline behind Trezor's cashaddr development, their actions follow in the footsteps of many other companies that decided to adopt cashadrr for Bitcoin Cash. These include Blockchain Wallet, Blockdozer, BitPay, Stash Wallet, BTC.com Wallet Copay, Blockchair, Hitbtc, Chaintip, Bitcoin ABC, Stash Waller, Bitcoin Unlimited, Coinomi, and Coinbase.
Bitcoin Cash's cashaddrr is a new protocol serialization that emerged in January 2018. The Bitcoin Cash developers and community wanted to make bitcoin cash addresses distinct from other cryptocurrency formats to reduce any room for error. The development came about when many users reported accidentally sending bitcoin cash funds to bitcoin addresses.
"People WILL make mistakes," said Pavol Rusnak, chief technology officer of SatoshiLabs, the company behind Trezor Wallets, as seen on Reddit.
"This affects all Bitcoin Cash users, not only Trezor users. [The] decision not to change the address format is quite irresponsible from Bitcoin Cash developers because a lot of people have big problems distinguishing these two projects, [and] more so their addresses," Rusnak mentioned to Motherboard in an email.
Bitcoin Cash's Cashaddr, therefore, makes it significantly more difficult for users to send bitcoin to a bitcoin cash address or vice versa, reducing any chance of error.
Trezor's Plan to Implement Cashaddr
In the GitHub post, Bitcoin Cash developer Jochen Hoenicke stated:
"This needs to be done outside the firmware for cashaddr support. Webwallet: compute cashaddr addresses from xpub. Note that only the last step from hashed public key to address needs to be changed. The webwallet checks that the address the Trezor returns is as expected. This check should also allow 1… addresses so that it works with older firmware (so we don't have to deploy both at the same time); allow cashaddr as send to address. The firmware supports both and both use SPENDADDRESS. The only difference is the confirmation message given to the user; the transaction format did not change at all."
Hoenicke mentions that the cashaddr addition will not change the means of transaction. Trezor will, therefore, follow other companies who have implemented cashaddr like Coinbase and BitPay. While there is no estimated time of completion in regards to Trezor's cashaddrr update, the BCH community has expressed great interest in its current development.
"The sooner the better for all of us Bitcoin Cash holders," said Elliot to Bach N. in a tweet.
Trezor Continues to Make Strides with Wider Crypto Support
Along with added functionality for bitcoin cash, Trezor's hardware wallet is due to support the altcoin Decred soon, with the support for the cryptocurrency merged on April 3.
In the next firmware update, it is expected that DCR will then be able to be stored in the hardware wallet. Furthermore, Monero is a work in progress, but there is no expected time of announcement yet.