UNICEF Australia's Website Uses Your Browser to Mine Monero and Aid Rohingya Refugees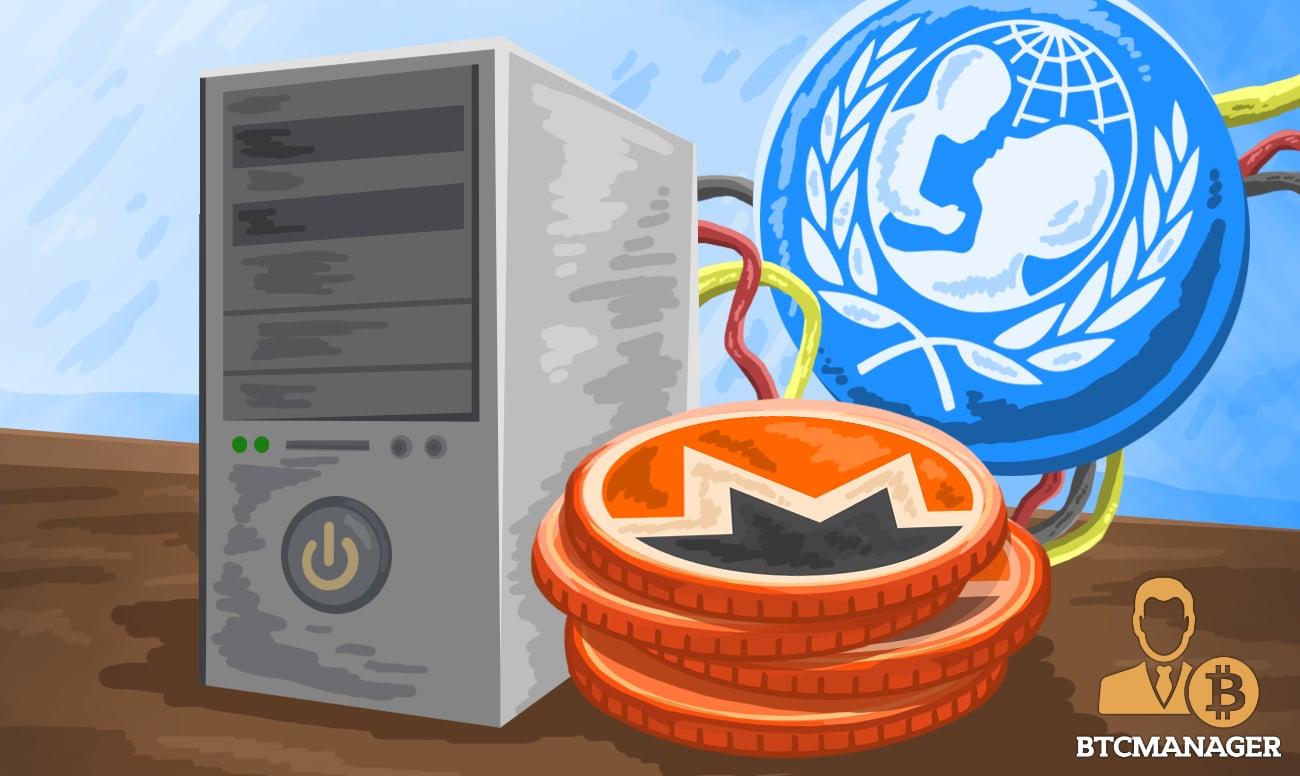 UNICEF, a humanitarian and development agency that aims to protect the safety and inclusion of all disadvantaged children globally through voluntary donations, is catching onto the benefits of cryptocurrency. The organization is making use of monero mining to fulfill their mission; "All children have a right to survive, thrive and fulfill their potential – to the benefit of a better world."
UNICEF Australia have developed a website called 'The HopePage,' and given consent, utilizes Coinhive which uses the CPU cycles of an average computer to mine the fungible cryptocurrency Monero.
Once you opt-in to support the Hopepage by simply selecting start donating, you can choose the amount of computing processing power you would like to donate (between 20 and 80 percent). The percentage of power you chose will contribute toward solving cryptocurrency algorithms which mine monero through your assistance.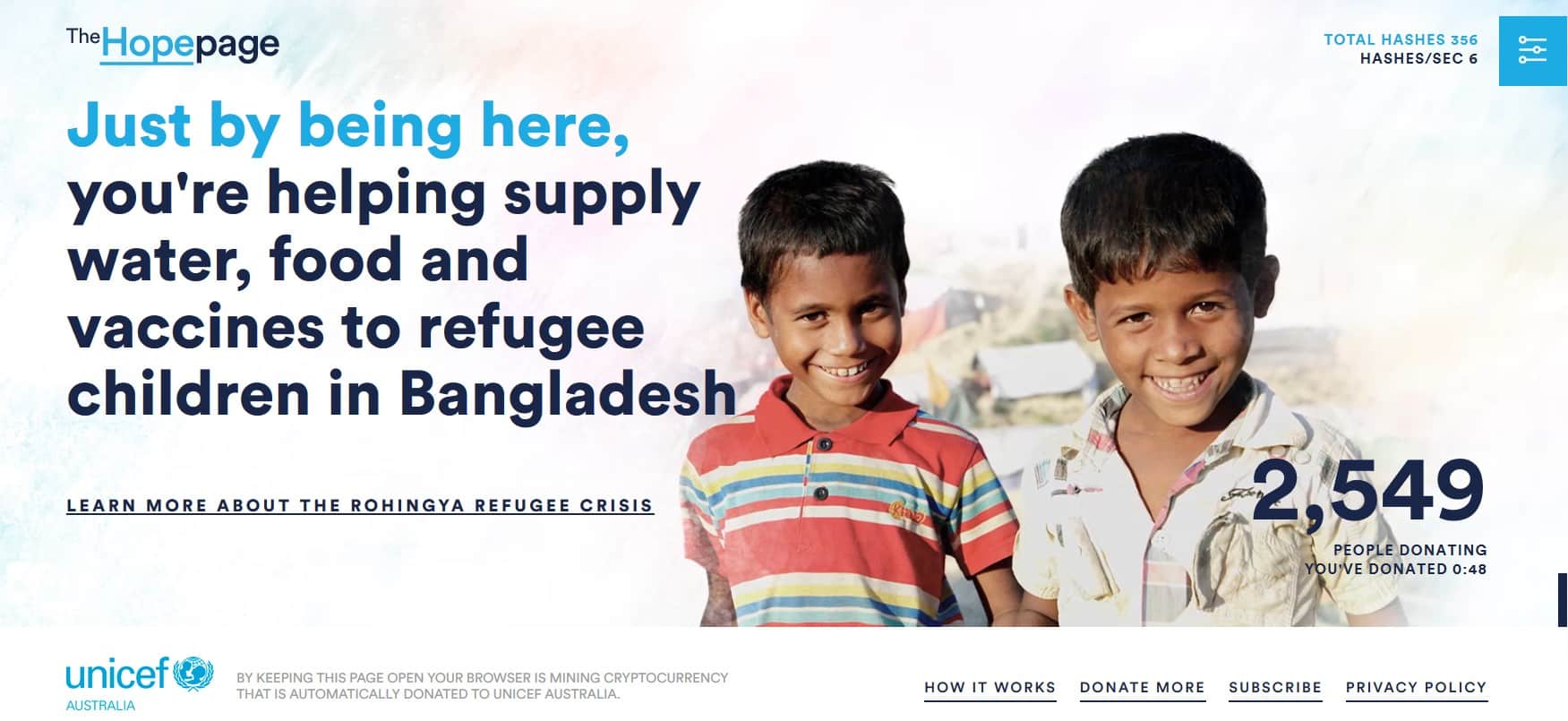 More than 2,500 individuals are donating computing power to help Rohingya refugees. (Image: Screenshot)
The Hopepage is probably the easiest and safest way to donate to a worthy cause without having to reach into your pocket. The director of fundraising and communications at UNICEF Australia, Jennifer Tierney said:
"The Hopepage allows Australians to provide help and hope to vulnerable children by simply opening the page while they are online."
"Turn The Hopepage into Your Homepage to Give Every Day"
By simply just keeping your browser on the Hopepage longer, the more money you are earning to donate to life-changing support and hope for children in Bangladesh. The Hopepage clarifies how crypto mining works and provides assurance stating that "Mining is perfectly safe for your computer."
The donation process involves three steps:
Firstly, open the homepage, give consent and select the processing power you want to contribute to the programme. Choose a higher percentage to make a more meaningful donation.  
Secondly, mining cryptocurrency, "The longer you stay on the page and the more processor power you donate, the more algorithms get solved, which earns cryptocurrency."
Thirdly, you automatically donate to UNICEF Australia and "is turned into real funds that reach children through life-saving supplies like safe water, therapeutic food, and vaccines."
UNICEF Australia developed this creative mining platform to fund and deliver support to those children that had to leave their homes in Myanmar and are currently more than 680,000 Rohingya people residing in refugee camps in neighboring Bangladesh since August 2017.
Take the Case of Baby Kismat
A beneficiary of the project would be someone like Hazera, an 18-year-old refugee who was supported to give birth at the UNICEF birth center only days after arriving at the Rohingya refugee camp in Bangladesh.
Before the arrival of Kismat, his mother and her family had to flee their home in Myanmar as soldiers had attacked their village and they spent ten days masking their whereabouts in the forests. Under attack, threatened for her life and her unborn child, it took Hazera five days to walk across the border to arrive to safety in Cox's Bazar, in Bangladesh. "I was in so much pain," she said. "I feel safe here."
The plight of the Rohingya has been drowned out by other injustices around the world, such as the humanitarian crises in Syria and Yemen.
The Hopepage creates much-needed awareness of the issue, which is a modern genocide with no substantial international response carried out yet to solve the problem. Reuters reported April 30 that the Rohingya have pleaded to the U.N. Security Council for action.
Other Philanthropic Initiatives Making Use of Crypto
The Hopepage project is not the only programme UNICEF has implemented the use of emerging blockchain technology to generate funds to support humanitarian crises.
Chainger.io, launched in February 2018, uses gamers' GPU power to mine Ethereum to generate income to support Syrian children and mothers. According to Chaingers website, the project has raised to date a total of €1,013.54 ($1,224.03) through 12,800 contributors.
UNICEF Australia is currently using Coinhive software for humanitarian purposes, and BTCManager has previously reported on the other philanthropic uses of this software. For instance, in November 2017 we outlined how BailBloc was using monero mining to help bail low-income individuals out of jail in New York state. Also, there is Tabs Against Malaria, which uses the proceeds from mining to buy mosquito nets and fight malaria.
However, not all use cases of Coinhive have been altruistic. For instance, BTCManager reported on how 500 million users had been affected and had their computing power hijacked without their consent – a growing trend known as 'cryptojacking.' Websites such as Salon, The Pirate Bay, and UFC have also sneakily used this software for their own gain.