Vauld Crypto Trading and Lending Firm Suspends Withdrawals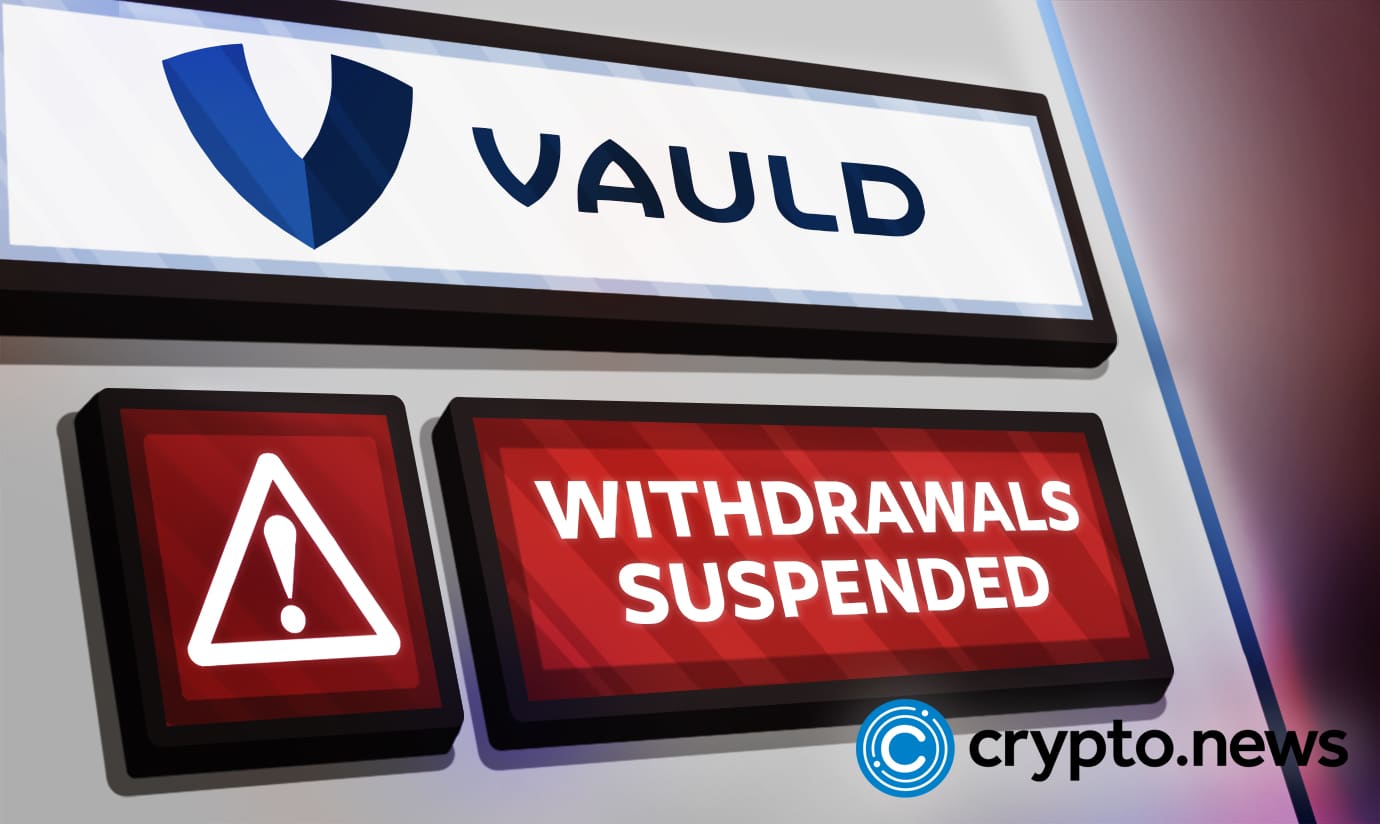 Vauld has announced the suspension of fund withdrawals, deposits, and all trading activities on its platform. The firm says the crypto market downturn has brought serious financial challenges upon it and is now weighing several options to salvage the unfortunate situation, including a potential restructuring option, according to a blog post on July 4, 2022.
Vauld Halts Deposits & Withdrawals
As the crypto winter of 2022, continues to take its toll on the blockchain space, Vauld, a Singapore-based digital assets trading, and lending firm, is the latest crypto market participant to face bankruptcy risks.
According to a July 4, announcement by the Vauld team, the gloomy crypto market conditions partly triggered by the sudden collapse of the Terra project, have brought severe financial challenges upon it, making it almost impossible to continue normal operations.
The firm claims it has received huge customer withdrawal requests since June 12, 2022, and has sent out more than $197.7 million from its coffers to its users since that time.
Vauld says it has now hired a new financial advisor named Kroll Pte Limited, and legal experts Cyril Amarchand Mangaldas, and Rajah & Tann Singapore LLP, to formulate measures that would help the firm overcome the challenges.
"This is due to a combination of circumstances such as the volatile market conditions, the financial difficulties of our key business partners inevitably affecting us, and the current market climate which has led to a significant amount of customer withdrawals in excess of $197.7 million since 12 Jun 2022 when the decline of the crypto market was triggered by the collapse of Terraform Labs' UST stablecoin, Celsius network pausing withdrawals, and Three Arrows Capital defaulting on their loans," explained Vauld.
Vauld Seeks New Investors
Notably, the team has hinted that its currently collaborating with its financial and legal advisors in both Singapore and India to weigh the possibilities of restructuring the company, as well as other options that would best protect the interest of investors.
The team has also revealed its currently holding talks with potential investors that could pump in more funds into the Vauld ecosystem. Vauld says it also plans to file an application for the suspension of the commencement or continuation of any existing lawsuit against its potential investors to enable it to successfully carry out the proposed restructuring exercise.
While all withdrawal and deposit operations remain suspended, the firm has stated that it would make specific arrangements that will enable some users with collateralized loans to deposit funds to meet their margin calls.
Though virtually all blockchain-focused businesses have been hit hard by this one-of-a-kind crypto winter, the bloodbath has made life very difficult for some exchanges and centralized lending platforms, including Voyager, Celsius, BlockFi, and several others.
As reported by crypto.news on July 2, 2022, Thre Arrows Capital (3AC), one of the large firms that invested heavily in the Do Kwon's Terra ecosystem, filed for a Chapter 15 bankruptcy in the United States.
At the time of writing, the bitcoin (BTC) price is aiming to reclaim $20k once again, trading around $19,721.