Vauld Files for Protection Against Its Creditors, Restructuring in the Pipeline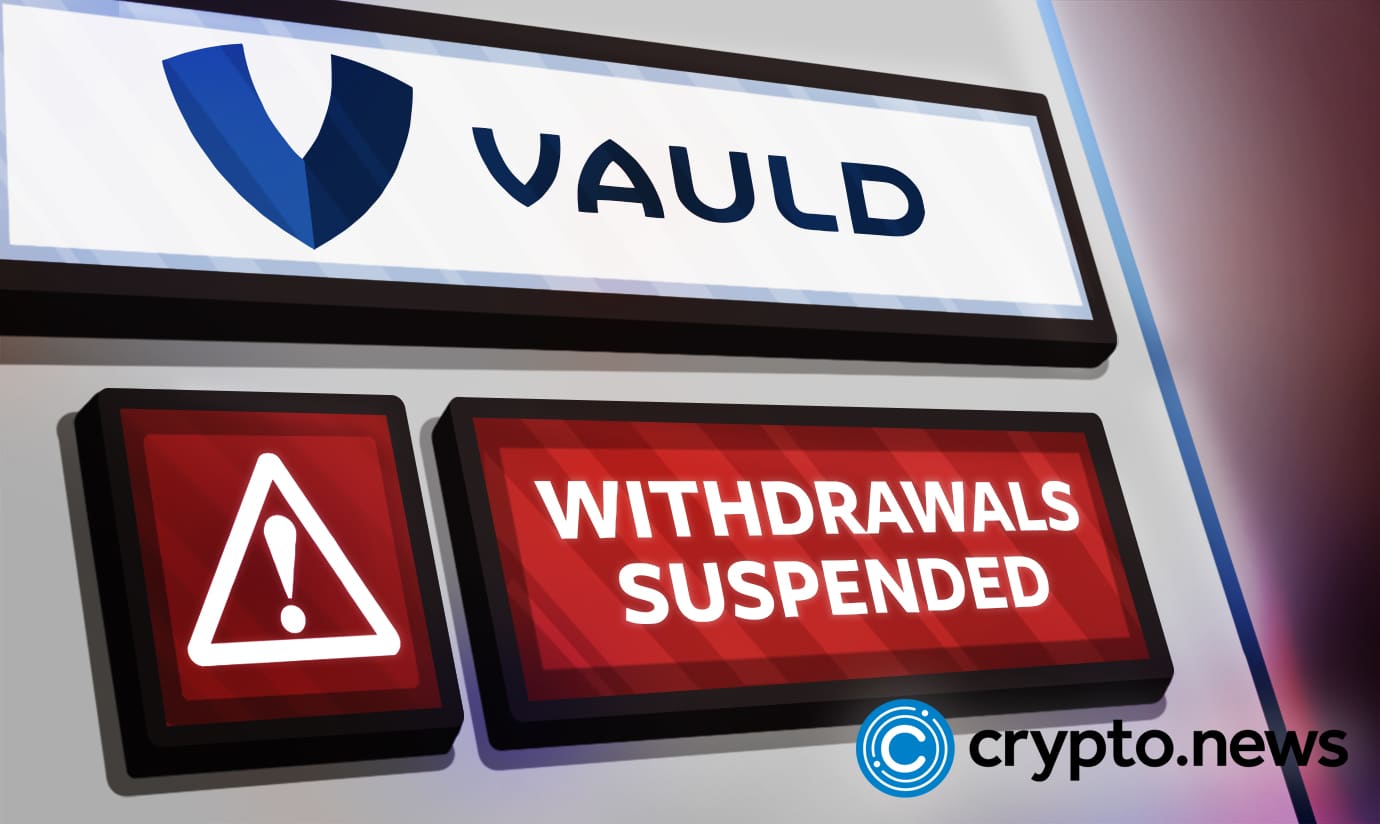 Vauld has requested a moratorium order against its creditors. The protection will prevent a total freeze of operations and assets liquidation for the firm, while also allowing it to focus fully on its restructuring plans, according to a Wall Street Journal report on July 20, 2022.
Vauld Seeks for Protection
While the cryptocurrency markets have started showing signs of recovery, with the price of bitcoin (BTC) currently hovering around the $23k price region, and the combined crypto asset market capitalization back above $1 trillion, some industry players continue to feel the brunt of the crypto winter.
In the latest development, embattled cryptocurrency lending firm Vauld, which is backed by Peter Thiel's Valar Ventures and Coinbase, has filed an application in a Singaporean court, seeking protection against its creditors.
Per sources close to the matter, a spokesperson for the firm has hinted that the moratorium order will afford the company the much-needed breathing space to focus on its restructuring plans without having to completely shutter operations.
Explaining the concept of a Singaporean moratorium order, Yuankai Lin, a partner at Singapore's RPC Premier Law told the WSJ that the filing, if granted will prevent the company's assets from getting liquidated by its creditors, as the moratorium order is similar to a Chapter 11 bankruptcy in the United States.
"A company will generally seek a moratorium order to buy time and breathing space to try and reach an agreement or settlement with its creditors, seek fresh sources of funding or restructure its business," Lin said.
Terra Contagion
It will be recalled that the Terra UST algorithmic stablecoin project faced an abrupt collapse in May 2022, barely one month after becoming the world's third-largest stablecoin by market capitalization. The Terra debacle further triggered a massive bloodbath in the crypto markets, leading a good number of heavy hitters in the industry to close shop.
As reported by crypto.news on July 4, 2022, Vauld announced the suspension of all trading activities, as well as deposits and withdrawals on its platform, citing unfavorable cryptocurrency market conditions.
At the time, the four-year-old company attributed its decision to halt operations to a number of unfortunate circumstances "which led to a significant amount of customer withdrawals in excess of $197.7 million since Jun 12, 2022, when the decline of the crypto market was triggered by the collapse of Terraform Labs' UST stablecoin, Celsius network pausing withdrawals, and Three Arrows Capital defaulting on their loans."
Fast forward to July 12, 2022, and Vauld disclosed a $70 million shortfall to its stakeholders, stating categorically that its assets totaled $330 million, while its liabilities stood at a staggering $400 million at the time.
The Vauld team claims the shortage is due to its exposure to the now defunct Terra USD (UST) and the mark-to-market (MTM) losses on its bitcoin (BTC), ether, and polygon (MATIC) trades. The firm also assured its creditors that it's working round the clock to come up with a solution that will be beneficial to all stakeholders, including an acquisition deal with Nexo.
Now, the Nexo team has reportedly made it clear that Vauld's current moratorium filing will not hamper Nexo's "ability to conduct its due diligence," and ultimately takeover the assets of the company.